The global omega-3 market was valued at $19.7 billion in 2019 and is projected to reach $49.7 billion by 2030, growing at a CAGR of 8.8% during 2020–2030. The dietary supplements category under the end use segment is expected to record fastest growth during the forecast period. This can be primarily attributed to the fact that the dietary supplement usage is widespread because of rising consumer awareness toward food supplement requirements and adoption of healthier lifestyle.
Increasing Veganism a Major Trend Leading to Shift toward Plant-Based Products
Increasing trend of veganism and consumption of plant-based supplement is witnessed as a major trend in the omega-3 market. Growing trend of veganism across the globe is heavily impacting the landscape of food and vitamin supplement consumption. Consumers who showcase an inclination toward turning vegan as well as opt for a healthy lifestyle are shifting toward plant-based omega-3 supplements. Vegans are more likely to accept these supplements or functional foods as an addition to their regular diet. Hence, vegans and even a large population of vegetarians who object the intake of omega-3s developed from fish source are shifting to plant-based products.
With consumers' preference for quality sources, plant-based options are widely adopted in the omega-3 market, hence, it is predicted that this plant-based supplement would become a huge industry over the next decade. Furthermore, it is noted that in terms of product development, a growing interest in the commercial development of algae products and dosage formats is augmenting. In addition, with rising concern regarding safeguarding marine ecosystems and biodiversity of wild fish stocks, market players are developing vegetarian alternatives to fish oil, which are primarily sourced from algae, and offer essential nutrients (EPA+DHA+ALA).
High Cases of Chronic Diseases to Catalyze Market Growth
The rising prevalence of chronic diseases is a major factor that affects high-income as well as low- and middle-income countries (LMICs). According to the World Health Organization (WHO), 9.6 million people died of cancers in 2018 and out of which around 70% were reported in LMICs. Heart diseases are one of the most occurring chronic diseases in the developed world. Thus, to overcome these challenges, the demand for functional foods and supplements as an additional prevention measure is displaying a burgeoning interest in such countries, in turn, augmenting the omega-3 market growth.
Segmentation Analysis of Omega-3 Market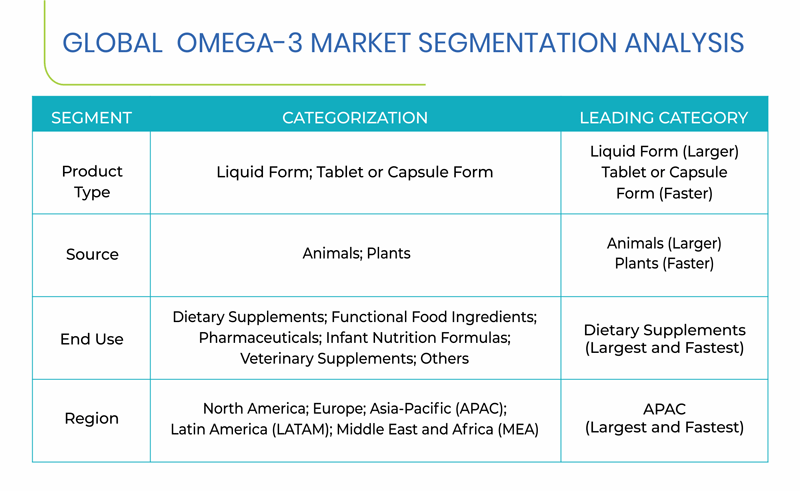 The liquid form category held a larger share under the product type segment in the omega-3 market in 2019. It can be attributed to the availability of liquid form at lower price point and higher levels of EPA concentration.
The animals category held a larger share under the source segment in omega-3 market in 2019. The prime reason behind this substantial demand is the fact that the human body requires DHA and EPA in much larger amounts than it requires ALA. Since the plant-based omega-3 is ALA and the animal-based omega-3 is EPA and DHA, the demand for animal-based omega-3 supplements is considerable. Also, relying on just ALA can lead to a deficiency of DHA and EPA, since the human body is not able to fully breakdown the constituents.
Geographical Analysis of Omega-3 Market
Together, APAC and North America are expected to hold 71.0% share cumulatively in the global omega-3 market in 2030. Health benefits of omega-3 are encouraging the North American consumers to purchase these nutritional supplements. APAC region's growth is primarily driven by rising product demand in China, India, and Australia. Wide usage of fish oil in regular diet and increasing health awareness are augmenting the product demand.
Growing cultivation of krill fish in the South China Sea and Indian Ocean is also anticipated to steer the overall market development. Increasing product utilization in the pharmaceutical industry along with growing R&D activities in the region is also surging the growth of the omega-3 market. In addition, APAC is expected to continue leading the market throughout the forecast period, accelerating at the fastest rate.
Competitive Landscape of Omega-3 Market
The omega-3 market witnessed a highly fragmented landscape in 2019 due to the presence of a large number of companies, along with joint ventures and strategic alliances involved at various stages of the supply chain. The small-scale companies operating at the regional and country level together form the majority market share. Most of these companies operate only in domestic markets, thus, their market visibility is less as compared to the other prominent players in the global market. Some of the key players in the market are Abbott Laboratories, Sanofi SA, Pharma Marine AS, Croda International PLC, OLVEA Group, GC Rieber Oils AS, Polaris SACA, Reckitt Benckiser Group PLC, Omega Protein Corporation, and Herbalife Nutrition Ltd.
Browse report overview with detailed TOC on "Omega-3 Market Research Report: By Product Type (Liquid Form, Tablet or Capsule Form), Source (Animals, Plants), End Use (Dietary Supplements, Functional Food Ingredients, Pharmaceuticals, Infant Nutrition Formulas, Veterinary Supplements) – Industry Share, Growth, Trends and Demand Forecast till 2030" at:https://www.psmarketresearch.com/market-analysis/omega3-market
Additionally, since several consumers often avoid swallowing large pill-format products, they prefer adding omega-3s into their diets. This creates opportunities for food and beverage fortification with these essential nutrients. Also, incorporation of innovative technologies has allowed product developers to deliver advanced product solutions, such as in terms of pill size or design.