The Middle East and Africa (MEA) HVAC market is expected to reach $10.1 billion by 2024, according to P&S Intelligence.
The market is buoyed by several factors including overall growth in construction industry, surging religious tourism, and upcoming major events. In addition to this, major climate change is further fueling the market growth year-over-year (YoY) in the region.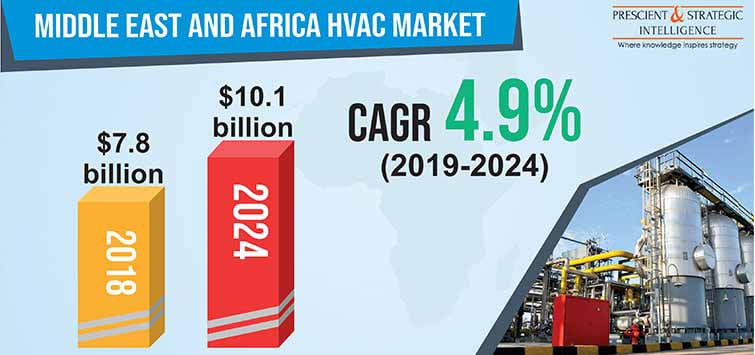 Insights on market segments
On the basis of HVAC type, the Middle East and Africa HVAC market is segmented into heating, ventilation, and cooling, wherein cooling category is further segmented into VRF, ducted split/packaged unit, split unit, chillers, and room air conditioners (RACs). Of these, during the forecast period, VRF category is anticipated to be the fastest growing segment in the region. VRF systems are termed as more economical in terms of energy cost and is gaining popularity in commercial space, predominantly commercial offices, hypermarkets/supermarkets, and stadiums. Additionally, the number of green buildings constructed in the region is registering positive YoY growth, which is driving the demand for VRF systems in the region.
On the basis of end-user, the Middle East and Africa HVAC market is segmented into commercial, industrial and residential, wherein commercial is further split into commercial offices/buildings, hospitality, supermarkets/hypermarkets, government, transportation, and healthcare. Of these categories, commercial offices/buildings category recorded highest revenue share in the MEA commercial HVAC market in 2018, followed by hospitality, and others.
Chillers are the most commonly used HVAC systems in commercial buildings in the region. However, with rising construction of green building projects, such as King Abdullah Financial District (KAFD) in Saudi Arabia, the country's new financial hub, is pushing the demand for high efficiency VRF systems. Also, single splits (ducted and ductless) and VRF systems together form more than 50% of the HVAC systems installed base in commercial offices/buildings in the country.
Browse report overview with 283 tables and 126 figures spread through 295 pages and detailed TOC on "Middle East and Africa (MEA) HVAC Market by HVAC Type (Heating [Furnaces, Heat Pumps, Boilers, Unitary Heaters], Ventilation [Humidifiers/Dehumidifiers, Air Cleaners, Ventilation Fans, Air Handling Units, Fan Coil Units], Cooling [Variable Refrigerant Flow (VRF), Ducted Split/Packaged Unit, Split Units, Chillers, Room ACs]), by End-User (Commercial [Commercial Offices/Buildings, Supermarkets/Hypermarkets, Government, Healthcare, Hospitality, Transportation], Industrial [Oil & Gas, Food & Beverage, Automotive, Energy & Utilities], Residential), by Country (Saudi Arabia, U.A.E, Kuwait, Qatar, South Africa, Egypt, Israel, Oman and Bahrain) –Market Size, Share, Development, Growth and Demand Forecast, 2014–2024" at:https://www.psmarketresearch.com/market-analysis/mea-hvac-market
Rising temperatures and climate change offering lucrative opportunities for market players
As the temperature in the Middle-East and sub-Saharan region is on the rise, having a HVAC system is no longer considered as a luxury but a necessity. The climate change has become a major driver for the sales of HVAC systems, where peak sales were recorded during summer 2017. During the same year, countries like Iran, Iraq, and Kuwait, recorded highest temperature of 54°C. According to Germany's Max Planck Institute for Chemistry, the summer temperature in the MEA region would rise twice as faster as the global average. Rising temperature would offer lucrative opportunities for players in Middle East and Africa HVAC market.
Geographically, African continent is split into two by equator by an imaginary gridline, wherein the countries near equator have an average annual temperature of around 32°C with humidity level hovering around 40-50%. The economic stability in countries such as Republic of Congo, Kenya, Gabon, Uganda, and Nigeria, has led to rise in spending capacity among the populace. Therefore, with rise in income and hot and humid climate in the region led to large scale adoption of HVAC systems in MEA.
United Technologies Corporation, Johnson Controls International PLC, and Ingersoll-Rand plc, together held over 50% share in Middle East and Africa HVAC market in 2017. To maintain their leadership, companies are increasingly introducing new products. For instance, in December 2017, Daikin Industries Ltd. launched optional equipment for high-efficiency inverter screw chiller; series with refrigerant R-1234ze(E). The water-cooled chiller range is available from 340 – 1600KW cooling capacity, chiller range (TZ series) is available from 130 – 830KW cooling capacity and water-cooled chiller range is available from 340 – 1600KW cooling capacity.
Earlier in May 2017, Daikin Industries Ltd. introduced an inverter screw chiller for handling external atmosphere for use in MEA. The new MZ chiller series optimized for high ambient operation typical of the MEA region. The MZ series of chillers has high performance fans with increased air flow across condenser coils, permitting the unit to work up to a 55oC air ambient temperature.
Some of the major players in the Middle East and Africa HVAC market are Johnson Controls International PLC, Ingersoll-Rand plc, United Technologies Corporation, Daikin Industries Ltd., Mitsubishi Electric Corporation, Toshiba Carrier Corporation, LG Electronics Inc., Fujitsu Limited, Midea Group Co. Ltd., Gree Electric Appliances, Inc. of Zhuhai, Danfoss A/S.
Middle East and Africa (MEA) HVAC Market
Market Segmentation by HVAC Type
Heating

Heat Pumps
Boilers
Furnaces
Unitary Heaters

Ventilation

Ventilation Fans
Air Handling Units and Fan Coil Units
Humidifiers/Dehumidifiers
Air Cleaners

Cooling

Ducted Split/Packaged Unit
Split Units
Room ACs
Chillers
Variable Refrigerant Flow
Market Segmentation by End-User
Commercial

Commercial Offices/Buildings
Hospitality
Supermarkets/Hypermarkets
Government
Transportation
Healthcare
Others (educational institutions, data centers, banks, departmental stores, and convenience stores)

Industrial

Oil and Gas
Energy and Utilities
Food and Beverage
Automotive
Others (electronics, textile, and chemical and cement)

Residential
Market Segmentation by Country
Saudi Arabia
U.A.E
Kuwait
Qatar
Nigeria
South Africa
Egypt
Oman and Bahrain
Israel
Rest of MEA