The India structured cabling market is projected to reach $861.6 million by 2023, according to P&S Intelligence.
Increasing demand for copper cables, growing data center market, increasing number of product launch activities by the market players, and rising demand for bandwidth solutions, are the major factors driving the growth of the market.
Insights on market segments
Based on wire category, the India structured cabling market has been divided into Cat5e, Cat6, Cat6A, Cat7. Cat6 cable category held the largest market share in 2017. Cat6 cable is the most popular choice among all the cables which can be primarily attributed to the backward compatibility of this cable with Cat3, Cat5, and Cat5e cable system while providing at least 150 MHz of more frequency range than older types of cables that provides a cost-effective solution for the end users.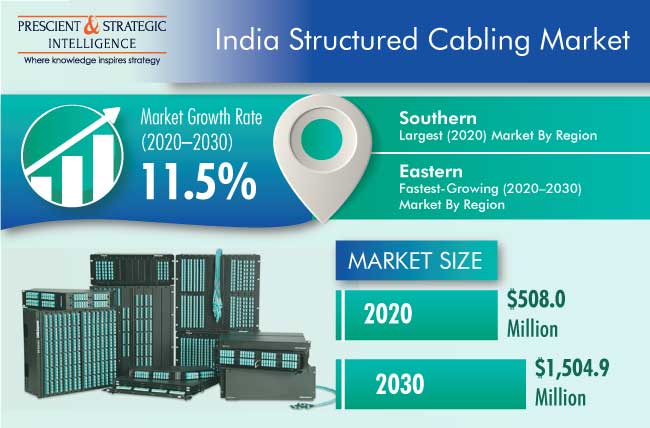 Although, the market for Cat6A cable is expected to register highest CAGR of 11.9%, during the forecast period. The demand for Cat6A cable is surging in India due to its low cost/feature characteristics of this cable. This cable provides a better cost-effective solution than Cat7 cable and double the bandwidth than Cat6 cable.
On the basis of application, the India structured cabling market has been categorized into data center and LAN. Data center is expected to register faster growth in the market, during the forecast period, owing to growing demand for cloud computing and cloud storage. This demand is fulfilled by increasing number of data centers in the country. The market for data centers in India is expected to reach a value of $4.1 billion by 2020. Tier I cities predominantly, Mumbai, New Delhi, Chennai, Bengaluru, and Pune are expected to be the main locations for data centers in the country.
Browse report overview with 108 tables and 68 figures spread through 159 pages and detailed TOC on "India Structured Cabling Market by Product Type (Copper Cable [STP, FTP, UTP], Fiber Cable [MM Fiber, SM Fiber], Copper Components [Copper Outlets, Copper Patch Panel Ports, Copper Patch Cords], Fiber Components [Fiber Patch Panel Ports, Fiber Outlets, Fiber Patch Cords]), by Wire Category (Category 5e, Category 6, Category 6A, Category 7), by Application (Data Center, LAN), by End Use (Telecommunication, Commercial, Government, Industrial), by Region (Northern, Southern, Eastern, Western) – Market Size, Share, Development, Growth and Demand Forecast, 2013–2023" at:https://www.psmarketresearch.com/market-analysis/india-structured-cabling-market
Southern India is expected to hold the largest revenue share in the market
Regionally, the India structured cabling market has been categorized into northern, southern, eastern, and western. Southern region is projected to hold the largest revenue share of 41%, by 2023, in the India structured cabling market, with cities like Bengaluru, Chennai, and Hyderabad, that are few of the largest IT hubs in the country.
However, the structured cabling market in the eastern region of India is expected grow at the highest rate, during forecast period, buoyed by the rising IT hubs as well as government initiatives to increase connectivity in the north eastern states. Growing states such as Odisha and Tripura in the Eastern region are expected to be major IT hubs in the country, in the coming years. Also, with rising smart city projects in cities like, Patna, Muzaffarpur, Newtown, Guwahati, Imphal, Agartala, Kohima, Aizawl, Pasighat and Itanagar, Gangtok and Namchi are projected to drive the structured cabling market in eastern region of India.
Increasing demand for copper cables is a key growth driver for the market
Copper cabling has been providing a flexible, reliable, and economical communication medium since decades. Initially, commencing with the analog telephone and continuing with present high-speed digital networks, copper cabling has been the preferred choice for much of the communications infrastructure installed in India's residential, commercial, industrial and institutional buildings.
The demand for copper cables and components has been increasing owing to their value as a corrosion resistant material, complaint with industry standards (official TIA/EIA568-B.2-1 and ISO/IEC 11801-compliant), and as it meets all alien crosstalk reduction specifications, 10 Gbps transmission to 100 m. Moreover, these cables involve effortless installations, offer protection of connector tabs from damage, and deliver maximum conductivity for high-speed data transmissions. Hence, copper cabling would continue to be a choice of preference, as it offers better return on investment (RoI), this would further drive the structured cabling market in India in the coming years.
India structured cabling market competitiveness
Most of the companies operating in the India structured cabling market have presence in more than 100 countries and offer a broad product portfolio. Along with that, majority of the companies have different product offerings, which enable them to meet the increasing market demand effectively and efficiently. Additionally, most number of companies have a good employee base in order to serve their customers around the country.
Some of the key players operating in the India structured cabling market are ComCore Connexions Pvt. Ltd., TE Connectivity Ltd., Schneider Electric SE, CommScope Holding Company Inc., Legrand Holding SA, The Siemon Company, Sterlite Technologies Limited, Panduit Corp., ABB Group, Belkin International Inc., Molex LLC, Belden Inc., and Reichle & De-Massari AG.
India Structured Cabling Market Segmentation
Market Segmentation by Product Type
Copper Cable

Shielded twisted pair (STP)
Foiled twisted pair (FTP)
Unshielded twisted pair (UTP)

Fiber Cable

Multi-mode (MM) Fiber
Single-mode (SM) Fiber

Copper Components

Copper Outlets
Copper Patch Panel Ports
Copper Patch Cords

Fiber Components

Fiber Patch Panel Ports
Fiber Outlets
Fiber Patch Cords
Market Segmentation by Wire Category
Market Segmentation by Application
Data Center

By Product Type
By End Use
Market Segmentation by End Use
Telecommunication
Commercial
Government
Industrial
Others (Residential, Education, and Defense)
Market Segmentation by Region
Northern Structured Cabling Market

By product type
By wire category
By application
By end use

Southern Structured Cabling Market

By product type
By wire category
By application
By end use

Western Structured Cabling Market

By product type
By wire category
By application
By end use

Eastern Structured Cabling Market

By product type
By wire category
By application
By end use