The global robotic process automation (RPA) market is expected to reach $8.6 billion by 2023, according to P&S Intelligence.
The implementation of technologies such as artificial intelligence (AI) and cognitive learning, reducing cost of automation software and services, ease of doing business, and increasing demand for virtual workforce are the key drivers propelling the RPA market, globally.
Insights into market segments
Based on operation, the rule-based solutions category held the larger share in the RPA market in 2017 and is also expected to grow at the faster CAGR during 2018–2023. This is due to the applicability of rule-based processes in a wide range of applications, such as office tasks, customer service, and IT support.
Based on enterprise size, the SME category is expected to witness the faster growth in the RPA market, at a CAGR of 37.0%, during the forecast period, and surpass large enterprises by 2022 in terms of revenue. This is mainly attributed to the increase in the demand for advanced process automation technologies, globally, in order to boost the operational efficiency of companies.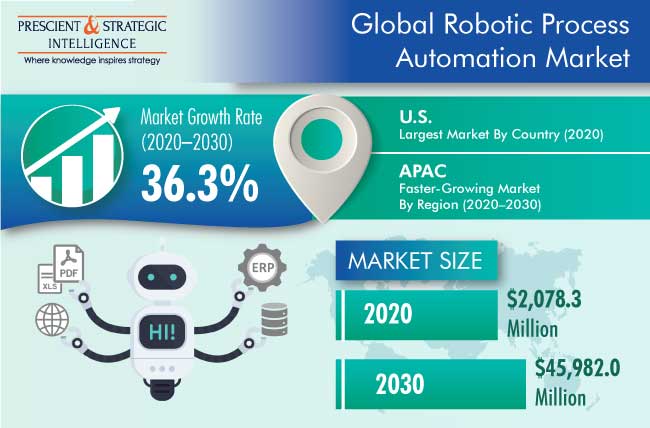 Greater ease of doing business driving the market
RPA facilitates the integration of automation capabilities that can imitate human interaction with websites, portals, Excel worksheets, and emails to automate tasks. The implementation of RPA enables businesses to shift their focus from repetitive tasks to those requiring emotional intelligence and sound reasoning and judgment. RPA enables enterprises to focus more on strategies instead of operations, thereby resulting in a greater ease of doing business. Thus, these advantages are leading to increased adoption of the technology, thereby driving the robotic process automation market across the globe.
Reduction in workforce cost encouraging RPA adoption
The need to reduce operational costs is a key driving factor for the RPA market on a global scale. Robotic process automation enables enterprises to form a virtual workforce capable of working on routine and mundane tasks with high efficiency, thus eliminating the need for human intervention. It offers scalability, besides reducing the operational cost by as much as 50%, as virtual workforce has the capability to work round the clock.
Unlike humans, who can only work for limited hours and need a fixed number of leaves on an annual basis, the RPA system works continuously, thereby resulting in a reduced overall production cost and increased cyber security and customer satisfaction, in turn, driving the RPA market.
Browse report overview with detailed TOC on "Robotic Process Automation Market by Process (Automated Solution, Decision Support & Management, Interaction Solution), by Operation (Rule Based, and Knowledge Based), by Offering (Software, Service [Professional, Training]), by Enterprise Size (Large Enterprise, Small & Medium Enterprise), by Industry (BFSI, Telecom & IT, Retail & Consumer Goods, Manufacturing, Healthcare & Pharmaceutical), by Geography (U.S., Canada U.K., Germany, France, China, Japan, India, U.A.E., Brazil) – Global Market Size, Share, Development, Growth, and Demand Forecast, 2013–2023" at:https://www.psmarketresearch.com/market-analysis/robotic-process-automation-market
Robotic process automation market competitiveness
The intensity of rivalry in the global robotic process automation market is moderate. The market players are involved in facility expansions, product launches, mergers and acquisitions, geographical expansions, partnerships, and other developments. Of these, product launches and partnerships are the major activities performed by companies. For instance, in November 2017, UiPath SRL partnered with Symphony Ventures, a service firm specializing in RPA and intelligent automation. The partnership was aimed at combining UiPath's leading RPA and intelligent automation software with Symphony's RPA consulting, implementation, and managed services offerings for enterprises looking for digital transform operations.
Some of the other key players operating in the RPA market are Nice Systems Ltd., Pegasystems Inc., Automation Anywhere Inc., Blue Prism PLC, Ipsoft Inc., Celaton Ltd., Redwood International Business Group B.V., Verint System Inc., Xerox Corporation, and IBM Corporation.
Robotic Process Automation Market Segmentation
By Process
Automated Solution
Decision Support & Management
Interaction Solution
By Operation
Rule Based
Knowledge Based
By Offering
By Enterprise Size
Large Enterprise
Small and Medium Enterprise
By Industry
BFSI
Telecom & IT
Retail & Consumer Goods
Manufacturing
Healthcare & Pharmaceuticals
Others (travel & tourism, hospitality, and transportation & logistics)
By Geography
North America Robotic Process Automation Market

By process
By operation
By offering
By enterprise size
By industry
By country – U.S. and Canada

Europe Robotic Process Automation Market

By process
By operation
By offering
By enterprise size
By industry
By country – U.K., Germany, France and Rest of Europe

Asia-Pacific (APAC) Robotic Process Automation Market

By process
By operation
By offering
By enterprise size
By industry
By country – China, Japan, India, and Rest of APAC

Middle-East & Africa (MEA) Robotic Process Automation Market

By process
By operation
By offering
By enterprise size
By industry
By country – U.A.E. and Rest of MEA

Latin America (LATAM) Robotic Process Automation Market

By process
By operation
By offering
By enterprise size
By industry
By country – Brazil and Rest of LATAM