Valued at $18.2 billion in 2014, the global ITS market is projected to reach $38.0 billion by 2020, growing at a CAGR of 13.1% during the forecast period (2015–2020). On the basis of system, the cooperative vehicle system (CVS) category is expected to grow at the fastest rate during 2015–2020.
Increasing Need to Improve Road Safety is a Key Driver for ITS Market
Growing need to improve road safety is one of the major drivers for the ITS market. As the number of motor vehicles is rising rapidly in developing countries, the number of injuries and deaths caused due to road traffic is increasing. According to the World Health Organization (WHO), approximately 1.2 million deaths occur every year due to road traffic crashes, globally. Additionally, 20 million people suffer with serious injuries due to road accidents every year. ITS technologies increase the safety of vehicle occupants and vehicle drivers. Network management techniques provide safety benefits, improve traffic flow, and tackle congestion. The enforcement of road traffic legislation can be supported by camera technology linked to back office systems, such as CCTV and safety cameras. The technology also enables prompt remedial action in the event of an accident.
In the automotive sector, there are numerous safety systems, such as lane departure warning, adaptive cruise control, intelligent parking assist, blind spot detection, and night vision systems. The extensive pressure from governments and consumers is driving the development of ITSs for improving road safety.
Segmentation Analysis of ITS Market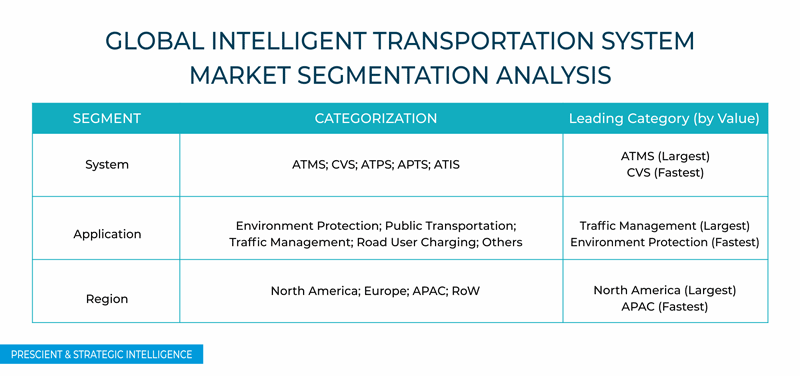 The advanced traffic management system (ATMS) category dominated the ITS market during the historical period. Increased concerns of customers for minimizing traffic congestion and pollution levels are some of the factors driving the market growth in this category.
The traffic management application dominated the ITS market in 2014. This is majorly due to rapid urbanization, reliability, safety and security provided by the traffic management, and government initiatives. Increasing investments for smarter transportation are providing opportunities for the market in this category. Some of the goals for implementing intelligent transportation in traffic management are to improve travelling mobility, increase productivity of transportation providers, and improve system efficiency.
Geographical Analysis of ITS Market
Globally, the Asia-Pacific (APAC) ITS market is expected to grow at the fastest rate in the coming years, due to supportive government initiatives toward the implementation of ITS across several developing countries.
The Government of Japan has shown interest in developing ITS to resolve its traffic congestion and other transportation problems. The Japanese government has officially defined the future direction of ITS in the country, by approving nine ITS areas of development. The areas of development include optimization of traffic management, automatic fee collection, emergency vehicle operation, road management method, program for pedestrians, navigation system, safe driving effort, commercial vehicle operation, and public transit.
Competitive Landscape of ITS Market
Key players operating in the global ITS market include Thales SA, Kapsch TrafficCom AG, TomTom International BV, Nuance Communications Inc., Q-Free ASA, DENSO Corporation, Efkon AG, TransCore LP, and Savari Inc. In recent year, these players have been involved in several strategic developments, such as geographical expansions and product launches, for the growth of the market. For instance, in October 2015, Thales SA launched Movable RoadSide Equipment terminal for road management. The solution performs a full range of roadside checkpoint functions required for road management by transport authorities. The solution also provides a detailed report on every vehicle that passes through Movable RoadSide Equipment terminal.
INTELLIGENT TRANSPORTATION SYSTEM MARKET SEGMENTATION
By System
Advanced Traffic Management System
Cooperative Vehicle System
Advanced Public Transportation System
Advanced Traveller Information System
Advanced Transportation Pricing Systems
By Application
Environment Protection
Public Transportation
Traffic Management
Road User Charging
Others
GEOGRAPHICAL SEGMENTATION
By Geography
North America

The U.S.
Rest of North America

Europe

Spain
Germany
Italy
Netherland
The U.K.
Rest of Europe

Asia-Pacific

China
Japan
Australia
Rest of Asia-Pacific