The key growth drivers for the global gamification market are the increasing adoption of the gaming concept in businesses, surging focus on improving the experience of customers, and integration of such solutions with social media. Due to these factors, the industry revenue is predicted to rise to $76,298.9 million by 2030, from $7,841.5 million in 2019, witnessing a 24.2% CAGR during 2020–2030 (forecast period).
Gamification Market Segmentation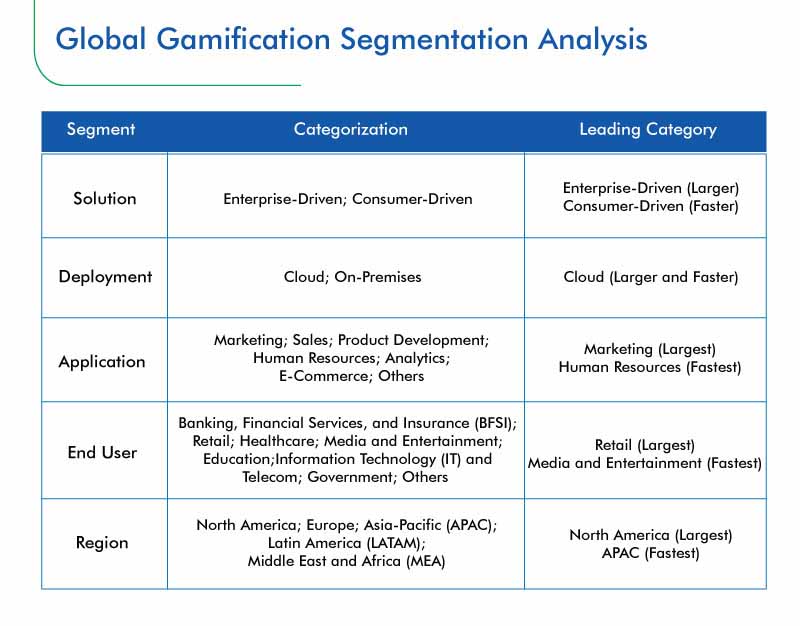 The enterprise-driven bifurcation held the larger share in the gamification market in 2019, on account of the rapid adoption of gaming elements in workforce management, in the corporate sector, to motivate employees.
During the forecast period, the media and entertainment category is predicted witness the fastest growth in the market, as to understand the preference of customers, promote new products, raise the rate of subscriptions, and create awareness about the brand, companies in the industry are tracking and analyzing users' activities via gaming platforms.
Asia-Pacific (APAC) is predicted to observe the highest CAGR in the gamification market in the coming years, as a result of the surge in the sale of smartphones and rapid digitization. Additionally, businesses in the region are looking at boosting the performance of employees and the engagement of customers.
Players Forming Partnerships to Augment their Profits and Reach
Partnerships are being formed by the players in the gamification market, to not only expand their product portfolio, but also their customer reach. For instance, in November 2019, Salesforce.com and Microsoft Corporation started working together to aid their customers in meeting the changing business needs and increasing the productivity of the teams. Under the agreement, Salesforce marketing cloud is deployed on Microsoft Azure. In addition, this partnership is helping Salesforce offer its clients compliance and data security & privacy support and reduce the on-boarding time.
Similarly, in November 2017, geographic mapping services provider Geopointe LLC and performance management software company LevelEleven LLC came together to develop an end-to-end sales performance management solution. Under the partnerships, LevelEleven's customers get access to Geopointe's geolocation software for field sales and marketing purposes.
Indusgeeks USA Inc., SAP SE, BI WORLDWIDE, Axonify Inc., Gametize Pte. Ltd., TGC Technologies Pvt. Ltd., Microsoft Corporation, Gamify, Faya Corporation, Salesforce.com Inc., Khoros LLC, Verint Systems Inc., IActionable Inc., MPS Interactive Systems Limited, Juego Studio Private Limited, nGUVU Technologies Inc., EASYPROMOS S.L., Ikipixel Information Technologies Inc. (Motivacraft), XLPro Training Solutions Pvt. Ltd., Mindspace LLC, Torry Harris Business Solutions Private Limited, MJV Technology and Innovation, Program-Ace, Diantum Sociedad Limitada, Centigrade GmbH, Bigtincan Holdings Limited, Infosys Limited, and CRMGamified are the major players in the global gamification market.