The global energy management system (EMS) market is expected to reach $113.5 billion by 2023 and is progressing at a CAGR of 19.3% during 2018–2023. Based on component, the other hardware category, including meters, submeters, relays, and lighting, is expected to record fastest growth in the market during the forecast period. This is mainly on account of surging use of hardware, such as smart energy meters, for residential end use.
Electrical Energy Price Volatility Is Escalating the Market Growth
As a result of the demand and supply dynamics, the electrical energy price fluctuates. Extreme weather conditions, economic development, and lack of energy supply trigger the rise in energy prices. For instance, in the next 25 years, energy consumption is anticipated to increase by almost 55% as compared to 2016, due to the growing urbanization and rapid industrialization. Presently, majority of the commercial consumers are aware of their soaring energy cost and are increasingly adopting EMS solutions. EMS helps organizations optimize building performance by gaining full control over the building energy consumption and costs involved.
High Demand for EMS in Emerging Economies Is Offering Growth Opportunities for the Market Players
Emerging economies, like India and China, are presently experiencing an increase in urban population, due to growing industrialization, resulting in rising demand for electrical energy. In such case, EMS is required to monitor and minimize the wastage of energy. Therefore, the increasing power consumption creates ample growth opportunities for the EMS market.
Segmentation Analysis of EMS Market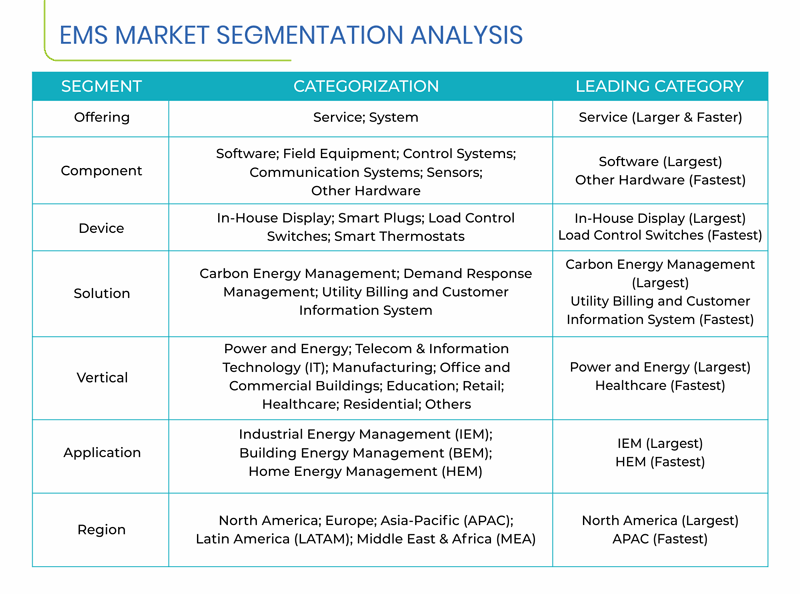 The service category based on offering is expected to witness faster growth in the EMS market during the forecast period. This can be attributed to the increasing demand for consulting, implementation and integration, and monitoring of equipment associated with EMS in commercial and residential buildings.
The IEM category held the largest share in the EMS market in 2017. Refinery, steel, chemical, petrochemical, and cement industries are some of the major adopters of EMS as the amount of energy consumed by these industries is significant. Use of EMS helps these industries to reduce their carbon footprint and decrease the production cost.
Geographical Analysis of EMS Market
Together, North America and Europe are expected to account for over 60% share in the global EMS market by 2023. It can be due to technological advancement, well-established infrastructure network and widespread adoption of EMS across different verticals, such as manufacturing, retail, and power. As per analysis, APAC is expected to witness the fastest growth in the market during the forecast period, owing to rising economic growth, rapid industrialization, and increasing government initiatives toward energy consumption.
Competitive Landscape of EMS Market
The EMS market is highly competitive with the presence of a large number of key players, including Schneider Electric SE, Siemens AG, Honeywell International Inc, and Johnson Controls International plc, which cumulatively held the major share of the market in 2017.
In recent years, major players in the EMS market have taken several strategic measures to strengthen their positions. For instance, in April 2018, Schneider Electric SE released the next generation solution to reinforce its EcoStruxure power digital architecture for energy management. The new additions in the power digital portfolio would improve the operational efficiency and reliability of the EcoStruxure.
Apart from aforementioned players, other prominent players operating in the EMS market are ABB Ltd., Emerson Electric Co., International Business Machines Corporation, Eaton Corporation plc, Cisco Systems Inc., Delta Electronics Inc., GridPoint Inc., Yokogawa Electric Corporation, and DEXMA Inc.