The conversational AI market was valued at $3.2 billion in 2018, and is anticipated to reach at a value of $15.0 billion by 2024, registering at a CAGR of 30.2% during the forecast period. On the basis of type, chatbot category held the largest share in the market in 2018. In addition, the market recorded fastest growth in the IVA category, owing to surging smartphone and internet penetration, high demand from large enterprises, and benefits offered by IVA in terms of customer satisfaction, consistent support, and reduction in service costs.
Rising implementation of chatbots, IVA for healthcare applications
The key trend observed in the conversational AI market is the increasing application of chatbots, and IVA for healthcare applications. They are gaining traction in the healthcare industry, which help patients in variety of ways including booking appointments and follow-ups, monitoring patient's health status, and delivering customized experience. Healthcare providers such as pharmaceutical companies, hospitals, and clinics are concentrating on the adoption of chatbots for continuous patient engagement.
Positive Return on Investment (ROI) for companies deploying conversational AI solutions
Conversational AI bots have had a positive impact on businesses in a number of ways, prominently in improving the customer experience. There is a one-time cost that has to be incurred by businesses toward the deployment of conversational AI bots, which is beneficial for businesses in the long run. The bots can enhance user engagement by resolving the basic queries of the customers instantly, and enhance employee productivity by passing on complex problems to the human agents. A bot can engage in multiple conversations at a time solving multiple queries at an instance; hence, the need to hire employees at a large scale is eliminated. This results in huge cost savings for businesses.
Segmentation Analysis of Conversational AI Market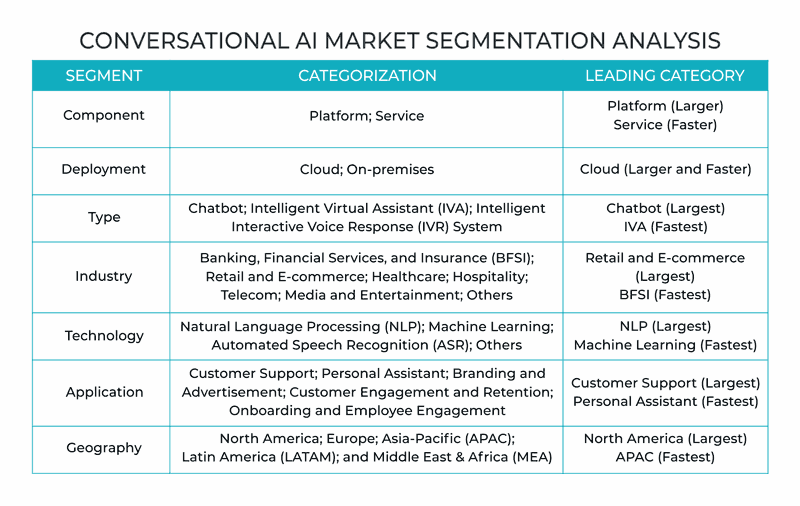 On the basis of component, the platform category held larger market share in 2018. Additionally, based on service, the support and maintenance service category is projected to exhibit faster growth during the forecast period. This can be attributed to growing need for automation, upgrades and technical advancements, and optimize work operations.
Based on deployment, the cloud-based deployment category held the largest share in the market in 2018, and is predicted witness faster growth during the forecast period. This is due to increased demand for scalability, 24X7 service, and easy maintenance. In addition, organizations are also deploying cloud-based conversational AI solutions to reduce their operational infrastructure costs, and to enhance operational flexibility.
On the basis of technology, NLP category held the largest share in the market in 2018. This is attributed to increase in demand for NLP integrated conversational AI solutions which are able to train themselves based on different interactions and support in streamlining of the responses.
Geographical Analysis of Conversational AI Market
Together, North America and Europe are expected to account for over 65% share in the global conversational AI market by 2024. This can be mainly attributed to the presence of established players, increasing focus toward utilization of conversational solutions to automate work operations, and increasing number of investments in AI-based technologies in the region. Other geographies which include LATAM, APAC, and MEA, also hold considerable shares in the global conversational AI market, on account of factors including rising implementation of chatbots for healthcare application, demand for messaging application, and increasing need for automated customer service support.
Browse report overview with detailed TOC on "Conversational AI Market Research Report: By Component (Platform, Service), Deployment (Cloud, On-Premises), Type (Chatbot, IVA, IVR), Industry (BFSI, Retail and E-Commerce, Healthcare, Hospitality, Telecom, Media and Entertainment), Technology (Natural Language Processing, Machine Learning, Automated Speech Recognition), Application (Customer Support , Personal Assistant, Branding and Advertisement, Customer Engagement and Retention, Onboarding and Employee Engagement), Geographical Outlook (U.S., Canada, U.K., Germany, France, Russia, Italy, China, Japan, India, South Korea, Australia, Brazil, Mexico, U.A.E., Saudi Arabia, Turkey, South Africa) – Global Industry Analysis and Forecast to 2024" at:https://www.psmarketresearch.com/market-analysis/conversational-ai-market
Competitive Landscape of Conversational AI Market
The conversational AI market is fragmented in nature, owing to the presence of established players including Microsoft Corporation, International Business Machines Corporation, SAP SE, Oracle Corporation, Google LLC, Nuance Communications Inc., Haptik Inc., Conversica Inc., Amazon.com Inc., and Baidu Inc. For instance, in March 2018, a chatbot platform developer, Haptik Inc., has partnered with Amazon Web Services Inc., a subsidiary of Amzon.com Inc. to offer chatbot solutions for customers in India. In this partnership, Haptik would utilize AWS AI portfolio and enable companies to implement chatbots for automation across customer support and lead generation.
Some other players operating in the conversational AI market are Avaamo Inc., Creative Virtual Ltd., Inbenta Technologies Inc., Artificial Solutions International AB, Kore.ai Inc., and Solvvy Inc., and Rasa Technologies Inc.
Conversational AI Market Segmentation
By Component
Platform
Service

Support and maintenance
Training and consulting
System integration
By Deployment
By Type
Chatbot
Intelligent Virtual Assistant (IVA)
Intelligent Interactive Voice Response (IVR) System
By Industry
Banking, Financial Services, and Insurance (BFSI)
Retail and E-commerce
Healthcare
Hospitality
Telecom
Media and Entertainment
Others (Energy & Utilities, Oil & Gas, Education, Government, and Automotive)
By Technology
Natural Language Processing (NLP)
Machine Learning
Automated Speech Recognition (ASR)
Others (Computer Vision, Video Recognition, Image Processing, and Cognitive Computing)
By Application
Customer Support
Personal Assistant
Branding and Advertisement
Customer Engagement and Retention
Onboarding and Employee Engagement
By Region
North America Conversational AI Market

By component
By deployment
By type
By industry
By technology
By application
By country – U.S. and Canada

Europe Conversational AI Market

By component
By deployment
By type
By industry
By technology
By application
By country – U.K., Germany, France, Russia, Italy, and Rest of Europe

Asia-Pacific (APAC) Conversational AI Market

By component
By deployment
By type
By industry
By technology
By application
By country – China, Japan, India, South Korea, Australia, and Rest of APAC

Latin America (LATAM) Conversational AI Market

By component
By deployment
By type
By industry
By technology
By application
By country – Brazil, Mexico, and Rest of LATAM

Middle East and Africa (MEA) Conversational AI Market

By component
By deployment
By type
By industry
By technology
By application
By country – U.A.E., Saudi Arabia, Turkey, South Africa, and Rest of MEA