In 2018, the global chloromethanes market was valued at $2,675.9 million, and it is expected to reach $3,286.9 million by 2024, witnessing a CAGR of 3.4% during the forecast period of 2019–2024. Among all the products, methylene chloride held the largest market share in the historical period.
Historically, carbon tetrachloride witnessed the fastest growth in the product category of chloromethanes market. The market growth of this product is majorly driven by the increase in demand of industrial as well domestic cleaners as degreasers and spot removers for clothing, furniture, and carpeting. This product also has application in fire extinguishers and insecticides. Thus, the importance of the end uses in industrial and residential facilities, is expected to fuel the growth of carbon tetrachloride demand in the global chloromethanes market over the years.
Large Scale Production of Solvents is Driving the Growth of the Market
The demand for chloromethanes is growing at a significant rate owing to its requirement as a raw material for production of industrial solvents. Chloromethanes as a solvent has a high requirement in the production of silicones, majorly silicone oil, silicone rubber, and silicon caulk. These forms of silicones eventually used in the production of adhesives, lubricants, sealants, cooking utensils, medicine, and thermal and electrical insulation. Additionally, trimethylsilyl chloride and methyltrichlorosilane derived out of chloromethanes are used as solvent for petroleum refining and butyl rubber manufacturing. With the increase in production of such chemicals, the demand for chloromethanes is likely to increase, therefore, generating a boost to the global chloromethanes market during the forecast period .
Segmentation Analysis of Chloromethanes Market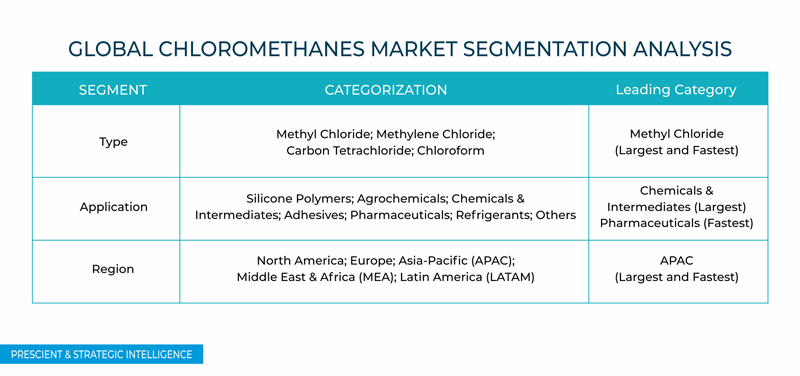 Based on type, methylene chloride is expected to dominate the global chloromethanes market, with a share of 43.1% in terms of volume in 2018. The demand for methylene is driven by its large-scale industries including formation of paint stripping and removal products, flexible polyurethane foam, adhesives, metal cleaning agents, and pharmaceutical products. The large-scale application of methylene is expected to generate a continuous demand for methylene chloride globally.
Based on application, chemical and intermediates dominated the market with the largest share in the global market, accounting for 34.4% share in terms of volume in 2018. In the chemical industry, chloromethanes are widely used for the production of chemicals, and precursors to chemical intermediates such as extractant for oils, butyl rubber, greases, resins, propellants and blowing agents. Owing its vast usage in the chemical manufacturing sector, with the growth of chemicals industry, the demand for chloromethanes is also expected to increase.
Geographical Analysis of Chloromethanes Market
Geographically, Asia Pacific dominated the global chloromethanes market and it is expected to demonstrate a CAGR of 3.9% CAGR during the forecast period, in terms of volume. The market growth is majorly ascribed to the high production and consumption of chloromethanes in the countries including China and India. China accounts for a major chunk of the global market since the country is one of the leading producers of various chemicals and intermediates, agrochemicals and pharmaceuticals. Furthermore, the positive prospects of the end use industries of chloromethanes across the region, the demand for chloromethanes is likely to continue to grow during the forecast period.
Competitive Landscape of Chloromethanes Market
The global market for chloromethanes is highly consolidated in nature with a share of more than 70% being captured by the leading eight players in the market in 2018. Key players in the global chloromethane market include AkzoNobel N.V., Dow Inc., Solvay SA, Shin-Etsu Chemical Co. Ltd., Occidental Petroleum Corporation, Ercros S.A., AGC Inc., Gujarat Alkalise and Chemicals Ltd., Tokuyama Corporation, and KEM ONE.
Browse report overview with detailed TOC on "Chloromethanes Market Research Report: By Type (Methyl Chloride, Methylene Chloride, Carbon Tetrachloride, Chloroform), Application (Silicone Polymers, Agrochemicals, Chemicals and Intermediates, Adhesives, Pharmaceuticals, Refrigerants), Geographical Outlook (U.S., Canada, Germany, France, U.K., Italy, China, India, Japan, South Korea, Brazil, Mexico, Saudi Arabia, U.A.E., South Africa) - Industry Opportunity Analysis and Growth Forecast to 2024" at:https://www.psmarketresearch.com/market-analysis/chloromethanes-market
In July 2018, AkzoNobel N.V. went forward with the expansion of its chloromethane production capacity in Frankfurt, Germany. Prior to the expansion, the site produced 55,000 tons per year of methyl chloride, 33,000 tons per year of chloroform, 90,000 tons per year of carbon tetrachloride, and 60,000 tons per year of methylene chloride. Such strategic expansions are likely to help in providing an edge to the company, thereby increasing their market share in the global market.
Some other players operating in the chloromethanes market are Alfa Aesar, American Elements, Banner Chemicals Group, Hanwha Group, Henan GP Chemicals Co. Ltd., Jiangsu Ruifeng Polymer Materials Co. Ltd., Kumho Mitsui Chemicals, LOTTE Fine Chemical, Olin Corporation, and Richard Geiss GmBH.
Chloromethanes Market Segmentation
Market Segmentation by Type
Methyl Chloride
Methylene Chloride
Carbon Tetrachloride
Chloroform
Market Segmentation by Application
Silicone Polymers
Agrochemicals
Chemicals and Intermediates
Adhesives
Pharmaceuticals
Refrigerants
Others
Market Segmentation by Geography
North America Chloromethanes market

By type
By application
By country – U.S. and Canada

Europe Chloromethanes market

By type
By application
By country – Germany, France, U.K., Italy, and Rest of Europe

Asia-Pacific (APAC) Chloromethanes market

By type
By application
By country – China, India, Japan, South Korea, and Rest of APAC

Latin America (LATAM) Chloromethanes market

By type
By application
By country – Brazil, Mexico, and Rest of LATAM

Middle East & Africa (MEA) Chloromethanes market

By type
By application
By country – Saudi Arabia, U.A.E., South Africa, and Rest of MEA