The global AI in transportation market was valued at $1.4 billion in 2017 and is projected to reach $3.5 billion by 2023, progressing at a CAGR of 16.5% during the forecast period (2018–2023).
The software category accounted for the larger share in the AI in transportation market, in 2017. It was mainly due to the growing use of various software as a service platform (such as the Microsoft Azure). Additionally, new vehicles (especially trucks) are equipped with an array of AI software, which would lead to software's larger share during the forecasted period as well.
Truck Platooning Presents Lucrative Opportunities for Market Players
Truck platooning is presenting lucrative opportunities to original equipment manufacturers (OEM) in the global AI in transportation market. Platooning is a valuable step in achieving the goal of autonomous driving, and it provides various benefits such as reduction in fuel consumption and emission rates, along with improved safety features. Many initiatives have been taken in recent years for allowing truck platooning, in many countries. For instance, nine states in the U.S. approved the commercial use of driver-assist truck platooning, recently. Moreover, in 2016, six manufacturers — DAF Trucks N.V., Daimler AG, Iveco S.p.A., MAN SE, Scania AB, and Volvo Group — took part in the European Truck Platooning Challenge. Hence, the growing trend of truck platooning offers lucrative opportunities to OEMs in the industry.
Increased Focus on Reducing the Operating Cost of Transportation is a Growth Driver in the Market
The increased focus toward reducing the cost of providing transportation services is acting as one of major growth drivers for the industry. AI creates numerous opportunities to reduce costs and improve operations. Advanced navigation allows the driver to follow optimized routes and to avoid traffic jams and speed up deliveries. AI-based technologies, such as auto emergency braking (AEB) and adaptive cruise control (ACC), reduce driver fatigue and avoid potential road accidents, thereby saving lives and reducing delivery times. All these benefits are leading to the growth of the AI in transportation market.
Segmentation Analysis of AI in Transportation Market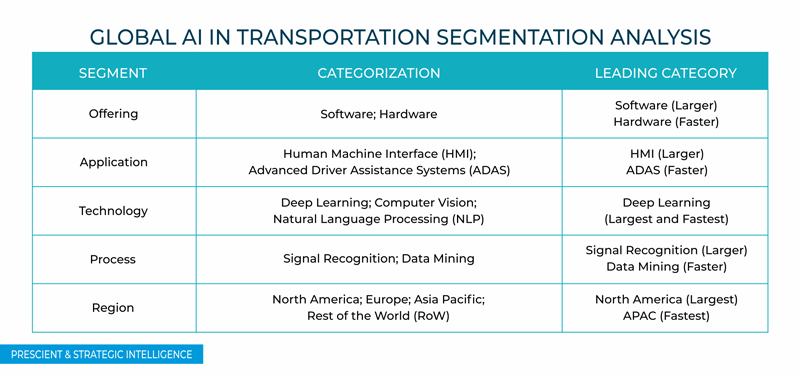 Based on technology, the deep learning category accounted for the largest share in the AI in transportation market in 2017, as it enables the vehicle to become more intelligent in driving in varying situations with regards to road terrain and weather conditions. Due to this, the usage of deep learning is increasing in numerous AI-related applications in self-driving trucks.
Based on process, signal recognition is expected to account for the larger share in the AI in transportation market during the forecast period, mainly owing to the fact that signals, in the form of text, tracking, gestures, and mapping, are being increasingly used in various safety applications, such as traffic sign detection and ACC.
Geographical Analysis of AI in Transportation Market
North America is expected to continue to be the largest market for AI in transportation, during the forecast period as well. It is mainly due to the high sales of premium trucks in the region, as trucks possess a considerable share in the transportation sector of the region. Increased governmental support and funding for autonomous vehicles is also benefiting the AI in transportation market in the region. For instance, in 2016, the U.S. government released the guidelines for autonomous vehicles and planned to spend $4 billion over the next decade to accelerate the development of autonomous cars in the country.
The Chinese AI in transportation market is also expected to account for a significant share in the APAC market during the forecast period. The growing digitization in the country is projected to result in the fast growth of the AI in transportation sector in the country. Furthermore, despite the lower penetration rate of artificial intelligence in the transportation sector in China, the high sale of trucks is predicted to lead to the penetration of artificial intelligence in transportation.
Browse report overview with 149 tables and 59 figures spread through 190 pages and detailed TOC on "Artificial Intelligence (AI) in Transportation Market by Offering (Software, Hardware), by Application (HMI, ADAS), by Technology (Deep Learning, Computer Vision, NLP), by Process (Signal Recognition, Data Mining), by Geography (U.S., Canada, Germany, U.K., France, China, Japan, India, South Korea, Russia, Brazil) – Global Market Size, Share, Development, Growth, and Demand Forecast, 2013–2023" at:https://www.psmarketresearch.com/market-analysis/ai-in-transportation-market
Competitive Landscape of AI in Transportation Market
The AI in transportation market is witnessing domination by some leading players worldwide. Volvo Group, Continental AG, NVIDIA Corp., Robert Bosch GmbH, Intel Corp., Valeo SA, Daimler AG, PACCAR Inc., ZF Friedrichshafen AG, Microsoft Corp., and Alphabet Inc. are some of the major players engaged in AI development for the transportation sector, globally.
In February 2018, Scania entered in a technology partnership with Haylion Technologies to develop solutions for public transport by electrified, autonomous, and connected buses. The common aim is to expedite the commercialization of autonomous driving applications and sustainable transport. Moreover, in March 2017, Intel acquired Mobileye for $15.3 billion.
Global AI in Transportation Market Segmentation
By Offering
By Application
Human Machine Interface (HMI)
Advance Driver Assistance System (ADAS)
By Technology
Deep Learning
Computer Vision
Natural Language Processing
By Process
Data Mining
Signal Recognition
By Geography
North America
Europe

Germany
France
U.K.
Rest of Europe

Asia-Pacific

Japan
China
India
South Korea
Rest of Asia-Pacific

Rest of the World (RoW)