Market Overview
The wood vinegar market will grow from USD 4,753.0 Million (E) in 2023 to USD 7,552.6 Million (E) in 2030, at a CAGR of 7.1% between 2024 and 2030.
The growth of this industry is attributed to the developments in end-use sectors, initiatives from governments for bio-based products, high potential of wood vinegar in organic waste management, and need to improve crop yields. In this regard, the rising investment from the government for sustainable farming is a key market driver.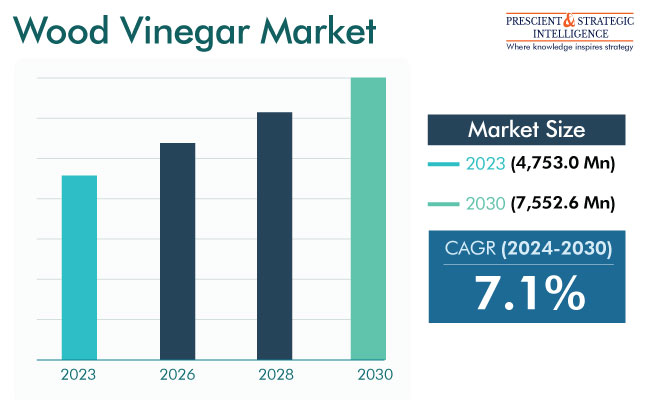 For instance, in May 2023, the U.K. government declared that under the Farming Innovation Programme, over 50 advanced farming projects will get a portion of GBP 30 million. This will assist in boosting food production, thus creating a more-robust and sustainable agriculture sector.
Wood vinegar is extensively used in conventional agriculture and organic farming because of its capability to enhance crop yields and remove pests. The chemical can be used as an appropriate substitute for chemical pesticides, which can be injurious to animals, plants, and even humans.
Rising Organic Farming Is Key Trend
The surging adoption of organic farming approaches is a major trend being observed in the industry. This is resulting in the increasing use of organic fertilizers and pesticides, including wood vinegar, for crop nutrition and protection, respectively. The support from the government to the manufacturers of bio-based agrochemicals, in tune with the focus on sustainable agriculture, is also aiding in the expansion of this industry.
Wood vinegar helps in eliminating pests and advance plant growth naturally, which is essential for organic farming. As a result, the burgeoning requirement for organic food will boost the growth of the industry in the future, by driving the adoption of organic farming. For instance, as per APEDA, India's organic farming acreage was 10.17 million hectares in 2022, and the exports of organic food products fetched over USD 708.33 million (INR 5,525.18 crore).
Extensive Application in Different Industries Is a Major Driver
The extensive variety of applications of wood vinegar is among the key factors driving the growth of this industry. The increasing usage of this product as a flavor enhancer or natural preservative in food, coupled with the customer trend concerning natural and clean-label products, is creating profitable opportunities for the expansion of this industry.
Moreover, the increasing usage of this chemical in the booming cosmetics and personal care sectors for its possible hair and skin benefits is helping the expansion of the industry. Here, its applications include soaps, deodorizers, sunscreens, anti-microbial agents for the treatment of dandruff, allergies, scabies, eczema, atopic dermatitis, and other dermatological diseases, as well as sterilizing agents. Furthermore, this product is used in animal husbandry to enhance livestock health and improve the quality of the products derived from animals.
Wood Vinegar Market Report Coverage

| | |
| --- | --- |
| Report Attribute | Details |
| Market Size in 2023 | USD 4,753.0 Million (E) |
| Revenue Forecast in 2030 | USD 7,552.6 Million (E) |
| Growth Rate | 7.1% CAGR |
| Historical Years | 2017-2023 |
| Forecast Years | 2024-2030 |
| Report Scope | Market Trends, Drivers, and Restraints; Revenue Estimation and Forecast; Segmentation Analysis; Impact of COVID-19; Companies' Strategic Developments; Market Share Analysis of Key Players; Company Profiling |
Explore more about this report - Request free sample pages
Growing Consciousness of Environment and Health Boost Demand
The move toward a healthier lifestyle, as well as the increasing awareness regarding the environment, has boosted the requirement for wood vinegar. Users are increasingly becoming aware of the health risks related to synthetic chemicals in agricultural, personal care, and food products.
This increasing consciousness is boosting the fondness for environment- friendly and safer substitutes. In addition, governing agencies are implementing strict rules regarding the utilization of synthetic additives and chemical pesticides. Wood vinegar is purely organic and made using wood, which is completely biodegradable and non-polluting on its own. This makes it more appealing to people aware of the environment and thus, boosts the development of the industry.
Slow Pyrolysis Is Dominating Industry
The slow pyrolysis category, based on manufacturing process, is dominating the industry. This can be attributed to the distinct benefits of slow pyrolysis in terms of applications and quality. This process comprises heating wood at a low temperature, which creates a superior wood vinegar containing high concentrations of organic compounds.
The resulting product is mainly used in cosmetics, pharmaceuticals, and food processing, as consistency and purity are essential in these industries. Additionally, wood vinegar made via slow pyrolysis has a strong profile of flavor and scent, making it ideal for preserving and flavoring food products.
The fast pyrolysis category accounts for the second-largest share of the industry. This is because of the benefits offered by this manufacturing process, such as a lesser vapor residence duration.
Agriculture Is Leading Application Category
The agriculture category, based on application, is the largest contributor to the industry. Pathogens and pests' surging resistance to traditional chemical pesticides has made farmers look for other solutions for pest management. Furthermore, the preference for better crop yields and quality, mainly in sustainable and organic farming, has increased the acceptance of wood vinegar as a growth stimulant. Moreover, the flexibility of wood vinegar for different kinds of crops, such as vegetables, grains, and fruits, makes it a viable option for various agricultural applications.
Wood Vinegar Consumption in APAC Will Grow Fastest
APAC will advance at the highest rate till the end of this decade, primarily because of the mounting use of wood vinegar in the agriculture and food & beverage industries. Moreover, the increasing elderly population, as well as the public consciousness regarding soil quality, is aiding in the progress of the regional industry. This is because the growing elderly population propels the requirement for cosmetics and pharmaceuticals, specifically those made from natural sources.
In addition, the ample availability of wood resources, for instance, hardwood and bamboo, in this region guarantees a constant supply of raw materials for the production of wood vinegar. China is among the largest countries in terms of forest and farming land, which hints at a massive availability of wood for the production of this chemical.
North America accounts for a significant share of the industry too. This is because of the high fertilizer requirement for bio-based agriculture, rising awareness regarding food safety, widespread utilization of wood vinegar in the cosmetics and pharmaceutical industries, and increasing consumption of processed food in the region. As per an article in the Washington Post, 13% of the people over the age of 50 in the U.S. are regular consumers of processed foods.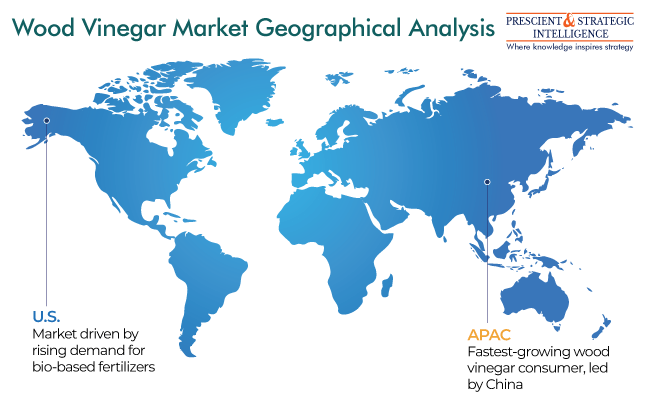 Key Companies in Wood Vinegar Market Include:
Byron Biochar
Baumer Foods Inc.
Nettenergy B.V.
New Life Wood Vinegar
TAGROW CO. LTD.
Sane Shell Carbon Pvt. Ltd.
ACE (SINGAPORE) PTE. LTD.
Taiko Pharmaceutical Co. Ltd.
B&G Foods Inc.
VerdiLife Inc.
Applied Gaia Corporation