Wind Turbine Composite Materials Market Overview
The global wind turbine composite materials market valued $3,970.4 million in 2015 and is expected to witness a CAGR of 7.8% during 2016–2022. The growing government support for wind power projects, strict environmental regulations, rising need for energy security and energy independence, and increasing wind power generation capacity across the world are the key factors supporting the growth of the market.
GLOBAL WIND TURBINE FIBER COMPOSITE MATERIALS MARKET, BY TYPE, $M (2012 – 2022)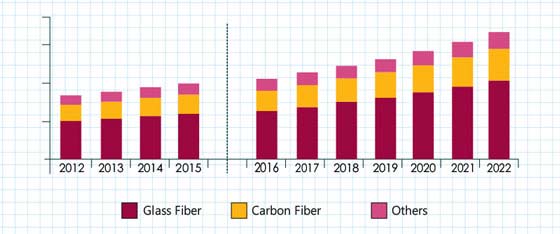 The composites that go into the manufacturing of wind turbines are simply referred to as wind turbine composite materials. They are made of two or more types of materials, which possess varying physical and chemical properties. The properties of these materials are entirely different from those of the individual materials. Various fibers, including those derived from glass and carbon, are used for manufacturing wind turbine composite materials.
Further, resins such as polyester, epoxy, vinyl ester, and polyurethane are consumed in the composite manufacturing process. The production of several wind turbine components, including blades and nacelles, require composites. These composites not only give the structural components high strength but also make them lightweight.
Of the two types of composite materials used in the manufacturing of wind turbine components, i.e. fiber and resin, fiber dominated the wind turbine composite materials market in 2015. Moreover, two of the most popular composite materials used for manufacturing wind turbine components, including spars, blades and nacelles, are the fibers of carbon and glass. The benefits offered by these materials include long service life, better stability and flexibility, and lower maintenance requirement. Of glass and carbon fibers, the glass fiber category led the market in 2015. Composites made from carbon fiber are increasingly being used to manufacture wind turbine blades, due to their low weight and high strength.
On the basis of application, the wind turbine composite materials market is divided into nacelle and wind blade. Between these two applications, wind blade led the wind turbine composite materials industry in 2015 in terms of volume. The growing requirement for wind energy is playing a significant role in the market progress. The rising demand for wind energy is leading to the construction of larger wind blades that offer higher power output, which is, in turn, resulting in the increased consumption of composite materials for blades. Further, composite materials are replacing conventional materials, including aluminum and steel, as the former offer advantages such as high strength-to-weight ratio, longer life cycle, low maintenance requirement, and high corrosion resistance. During the forecast period, nacelle, as a wind turbine composite material application, is expected to witness faster growth in the market. This can be attributed to the growing usage of composite materials for the manufacturing of nacelles.
Wind Turbine Composite Materials Market Dynamics
Opportunities
The wind turbine composite materials market in Latin America (LATAM) and Middle East and Africa (MEA) is still at its nascent stage, as these regions account for fewer large-scale wind farms than other regions across the globe. But many nations across LATAM and MEA are coming up with regulations to reduce their dependency on petroleum-based fuels and raise the production of renewable energy. This is offering lucrative opportunities to composite material manufacturers to expand their production capacity and geographical reach. Several countries in the MEA and LATAM regions such as Egypt, South Africa, and Morocco, and Mexico and Brazil, respectively, have begun producing wind power. Therefore, the largely unexplored market for wind turbine composite materials in these two regions is expected to attract new players and investors as well as manufacturers and retailers.
Growth Drivers
Stringent environmental regulations and growing government support for wind power generation are the key factors helping in the growth of the wind turbine composite materials market. The increased usage of fossil fuels has not only resulted in global warming but also in the swift depletion of resources, leading to a worldwide shift from conventional sources of energy to green alternatives. Governments of several countries have initiated many projects and implemented schemes to encourage and promote wind energy generation.
In addition, strict environmental regulations across the world are raising the need for efficient utilization of renewable energy sources. A lot of organizations present globally are formulating strict standards and guidelines aimed at reducing greenhouse gas emissions, which are further compelling governments to go for safe and clean energy, including wind energy. For instance, the Renewable Energy Sources Act 2011 in Germany has mentioned fixed feed-in tariffs (FiTs) for power utilities, which are generating renewable energy in the country; the directive covers several aspects of wind energy. Similarly, governments of many other countries are offering tax benefits, schemes, and financial support to companies for purchasing wind energy generation equipment. This, in turn, is encouraging firms to invest in the wind turbine composite materials market.
Wind energy is a renewable and clean source of energy. Over the years, wind energy has been adopted at a rapid pace across the globe. The cumulative installed capacity of wind power plants around the world rose from 47.6 GW in 2004 to 369.6 GW in 2014, and the growth during the forecast period is expected to follow a similar trend. The considerable rise in the generation of wind energy has impacted the wind turbine composite materials market positively. Many governments across the world have set wind energy generation targets to fulfil their energy needs during the next five years. Thus, the growing wind power generation capacity around the world is indirectly helping the market for wind turbine composite materials to grow.
Restraints
The key factors impeding the growth of the wind turbine composite materials market are uncertain economic conditions and high cost of composite materials around the world.
Wind Turbine Composite Materials Market Competitive Landscape
Several players are working toward expanding their wind turbine composite material manufacturing capacity and geographical reach to cater to the rising demand for such materials across the world. For instance, in June 2016, the inauguration of a wind blade mold production plant in Szczecin, Poland, was announced by Gurit Holding AG. The expansion was aimed at further increasing the market share of the company in Europe. Toray Industries Inc., Cytec Solvay Group, Hexcel Corporation, Koninklijke Ten Cate N.V., TPI Composites Inc., Teijin Limited, and Molded Fiber Glass Companies are other key players operating in the global wind turbine composite materials market.