Web Content Management Market Overview
The global web content management market was valued at $5,894.8 million in 2019 and is projected to witness a CAGR of 18.4% during the forecast period (2020–2030). The growing demand for digital marketing solutions, surging online retail industries, and multi-channel customer experience management offered by web content management solutions are the key factors driving the industry.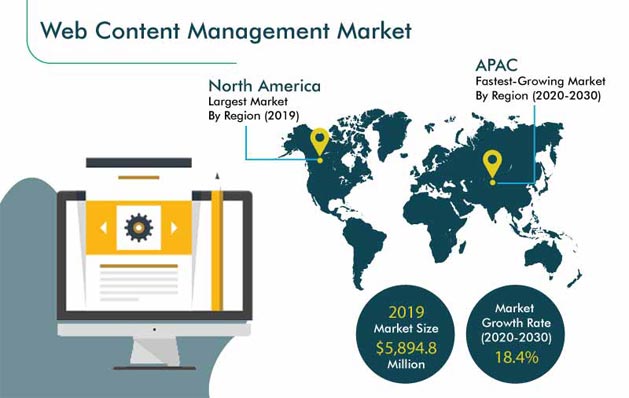 The ongoing lockdown to combat COVID-19 has altered consumers' purchase decisions to higher spending on health and hygiene products rather than on non-essential goods. Consumers have shifted from splurging on non-essential goods and services to preserving essentials and making them last longer. The survivalist mentality will give way to the growth mindset in a few months. Therefore, consumers are postponing non-essential purchases while focusing on essential ones. Thus, companies are focusing more on efficient content management and customer engagement to attract customers, which will significantly increase the demand for web content management solutions during 2020 and 2021.
Segmentation Analysis
Solution Category Witnessed the Highest Adoption in the Market
In 2019, the solution category on the basis of type accounted for the larger size in the web content management market. Web content management solutions help the clients to connect with their customers through various mediums, including mobile, web, applications, and social media. This leads to the generation of huge amount of web-based digital content. Therefore, several companies across all verticals are increasingly adopting web content management solutions for the publication and management of data on websites as digital content is the major point of customer engagement.
Cloud Deployment Expected to Witness Faster Growth during Forecast Period
During the forecast period, the cloud category in terms of deployment is expected to witness faster growth. This can be primarily attributed to the fact that the majority of market players are offering content management solutions over the cloud. In addition, cloud-based deployment offers increased scalability, 24/7 service, high speed, and enhanced management capabilities for application development. Therefore, due to low IT infrastructural cost coupled with high scalability, the demand for cloud deployment is projected to grow in the coming years.
Large Enterprises Dominated the Market in 2019
In 2019, the large enterprises category based on enterprise accounted for the larger share in the web content management market. This is due to the fact that large enterprises have significantly higher budget to adopt solutions for smart content management, digital asset management, and web-based analytics to improve their marketing methods. Moreover, large enterprises are focusing more on digital marketing for customer engagement, which increases the adoption of web content management solutions in this category.
Media and Entertainment Vertical Held Largest Revenue Share
The media and entertainment category in terms of industry held the largest share in the web content management market in 2019 and is expected to dominate the industry in the near future as well. This industry is among the most competitive and challenging sectors and remains updated with the industry trends and ever-changing demands from customers. Moreover, most of the media and entertainment companies are operating a large number of content-rich website portfolios, which are managed and controlled by the web content management solutions and software.
Geographical Outlook
North America Held the Largest Share in the Market
During the historical period (2014–2019), North America accounted for the largest share in the web content management market, globally. This is attributed to the high adoption of digital technology in the media and entertainment industry for advertisement, and publishing and promotion of contents on the online websites in the region. Further, increasing IT spending, rising internet penetration, presence of a huge number of large enterprises, and early adoption of emerging technologies are some other factors supporting the growth of the industry in the region.
For instance, internet penetration in the country is expected to increase from 83% in 2019 to 90% by the end of 2025. Further, social network users in the country are projected to increase from 240 million in 2017 to 257.4 million by the end of 2023. Such factors are boosting the web content management adoption in the North American region.
Asia-Pacific (APAC) Is Expected to Be the Fastest-Growing Regional Market
During the forecast period, the market is projected to attain the fastest growth in the APAC region. The growth can be mainly driven by the growing e-commerce industries in China and India, increasing number of internet users, rising adoption of mobile devices, and surging implementation of digital platforms. Furthermore, growing internet penetration and rising social media users are also supporting the growth of the industry. Internet penetration in the region is expected to grow from 41.7% in 2019 to 54.4% by the end of 2025. Also, the social media users grew from 1.9 billion in 2017 to 2.0 billion in 2018. Moreover, increasing number of initiatives taken by governments mainly in China and India is another factor that is boosting the web content management market growth in the region.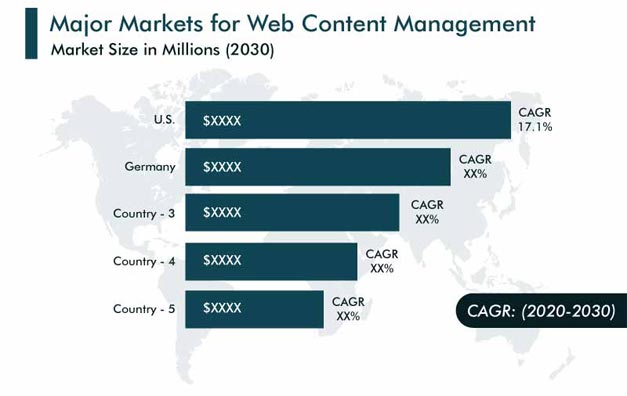 Trends & Drivers
Increasing Focus on Marketing Is the Key Trend
Business organizations are increasingly focusing on content management system (CMS) functionality and positioning. The CMSs have features such as content categorization, version control, replication, social media integration, robust analytics, and content personification that enable various organizations to differentiate themselves from one another. Marketers are witnessing increased demand for tools that enable them to fetch data of potential customers who have visited their sites and assist them in targeting their web content to those visitors. To survive in a highly competitive market and to attract more visitors to view the website, marketers are increasingly focusing on the content of their website to get easily recognized and thus are providing targeted and personalized digital experiences.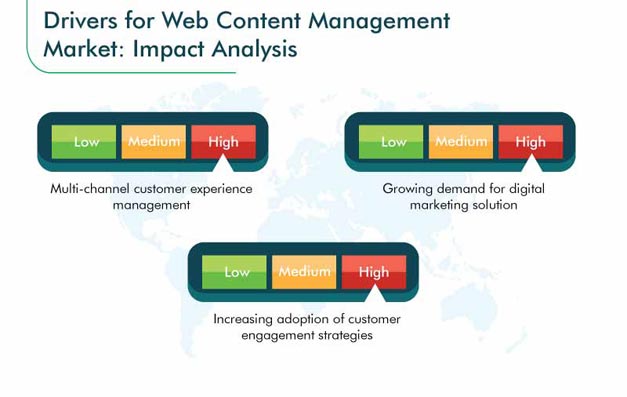 Multi-Channel Customer Experience Management Is Highly Impacting the Market Growth
The multi-channel content management tools and services help manage marketing materials centrally and control their usage. Contents such as meta-data, images, videos, texts, translations, and product specifications are centrally managed and can be distributed to selected channels after further approval. Web content management helps provide enhanced multi-channel customer experience by managing marketing content in the appropriate formats, through the right channels and at the right time.
Therefore, companies across all industries are heavily spending in digital advertisements for customer engagement and to attract more customers. For instance, global digital advertisement spending across the globe is expected to reach $517.1 billion by the end of 2023. Hereby, multi-channel customer experience management drives the growth of the web content management market, globally.
Growing Demand for Digital Marketing Solutions Is Driving the Growth of the Market
Digital marketing refers to marketing of products by using digital channels, such as search engines, social media, websites, emails, and mobile apps. The substantial increase in demand for digital marketing solutions influences vendors to provide various solutions, including web analytics and social media integration. Owing to this, business organizations are increasingly integrating customer experience management to their multi-faceted websites, which requires web content management solutions to supplement multi-channel and digital marketing activities. Hence, increase in demand for digital marketing is driving the web content management market across all regions.
Web Content Management Market Report Coverage

| | |
| --- | --- |
| Report Attribute | Details |
| Historical Years | 2014-2019 |
| Forecast Years | 2020-2030 |
| Base Year (2019) Market Size | $5,894.8 million |
| Forecast Period CAGR | 18.4% |
| Report Coverage | Market Trends, Revenue Estimation and Forecast, Segmentation Analysis, Regional and Country Breakdown, Company Analysis, Companies' Strategical Developments, Product Benchmarking, Company Profiling |
| Market Size by Segments | Type, Deployment Type, Enterprise, Industry, Geography |
| Market Size of Geographies | U.S., Canada, Germany, France, Italy, U.K., Spain, Japan, China, India, Australia, South Korea, Brazil, Mexico, Turkey, Saudi Arabia, U.A.E., South Africa |
| Secondary Sources and References (Partial List) | African Telecommunications Union, American Production and Inventory Control Society (APICS), Association for Computing Machinery (ACM), Association for Manufacturing Excellence (AME), Canadian Radio-Television and Telecommunications Commission, Canadian Wireless Telecommunications, Cellular Telecommunications Industry Association (CTIA) |
Explore more about this report - Request free sample pages
Increasing Adoption of Customer Engagement Strategies Is Boosting the Industry Growth
Increasing focus on customer engagement is one of the key factors driving the web content management market across the globe. Companies are increasingly focusing on enhancing customer engagement in order to improve customer retention rate, new customer acquisition process, and sales. For this, companies are adopting various effective marketing and promotion strategies. To promote products digitally, efficient content handling is required, which is positively shaping the growth of the web content management industry.
Market Players Launching New Products to Gain Competitive Edge
The web content management market is fragmented in nature with the presence of a large number of companies. However, the industry is primarily characterized by Adobe Inc., IBM Corporation, OpenText Corporation, Oracle Corporation, SDL plc, Episerver Inc., Acquia Inc., and Sitecore Corporation A/S, which are the foremost choice of customers.
In recent years, players in the web content management market have launched a number of products to stay ahead of their competitors. For instance:
In June 2020, Acquia Inc. announced the launch of Acquia CMS Migrate, a solution that helps organizations migrate their data from any CMS to Drupal 9 quickly and more cost-efficiently. It also minimizes risk and takes quite less time in migration, as compared to traditional website replatforming projects that typically take up to 12 months. Drupal 9 is built to handle more data at higher volumes, integrate easily with other platforms, and lower the barriers to entry for new Drupal users.
In July 2019,Sitecore Corporation A/S announced the launch of Sitecore Content Marketing Platform (CMP). The new technology will improve the efficiency of marketers by merging strategic and project planning with content creation, management, and analysis into one unified platform. Sitecore CMP eliminates silos in the content production process, giving marketers the ability to effectively plan, manage, and collaborate on content strategy; streamline production by orchestrating many simultaneous task streams of different content stakeholders; and optimize content usage and distribution to target audiences across channels.

Some of the key players covered in the web content management market report are mentioned below:
Oracle Corporation

IBM Corporation

OpenText Corporation

Adobe Inc.

SDL plc

Microsoft Corporation

Acquia Inc.

Sitecore Corporation A/S
Episerver Inc.

Rackspace US Inc.

e-Spirit Inc.

Percussion Software Inc.

Kentico Software

Angler Technologies India Pvt. Ltd.

Contentful GmbH

Crownpeak Technology Inc.
Web Content Management Market Size Breakdown by Segment
The web content management market report offers comprehensive market segmentation analysis along with market estimation for the period 2014–2030.
Based on Type
Solution

Digital marketing content management
Web experience management
Mobile & social media content management
Digital asset management
Web creation & editing tools
Content analytics

Service

Training & Support
Implementation
Consulting
Based on Deployment Type
Based on Enterprise
Large Enterprises
Small & Medium Enterprises (SMEs)
Based on Industry
Media & Entertainment
Retail & Consumer Goods
Education
Healthcare
Travel & Hospitality
Banking, Financial Services, & Insurance (BFSI)
Telecom & IT
Government
Geographical Analysis
North America
Europe

U.K.
Germany
France
Italy
Spain

Asia-Pacific (APAC)

China
India
Japan
South Korea
Australia

Latin America (LATAM)
Middle East & Africa (MEA)

Saudi Arabia
Turkey
U.A.E
South Africa