Market Overview
From $15,114.3 million in 2019, VoIP software market revenue is predicted to grow to $30,441.5 million by 2025, at a CAGR of 13.4% between 2020 and 2025. This is credited to the burgeoning requirement for the VoIP software among small and medium enterprises (SMEs) and increasing focus of businesses on improving their productivity.
Across the globe, the market is predicted to demonstrate the highest growth rate in the Asia-Pacific (APAC) region in the coming years. The existence of numerous contact centers and increasing smartphone and internet penetration are the major factors driving the progress of the market here.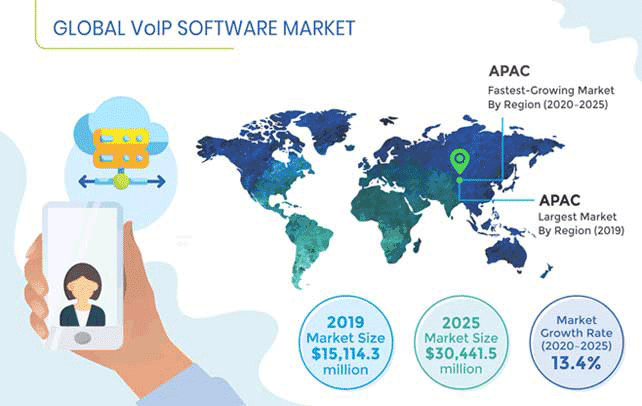 Launch of 5G Networks Biggest Trend in VoIP Software Market
One of the major trends currently being witnessed in the VoIP software industry is the advent of the 5G technology. This is causing the expansion of the frontiers of VoIP by providing faster data transfer speeds, enhanced internet connectivity, effective bandwidth management, and better coverage. Moreover, the deployment of this technology is resulting in significant improvements in the video and audio call quality and a sharp reduction in buffering. Already, 50 cities in the U.S., 85 in South Korea, and 57 in China have 5G connectivity, which is boosting the demand for VoIP software.
Rising Demand for VoIP Software among SMEs is Driving Market Growth
The rising requirement for the VoIP technology among SMEs is one of the major factors fueling the expansion of the VoIP software market around the world. SMEs are increasingly adopting this technology due to its easy-to-use, -install, and -troubleshoot features. Moreover, these solutions facilitate voice communication at more-affordable rates in comparison to the conventionally used telephony systems. Furthermore, minimal technical know-how is required for installing VoIP systems, which is further massively boosting their requirement among SMEs. Most companies in the world are SMEs, and they have accounted for almost two-thirds of the new private jobs in the U.S. in recent decades, as per the Office of the United States Trade Representative.
VoIP Software Market Report Coverage
| Report Attribute | Details |
| --- | --- |
| Historical Years | 2014-2019 |
| Forecast Years | 2020-2025 |
| Market Size in 2019 | $15,114.3 Million |
| Revenue Forecast in 2025 | $30,441.5 Million |
| Growth Rate | 13.4% CAGR |
| Report Scope | Market Trends, Drivers, and Restraints; Revenue Estimation and Forecast; Segmentation Analysis; Country Breakdown; Companies' Strategic Developments; Market Share Analysis of Key Players; Company Profiling |
| Segments Covered | By Technology, By Access Type, By Call Type, By Medium, By End User, By Industry |
| Countries Covered | U.S., Canada, U.K., Germany, France, Russia, Italy, Netherlands, Spain, Japan, China, India, Australia, South Korea, Singapore, New Zealand, Brazil, Mexico, Argentina, Colombia, South Africa, Saudi Arabia, U.A.E., Israel, Turkey |
Smart Offices Key Opportunity Area for VoIP Software Developers and Providers
Voice-based smart office systems are creating huge opportunities for the players operating in the market for VoIP software. Smart offices are using voice-enabled devices for attaining a greater level of control. Smart devices have the ability to communicate with the office environment by using voice. In simpler terms, these devices employ the use of voice commands for controlling the temperature and lighting in offices and reordering office supplies.
Hosted PBX Technology Usage Growing due to Focus on Reducing Infra Expenses
The hosted private branch exchange (hosted PBX) category held a significant share in the market in 2019, under segmentation by technology. This was because of the ability of hosted PBX to eliminate the excess infrastructure costs usually associated with the on-premises VoIP solution deployment. This ability of the technology is ascribed to the fact that it is a cloud-based IP telephony solution that can be easily accessed via the internet. Additionally, for want of funds, SMEs are extensively deploying cloud-based solutions to stay competitive.
Usage of VoIP with Phone-to-Phone Access Rising Rapidly
In the VoIP software market, the phone-to-phone category will exhibit the fastest growth in the coming years, under the access type segment. This is ascribed to the growing usage of smartphones all over the world and the subsequent surge in the requirement for this software in smartphones for providing users with access to IP telephony. Smartphone adoption is being itself driven by people's increasing purchasing power and the lowering prices of these devices.
VoIP Being Used More for Domestic Calling
The domestic VoIP category dominated the market for VoIP software in 2019, under segmentation by call type. This was credited to the high volume of domestic calls around the world. Domestic calls accounted for 68% of the total call volume across the world in 2018. This is primarily because domestic calls are cheaper than international calls and stricter regulations apply on the latter.
Mobile Phones To Gain Rapid Popularity as Medium for Making VoIP Calls
The mobile category is predicted to demonstrate the faster growth in the market in the forthcoming years, under the medium segment. This is ascribed to the fact that mobile devices, such as smartphones and laptops, provide convenience and better connectivity with users having an active internet connection and living in different locations than fixed devices. Moreover, in recent years, many cheap models of smartphones have been launched, which has been driving their adoption around the world.
VoIP Solutions Finding Wider Adoption among Well-Financed Large Organizations
Large enterprises were the biggest end users in the market in 2019. This was because of the large-scale adoption of VoIP solutions by these organizations, as these solutions provide high scalability and clear voice quality, are available at low costs, and support multitasking, such as bulk messaging and conference calls. Additionally, these companies have better finances, thus allowing them to deploy the still-expensive VoIP software.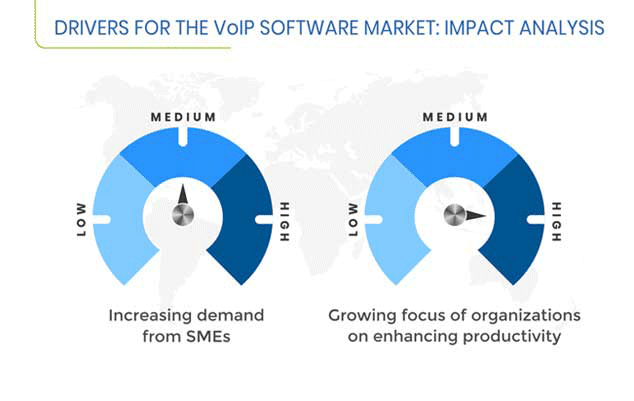 VoIP Witnessing Significant Use among Individuals
The residential category held a considerable share in the VoIP software market, under segmentation by industry, in 2019. This was due to the extensive usage of IP telephony applications, such as Viber, Google Duo, Skype, Facebook Messenger, and WeChat, by individuals. This is itself a direct result of the rising smartphone and internet penetration, especially in emerging economies.
APAC To Remain Largest User of VoIP Applications till 2025
APAC was the largest user of VoIP software in 2019, and this trend is expected to continue in the upcoming years. In this region, the market is predicted to exhibit the fastest growth in and be dominated by India in the future. This will be a result of the huge investments being made in the information technology (IT) sector and existence of several contact centers, which are adopting VoIP solutions for reducing their expenditure on conventional telephony hardware, in the country. Moreover, India and China are popular destinations for European and North American companies to outsource many of their processes, which propels the demand for such calling software.
The market is also predicted to exhibit rapid expansion in Europe in the coming years on account of the increasing preference of users for VoIP over conventional telephony, such as public switched telephone network (PSTN), particularly in the U.K.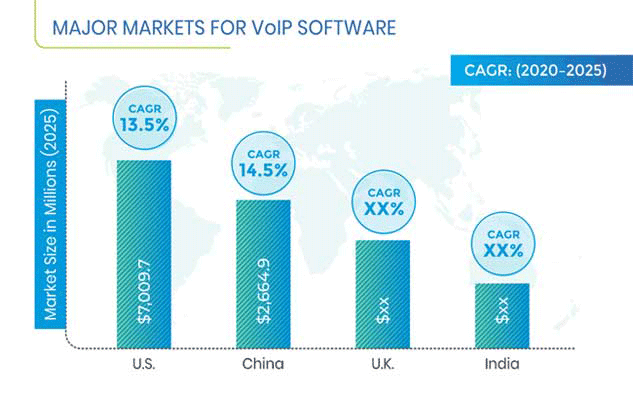 Recent Strategic Developments of Major VoIP Software Market Players
In recent years, major players in the VoIP software market have taken several strategic measures, such as mergers and acquisitions, product launches, and geographical expansions, to gain a competitive edge in the industry. For instance, in November 2019, Ribbon Communications Inc., a global provider of secure and intelligent cloud communication solutions, entered into an agreement to acquire ECI Telecom Group Ltd., a global provider of end-to-end packet-optical transport and network function virtualization (NFV) solutions, to offer cutting-edge solutions such as industrial internet of things (IIoT) and AI systems to customers in more than 140 countries.
Further, in November 2019, AT&T Inc. collaborated with Nokia Corporation to launch an IoT innovation studio in Munich, Germany. The collaboration is aimed at supporting the rising global adoption of current and next-generation IoT solutions.
Market Size Breakdown by Segment
The VoIP software market report offers comprehensive market segmentation analysis along with market estimates for the period 2014–2025.
Based on Technology
Session Initiation Protocol (SIP) Trunking
Managed Private Branch Exchange (Managed PBX)
Hosted Private Branch Exchange (Hosted PBX)
Based on Access Type
Computer to Phone
Phone to Phone
Computer to Computer
Based on Call Type
Domestic VoIP Call
International VoIP Call
Based on Medium
Based on End User
Large Enterprises
Small and Medium Enterprises (SMEs)
Consumers
Based on Industry
Information Technology (IT) & Telecom
Banking, Financial Services, & Insurance (BFSI)
Government
Healthcare
Retail
Education
Residential
Geographical Analysis
North America
Europe

U.K.
Russia
Germany
France
Netherlands
Spain

Asia-Pacific

China
Japan
India
Australia
South Kore
Singapore
New Zealand

Latin America (LATAM)

Brazil
Mexico
Argentina
Colombia

Middle East and Africa (MEA)

South Africa
Saudi Arabia
U.A.E.
Israel
Turkey
Key Questions Answered in the Report
What is the current scenario of the global VoIP software market?
What is the historical size and the present size of the categories under market segments and their future potential?
What are the key VoIP technologies being deployed by organizations across the world?
What are the major catalysts for the market and their impact during the short, medium, and long terms?
What are the evolving opportunities for the players in the market?
Which are the key geographies from the investment perspective?
What are the key strategies adopted by the major players to expand their market share?