Market Overview
The global vision sensor market is predicted to register a CAGR of 12.7% during the forecast period (2020–2030), reaching $9.2 billion by 2030 from $2.5 billion in 2019. Among all the regions, Asia-Pacific (APAC) is expected to register the fastest growth during the forecast period. This would be attributed to the growing demand for vision sensors from automotive and packaging industries.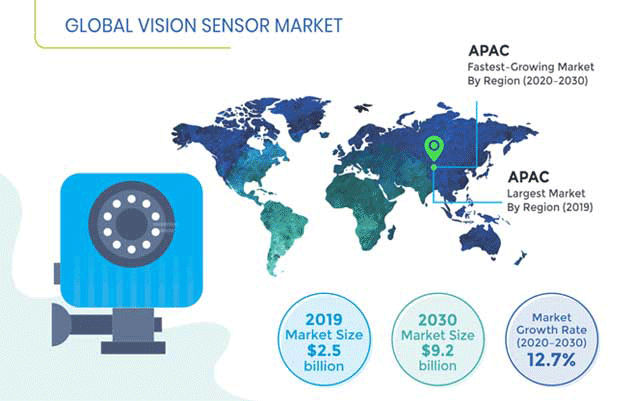 Smart Vision Sensors Trending among End Users
Growing demand for smart vision sensors is a key trend observed in the market. Due to growing adoption of internet of things (IoT) along with rapid advancements in technologies such as artificial intelligence (AI), big data and cloud; the demand for smart vision sensors is increasing globally. Further, by using deep learning technology in vision sensor, it can be used for detection of defects from a set of reference data pictures. For instance, in 2019, the Industrial Technology Research Institute (ITRI) of Taiwan, incorporated 3D smart vision sensors into its garment production.
Vision Sensor Market Report Coverage
| Report Attribute | Details |
| --- | --- |
| Historical Years | 2014-2019 |
| Forecast Years | 2020-2030 |
| Market Size in 2019 | $2.5 Billion |
| Revenue Forecast in 2030 | $9.2 Billion |
| Growth Rate | 12.7% CAGR |
| Report Scope | Market Trends, Drivers, and Restraints; Revenue Estimation and Forecast; Segmentation Analysis; Country Breakdown; Companies' Strategic Developments; Market Share Analysis of Key Players; Company Profiling |
| Countries Covered | U.S., Canada, U.K., Germany, France, Russia, Italy, Netherlands, Spain, Japan, China, India, Australia, South Korea, Indonesia, Brazil, Mexico, Argentina, Egypt, Turkey, South Africa, Nigeria |
Growing Product Demand in Automotive Industry Is Biggest Market Driver
Growing demand for vision sensors from automotive industry is another key factor driving the market. Automotive industry requires vision sensor for inspection, localization, and identification applications. Owing to the rising number of vehicle production across the globe, primarily in developing countries such as Indonesia and Thailand, there is an increasing demand for these sensors for making the manufacturing processes faster in the automotive industry. Moreover, with the expansion of automakers in developing countries, primarily Indonesia, demand for vision sensors is increasing positively year-over-year (YoY). This is because compared to European and North American nations, these developing countries offer raw material and labor at lower costs, which increases the profit margins for automakers.
Apart from this, surging demand for industrial automation solutions is a key opportunity observed in the market. With rising Industry 4.0, demand for automation in several industrial processes is expected to increase in the coming years. Driven by government support, manufacturers are increasingly implementing automation in the manufacturing processes to increase the productivity, efficiency, and thereby to increase their revenues. In industrial automation, sensors play an important role for making the products automatic and intelligent. For instance, vision sensors are used for inspection of manufactured products in automotive, electronics, and food & beverage industries. Hence, growing demand for industrial automation, primarily in developing countries, is expected to create opportunity for the market players during the forecast period.
Monochrome Vision Sensors Finding Wider Application in Factories
In terms of type, monochrome category held the larger share in the vision sensor market in 2019. This is due to better technical advantages of monochrome vision sensor in most of the applications and better edge detection as compared to color vision sensor. Further, it requires less electrical energy as compared to other type, due to which, the demand for monochrome vision sensor is increasing YoY. Therefore, the strong focus of industrial entities on reducing their energy consumption is a key reason behind the wider usage of monochrome variants.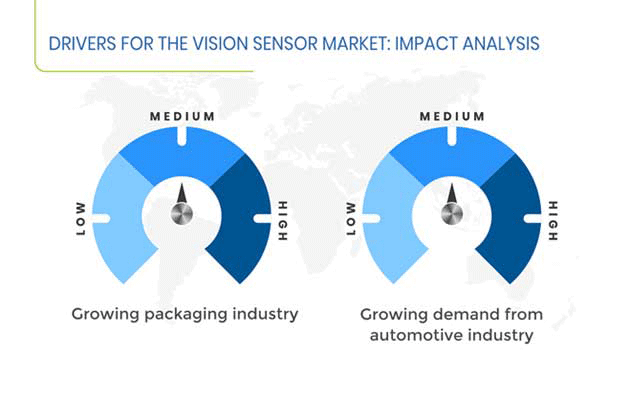 Sales of Vision Sensors To Rise Fastest to Packaging Companies
Among all the industry, packaging industry is expected to be the fastest growing market during the forecast period. This can be attributed to the growing demand for flexible packaging, predominantly in countries including the U.S., and China, owing to increasing advancements in the packaging technology. For instance, according to Flexible Packaging Association, in 2017, the flexible packaging industry increased to $31.0 billion from $23.2 billion in 2009. Additionally, with rising purchasing power and improving standard of living of the populace, along with the demand for packaged goods, the packaging industry is growing at a faster rate globally. The quality of packaging is important in many industries, especially food and beverage and pharmaceutical, as it is instrumental in protecting the products from spoilage.
APAC Accounts for Highest Sales of Vision Sensor
APAC dominated the vision sensor market in 2019, a situation that is unlikely to alter over the forecast period. This can be attributed to growing automobile industry, rising population, and increasing demand for consumer electronics appliances in the region. In terms of automotive industry, the market is predominantly driven by the adoption of electric vehicles (EVs), wherein, China and Japan constituted largest market share driven by government support. For instance, the government of both China and Japan are offering subsidies to increase the sales of electric vehicles. Further, the Chinese government has allotted a subsidy of over $10,000 per vehicle in 2017, due to which China recorded rise in adoption of EVs by over 42% from 2016. With rising adoption of EVs, automotive manufacturers are increasingly setting-up the manufacturing plants in the region. Due to this, demand for vision sensors from automotive industry is expected to increase during the forecast period.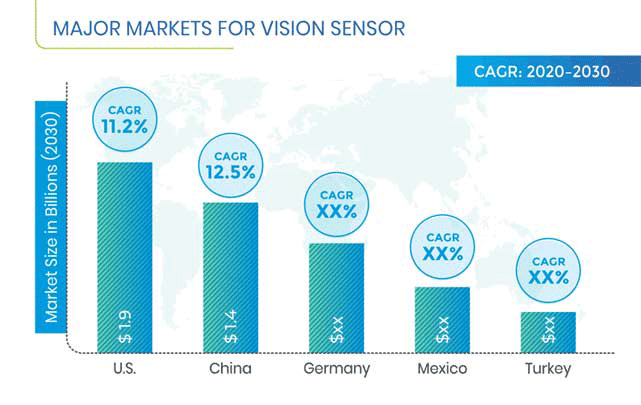 Recent Strategic Developments of Major Vision Sensor Market Players
The vision sensor market is fragmented in nature with the presence of several global and regional players. Some of the key players operating in the market are OMRON Corporation, KEYENCE CORPORATION, Teledyne Technologies Incorporated, SICK AG, Cognex Corporation, Balluff GmbH, Baumer Holding AG, ifm electronic gmbh, Pepperl+Fuchs AG, wenglor sensoric GmbH.
In the recent years, the key players in the vision sensor market have taken several strategic measures including product launches, partnerships, and mergers & acquisitions, to improve their position in the market. For instance, in November 2019, OMRON Corporation launched a 3D vision sensing technology suitable for vision sensors to identify the orientation and position of the target objects three-dimensionally. Using this technology, the industrial robots would enable an accurate and faster assembly of the bulk parts by automating the human-rigorous process in assembly and inspection of the objects.
Vision Sensor Market Size Breakdown by Segment
The vision sensor market report offers comprehensive market segmentation analysis along with market estimation for the period 2014–2030.
Based on Type
Based on Application
Inspection
Gauging
Code Reading
Localization
Based on Industry
Automotive
Food & Beverage
Electronics
Packaging
Pharmaceutical
Geographical Analysis
North America
Europe

Germany
France
U.K.
Italy
Russia
Netherlands
Spain

Asia-Pacific (APAC)

Japan
China
India
Australia
South Korea
Indonesia

Latin America (LATAM)
Middle East & Africa (MEA)

Egypt
Turkey
South Africa
Nigeria
Key Questions Answered in the Report
What is the current scenario of the vision sensor market?
What are the key strategies companies are adopting to increase their consumer base?
What is the historical and the present size of the market segments and their future potential?
What are the key categories within the market segments and their future potential?
What are the major catalysts for the market and their expected impact during the short, medium, and long terms?
What are the opportunities for the players in the market?
Which are the key regions from the investment perspective?