U.S. Sauces Market
The U.S. sauces market recorded $18.6 billion in 2018, and is expected to growth at a CAGR of 3.3% during 2019-2024. The U.S. sauces market is projected to grow rapidly due to increasing popularity of ethnic cuisines, healthier food options, and shift toward organic or all-natural products, and growing number of immigrants in the country.
Based on type, U.S. sauces market is segmented into table sauces, cooking sauces, and dips. Among these, table sauces category accounted for largest share in the market in 2018. Food preferences is one of the major driving factors behind the dominant position of table sauce category. Additionally, dips is expected to be the fastest growing category during the forecast period. Shifting consumer preference toward ethnic cuisines, along with growing number of ethnic food chains, is providing strong growth to the dips market in the country.
Based on cooking sauces by type, U.S. sauces market is segmented into wet sauces, and dry sauces/powder mixes. Among these, wet sauces accounted for largest share in the market in 2018. Increasing health conscious consumer base offers a steady growth to the market, as consumers are shifting from ready-made meals to home-cooked food items.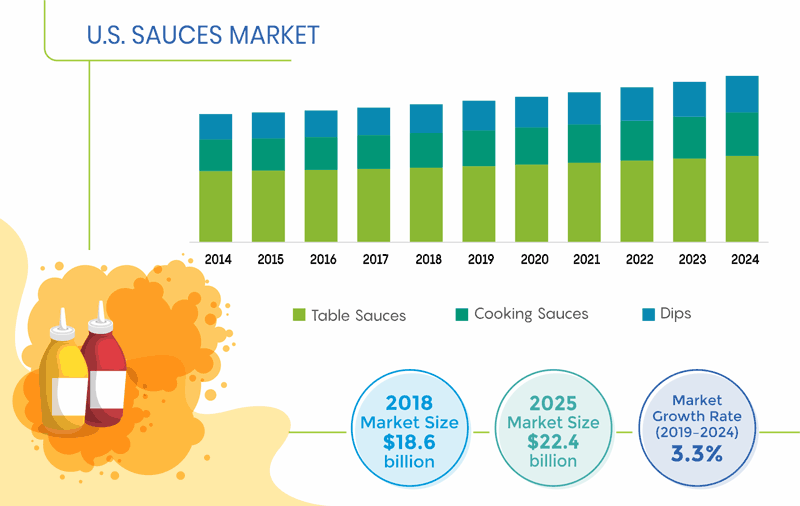 Based on region, U.S. sauces market has been categorized into Northeast, Midwest, South, and West. Among these, South region held the largest share in the market. This is due to high population density in the region, along with growing inclination of consumers toward organic, and international flavors. Moreover, South and Northeast are expected to be the fastest growing regions during the forecast period. Rising number of Asian food outlets in Northeast districts such as New Jersey, New York, and Massachusetts, followed by increasing adoption of ethnic cuisines are some of the major drivers contributing to growth of the market.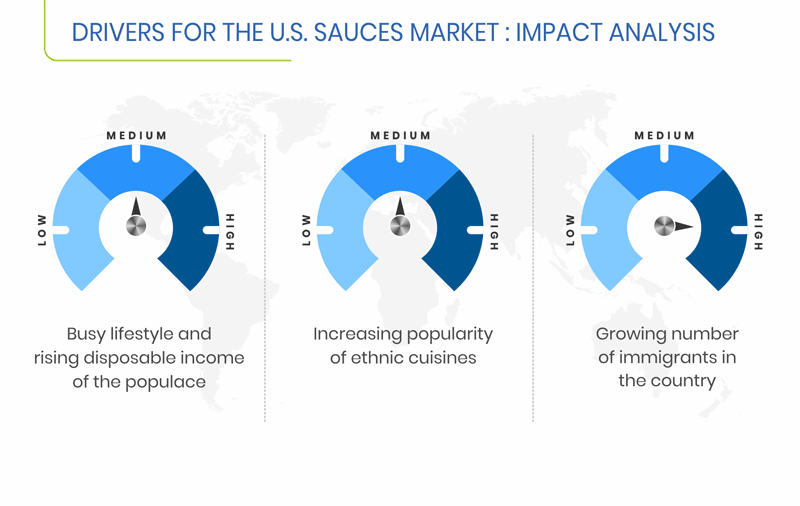 U.S. Sauces Market Dynamics
Trend
The key trend observed in the U.S. sauces market are growing demand for organic and natural sauces. Consumers in the country are increasingly becoming health-conscious and are, therefore, trying to avoid consuming food products that have a negative impact on their health. With focus on their eating habits, numerous consumers are adopting an organic diet and are avoid consumption of food products that contain artificial additives and genetically modified organisms (GMOs). Sauce and snack companies are launching gluten-free variants in the market to cater to consumers with dietary considerations.
Another trend observed in the market include growing popularity of hot and spicy sauces. With the growing number of expatriates in the U.S. and the willingness of the natives to try out new cuisines, demand for hot sauces in the country is increasing more than ever. Asian and Mexican cuisines, which are known for their spicy and hot flavors, are gaining immense popularity, further driving the demand for spicy sauces.
Driver
The key factors contributing to the growth of U.S. sauces market can be witnessed as busy lifestyle and rising disposable income of the populace. Factors such as busy lifestyle, longer working hours, and rise in the number of working professionals in urban areas are contributing to the increased demand for ready-to-use food products including sauces. Sauces are of great help for those who love cooking but generally do not have time for it owing to their busy schedule, as these ready-to-use condiments help in the quick preparation of meals.
Besides this, the rising disposable income of population continues to drive the demand for snack foods and sauces in the U.S. The disposable income of individuals in the U.S. increased to 4% from January 2018 to January 2019. Thus, with increasing disposable income, more people are opting for ready-to-use products and fast food joints across the country.
Opportunity
The key opportunity in the U.S. sauces market include growing demand for new variants and packaging solutions. New variants like honey–mustard sauce and mustard–mayonnaise sauces are gaining popularity and can be observed as lucrative areas of business by vendors to address the increasing demand for new flavors in the market. Moreover, many vendors have started integrating more natural ingredients into their products after exhibiting the growing consumer interest in organic and natural food products. Vendors in the market can focus on introducing new varieties of products in smaller packages, thereby allowing customers to try them without having the need to buy them in large quantities.
U.S. Sauces Market Competitive Landscape
The intensity of rivalry among players in the U.S. sauces market is moderate. The market is highly competitive characterizing a fragmented market share. The major players in the market are involved in mergers and acquisitions, product launches, and in partnerships. Some of the key players operating in the U.S. sauces market are Kikkoman Corporation, McCormick & Company Incorporated, The Kraft Heinz Company, Unilever Group, Conagra Brands Inc., Del Monte Foods Inc., Edward & Sons Trading Company Inc., Ken's Foods Inc., General Mills Inc., Nestle S.A., C.H. Guenther & Son Inc., and Tas Gourmet Sauce Co.