Urology Surgical Instrument Market Overview
The global urology surgical instrument market generated a revenue of $8.3 billion in 2017, and is projected to showcase a CAGR of 8.6% during the forecast period. On the basis of product, the market is categorized into urology endoscopes, consumables and accessories, endovision systems, and peripheral instruments. The growth of the market is mainly being led by the growth in consumables and accessories category, which is expected to register a CAGR of 9.1% during the forecast period.
GLOBAL UROLOGY SURGICAL ENDOVISION SYSTEM MARKET, BY TYPE, $M (2013 – 2023)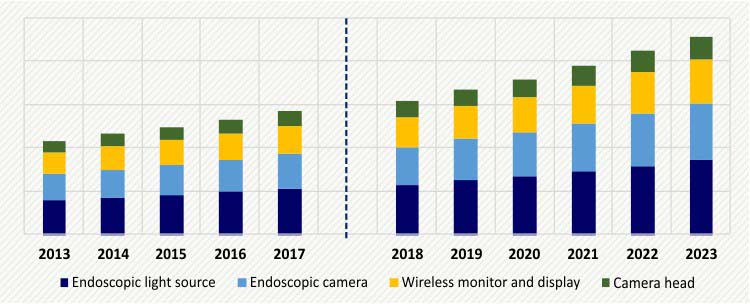 Endovision systems are further segmented into endoscopic light sources, endoscopic cameras, wireless monitors and displays, and camera heads. Of these, the fastest growth in demand during the forecast period is expected for endoscopic cameras, owing to its ability to provide visualization of the complete anatomy of the human body while performing the surgery. Urology endoscopes are further classified into laparoscopes, ureteroscopes, nephroscopes, resectoscopes, and cystoscopes, where laparoscopes are used majorly in urological surgeries. Laparoscopes held 34.0% share in the urology surgical endoscope market, in 2017. This can be attributed to the vast use of laparoscopes in minimally invasive surgeries.
Peripheral instruments are further categorised into insufflators and endoscopy fluid management system. Insufflators occupy larger share in the urology surgical peripheral instrument market, with 59.8% revenue contribution in 2017. Insufflators market is predicted to witness the higher CAGR of 8.0% during the forecast period due to the increasing adoption of laparoscopic and hysteroscopic surgery, globally. This adds on to the growth of the urology surgical instrument market.
Based on area of application, the urology surgical instrument market is categorised into the usage of these instrument for the treatment of CKD, urinary stone, BPH, UI and POP, oncology, and other disorders. Other disorders include erectile dysfunction and hernia. These surgical instruments are gaining popularity for the treatment of UI and POP disorders and are forecasted to register a CAGR of 9.5% during the forecast period.
Urology Surgical Instrument Market Dynamics
Growth Drivers
Increasing healthcare expenditure, surging geriatric population, rising prevalence of BPH procedures, increasing prevalence of UTIs in women, and growing hospital investments in surgical infrastructure are driving the growth of the urology surgical instrument market.
Renal diseases like urinary tract infection (UTI), prostate cancer, CKD, and BPH are the most common urological diseases, which require surgery in extreme cases. According to National Kidney Foundation (NKF), 30 million American adults (one in seven) were estimated to have CKD in 2017, and most were not even aware of it. According to Centers for Disease Prevention and Control (CDC), in 2014, 172,258 men in the U.S. were diagnosed with prostate cancer, and 28,343 men died from prostate cancer. With the increasing prevalence of these diseases in the geriatric population, consumption of urology surgical instruments increases at higher rate in surgeries and biopsies, thus, driving the growth of urology surgical instrument market.
The demand for urology surgical instruments is increasing due to various urinary tract problems, which has increased the need for investments in surgical departments of hospitals and surgical clinics. After the last stage of CKD, dialysis or kidney transplant, the only solution left with surgeons is a urological surgery. In April 2018, the Dubai Health Authority (DHA) signed a memorandum of understanding (MoU) with the Canadian Commercial Corporation (CCC), a Crown Corporation of the Government of Canada to further strengthen and expand scope of cooperation in the field of healthcare. This MoU is expected to strengthen the healthcare sector in Canada. Thus, with the increasing investments in hospitals is expected to drive the growth of the urology surgical instrument market.
Surgical options for recurrent UTI management can range from minimally invasive procedures to more invasive procedures. For instance, according to National Institute of Health (NIH), women are at greater risk of UTIs because the urethra in women is shorter as compared to men, allowing a greater access of bacteria to the bladder. Also, during childhood, the risk for girls having UTIs is 8%. It is estimated that by 2050, the number of women opting for surgery to treat UTIs will increase by almost 50%, to cross 300,000 women. Recurrent UTI problems require the use of these instruments, thus, leading to the growth of urology surgical instrument market.
Urology Surgical Instrument Market Competitive Landscape
Key players in the urology surgical instrument industry are launching new products to increase their market share. For instance, in February 2018, NeoTract, a wholly owned subsidiary of Teleflex Incorporated, announced that the United States Food and Drug Administration (USFDA) cleared new indications for the UroLift system for the treatment of enlarged prostate, or BPH. These expanded indications meant that patients who had an obstructive median lobe and those as young as 45 years of age, were eligible to receive treatment with the UroLift system for their BPH symptoms.
In December 2017, Olympus Corporation announced the launch of the LTF-S300-10-3D ENDOEYE FLEX 3D deflectable videoscope, a new 3D surgical endoscope designed for use with the VISERA ELITE II, in Japan, Europe and parts of Asia. According to the company, when used with VISERA ELITE II, LTF-S300-10-3D also provides higher image quality with greater 3D depth perceptions. These launches aid the players to seek growth in the urology surgical instrument market.
Some of the key players, other than those mentioned above, operating in the urology surgical instrument industry include Karl Storz GmbH & Co. KG, Richard Wolf GmbH, Cook Medical LLC, Medtronic plc, Stryker Corporation, CONMED Corporation, and CooperSurgical Inc., Boston Scientific Corporation and Coloplast A/S.