U.K. E-Cigarette Market Overview
The U.K. e-cigarette market was valued at $2.0 billion in 2018, and is projected to exhibit a CAGR of 19.6%, during the forecast period. The market is buoyed by several factors primarily, product innovation and advancement in technology, need for smokeless and ash-less vaping, as well as growing health awareness among the populace.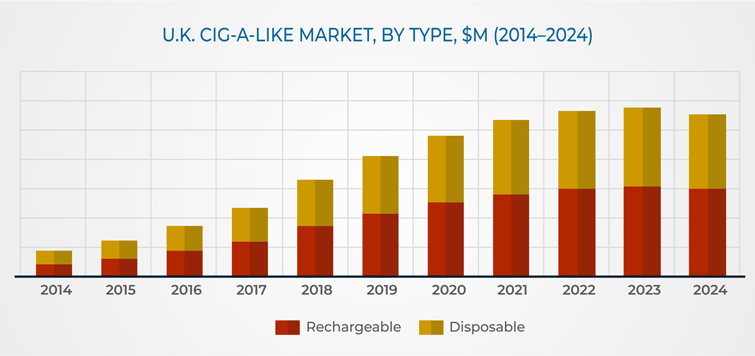 On the basis of product, U.K. e-cigarette market is categorized into cig-a-like, vaporizer, t-vapor, and vape mod. Of these, the market for vape mod is expected to record a CAGR of 21.6% during 2019-2024. This is attributed to features such as flavor customization and power modulation enabling the user to produce more vapor and smoke as per their taste preferences. Moreover, according to National Statistics, approximately 37% of the total population in U.K. has tried e-cigarette at least once in 2018. This number is increasing at a growth rate of 24% annually, making customizable vape mod a popular choice among current, ex-smokers.
Based on region, England held the largest share in the U.K. e-cigarette market in 2018. The surging number of new users and consumers who are switching from traditional tobacco cigarettes to e-cigarettes have been driving the e-cigarette market growth. Furthermore, e-cigarette players operating in the region have been investing in R&D to innovate new flavors, and technology after observing the rising interest in e-cigarettes among the population and attract more customers as well as retain the existing customers.
On the basis of aftermarket offerings, the market is segmented into refill, battery and charger, and others including atomizers, tanks, and coils. Among these, refill category accounted for the largest share in the U.K. e-cigarette market in 2018. U.K. is projected to have around 4.5 million vapers by 2024, indicating a shift toward e-cigarettes from conventional tobacco products. This is expected to increase the consumption, thus leading to more demand for e-cigarette accessories, mainly refills during the forecast period.
U.K. E-Cigarette Market Dynamics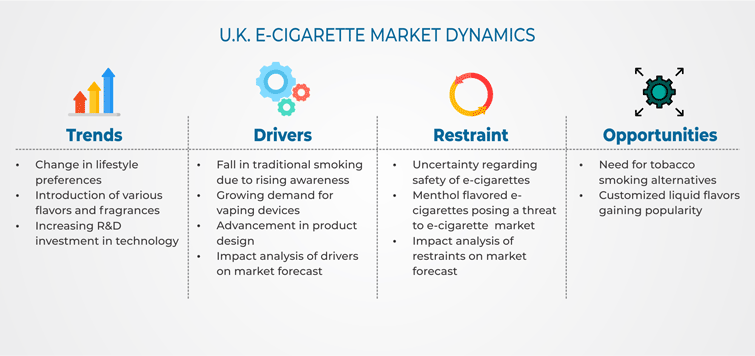 Growth Drivers
Continuous development in e-cigarette technology is driving the e-cigarette market in the country. Tobacco manufacturers are increasingly focusing on new technology development to have an edge over their competitors. Major tobacco companies are introducing numerous innovative products that could assist in increasing their footprint across emerging markets. For instance, in March 2019, Japan Tobacco Inc. launched two new flavors of tobacco capsules Pianissimo Pineapple Peach Yellow Cooler and Pianissimo Aria Menthol for the Ploom TECH brand. Introduction of new flavors and advanced e-cigarette products would drive the e-cigarette in the coming years.
Trends
With the growing popularity of e-cigarettes, flavor and fragrance vendors are introducing a large variety of e-cigarette flavors to attract potential consumers. Different flavors such as menthol, mint, chocolate, cola, bubble gum, and fusions of other fruits and flavoring substances are luring a large number of consumers to adopt e-cigarettes. The country is recording a positive shift in the trend toward flavored e-cigarettes.
The e-cigarette market witnessed high investments in R&D to innovate new products as well as incorporate new features that enable companies to cater to the changing consumer preferences and sustain the ongoing consumer demand. E-cigarette manufacturers are also focused on making their products less harmful as well as reduce the cost of production and distribution. For instance, in FY2018, Japan Tobacco Inc., strongly focused on R&D activities; with an expenditure of $812.9 million, which grew by 8.1% from FY2017.
Restraints
The younger population in the market prefer menthol flavored e-cigarettes more than tobacco flavored or alcohol flavored e-cigarettes due to its better taste than other flavored e-cigarettes. With a rising number of youths adopting smoking along with various health-related issues due to the excessive use of menthol, the government in different parts are restricting the sale of menthol flavored e-cigarettes.
U.K. E-Cigarette Market Competitive Landscape
The competition in U.K. e-cigarette market is intense and, as consumers' needs and preferences continue to diversify, a strong portfolio with established brand reputation is increasingly important to support the market share gains. Companies including Imperial Brands plc, British American Tobacco plc, Japan Tobacco Inc., and Philips Morris International Inc. held majority of the share in 2018.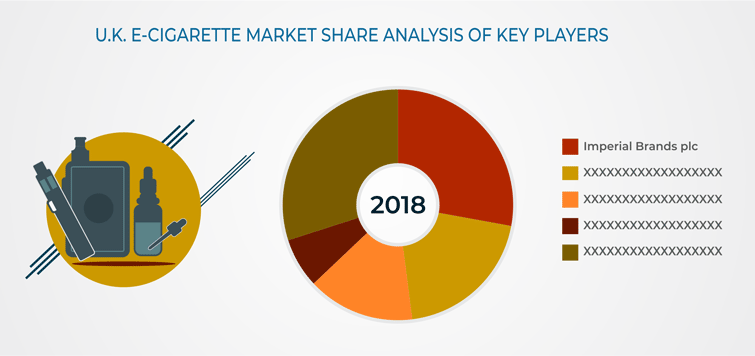 Philip Morris International Inc., British American Tobacco p.l.c., Altria Group Inc., Japan Tobacco Inc., Imperial Brands PLC, JUUL Labs Inc., Shenzhen iSmoka Electronics Co., Ltd., Shenzhen IVPS Technology Corporation Ltd., Innokin Technology Co. Ltd, Shenzhen Kanger Technology Co., Ltd., and Pax Labs, Inc. are some of the major players in the U.K. e-cigarette market.