Transradial Access Devices Market Overview
The global transradial access devices market size was valued at $14.9 billion in 2017, and is expected to exhibit a CAGR of 8.4% during the forecast period. On the basis of product, catheters held a larger share in the transradial access devices market, accounting for more than 40% in 2017. This leading position of catheters is mainly due to the increased prevalence of coronary artery diseases leading to increase in interventional and angiography procedures.
GLOBAL TRANSRADIAL ACCESS DEVICES MARKET, BY PRODUCT, $M (2013-2023)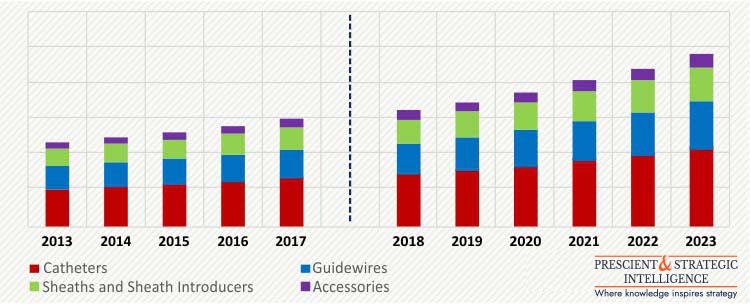 Drug administration, fluid and nutrition administration, blood transfusion, and diagnostics and testing are the various application areas of transradial access devices. Of these, drug administration led the market in 2017, with over 45% share. This is mainly attributed to the increased use of vascular access devices for drug administration, for the treatment of infections and cancer.
End users in the transradial access devices industry include hospitals, clinics and ambulatory care centers (ACCs), and other end users. Hospitals constituted the largest end user category for these devices in 2017. It is also expected to be the fastest growing category during the forecast period, registering a CAGR of 8.6%.
Globally, Europe was the the largest contributor to the transradial access devices market in 2017, with over 40% share. The largest share is attributed to the wide acceptance of transradial intervention (TRI) as a default strategy for percutaneous coronary interventions (PCI) in Europe. Additionally, the establishment of outpatient clinics with same day discharge by cath labs performing TRI, has also contributed to the large share of the market in Europe.
Transradial Access Devices Market Dynamics
Trends
The increasing collaborations of industry players with medical device reprocessing players, increasing focus on the development of robotic-assisted catheter system, and the growing focus of market players on emerging economies are the key trends observed in the transradial access device industry. In addition, the practice of acquisition of other companies is also a prominent trend being observed in the transradial access devices market.
Growth Drivers
The cost-benefit associated with transradial artery access, increasing preference of radial artery access for interventional procedures, increasing prevalence of chronic diseases, increasing number of chemotherapy procedures, growing use of radial access devices in geriatric as well as high risk patients, and rising healthcare expenditure are the key factors driving the growth of the transradial access devices market.
The transradial access approach offers the advantages of low cost and favorable clinical outcomes over the transfemoral intervention, and is expected to curb the increasing healthcare expense, majorly faced by developing economies.
Moreover, the several studies conducted to determine the advantages of the transradial approach for transarterial chemoembolization in cancer, are leading to the increase in the preference for transradial access approach, will be fueling the demand of these devices. It is also observed that transradial access approach is suitable for a wide patient pool facing high-risk, that includes morbidly obese patients, severe peripheral vascular diseases, elderly patients (particularly women), and patients on oral anticoagulation having high risk of vascular access site bleeding. These factors are expected to drive the growth of the transradial access devices market, globally.
Opportunities
Technological advancements in transradial access devices industry, and increasing acquisition and collaboration between players in the market have been creating ample opportunities for the players in the market. The market players are focusing on advancing their products by investing in R&D and developing technology for the reduction of radiation exposure and fluoroscopy time, and minimizing radial artery injury and occlusion; thus, creating opportunity for the effective treatment of various diseases through these improved versions of transradial access devices.
Transradial Access Devices Market Competitive Landscape
Major players in the transradial access devices market are Terumo Corporation; Becton, Dickinson and Company; Medtronic plc; Smiths Group plc; Edwards Lifesciences Corporation; AngioDynamics Inc.; Merit Medical Systems Inc.; Boston Scientific Corporation; Teleflex Incorporated; and Nipro Corporation.
Major players are focusing on acquisitions in order to expand their transradial access devices product portfolio, which is further expected to increase their market share in the coming years. For instance, in October 2017, Boston Scientific Corporation announced the acquisition of Apama Medical Inc., for accessing Apama Radiofrequency single–shot Balloon Catheter System to treat atrial fibrillation. This acquisition would advance the R&D investment of Boston Scientific Corporation in electrophysiology and additionally, would lead to the expansion of the company's portfolio of differentiated arrhythmia solutions.
Similarly, in April 2017, Becton, Dickinson and Company announced a definitive agreement with C. R. Bard Inc., under which it agreed to acquire the latter for a total consideration of $24 billion. This acquisition was aimed at promoting innovation and expanding the product line of the former, to create opportunities in non-U.S. markets.