Thermal Spray Materials Market Overview
The global thermal spray materials market is estimated to value $1,860.8 million in 2018 and is projected to reach $2,869.2 million by 2024, witnessing a CAGR of 7.4% during the forecast period. Growing need for high-quality coatings on components used in aerospace, automotive, and energy and power sectors is the key factor driving the market growth.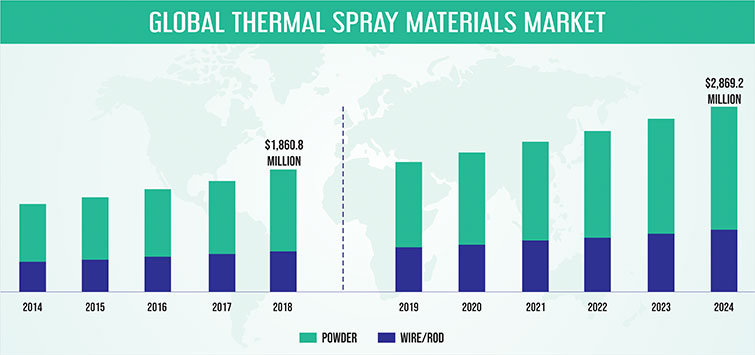 Based on type, the thermal spray materials market is categorized into powder and wire/rod. Wire/rod category is estimated to account for larger share in 2018. Process of thermal spraying involves the use of metal-based, ceramic-based, or polymer-based wire/rod. This wire or rod is fed into torch/gun with which it is heated above its melting point to form molten droplets. The molten droplets of the material are then accelerated in a stream of gas and projected over substrate for coating purpose. By using wire/rod as a thermal spray material, high-quality coating can be achieved and simultaneously minimizing the wastage of the material.
Based on end-use industry, the thermal spray materials market is classified into automotive, aerospace, industrial gas turbines, energy and power, electronics, oil and gas, medical devices, and others. The others category includes adoption of thermal sprays in equipment and devices that are engaged in textile manufacturing, rubber manufacturing, food processing, mining, and industrial manufacturing industries. Globally, aerospace is estimated to account for the largest share in the market, contributing more than 35.0% share in 2018, owing to large-scale demand for materials in coating different aerospace components for commercial and military aircraft.
Geographically, the thermal spray materials market is categorized into North America, Europe, Asia-Pacific (APAC), Latin America (LATAM), and Middle East and Africa (MEA). Globally, the North American market is estimated to generate the highest demand for the materials in 2018, contributing more than 35.0% revenue share. High demand for the materials is driven by the fact that the region has the presence of a large number of aerospace and automotive companies, which will continue to generate high demand for thermal spray materials in coating different aircraft and automotive components.
Thermal Spray Materials Market Dynamics
Growth Driver
The thermal spray materials market is likely to be driven by the growth in aerospace sector, owing to rise in penetration of aerial mode of transportation. Furthermore, higher budgetary allocation for defense sector by the U.S., India, China, and Japan are also likely to assist growth in the aerospace industry. High potential of the aerospace sector in the APAC region is expected to significantly contribute to this growth. For instance, China is predicted to spend over $1.1 trillion on aircraft in the span of next 20 years.
The increasing aircraft demand, both commercial and defense, positively affects the demand dynamics of the thermal spray materials market. The aerospace sector generates a significant demand for thermal sprays, which are used for coatings on turbo-machinery such as rotor-path linings, high-pressure turbine seals, compressor seals, bearings, oil seals, airframe, and engine components to improve fuels efficiency, improve fluid dynamics, prevent wear, and reduce maintenance costs.
Moreover, rising population and rapid urbanization, primarily in the APAC and Eastern European regions, have led to the high demand for industrial machinery and equipment in consumer products, automobiles, and construction industries. Since all these machinery and equipment require thermal spray coatings for their protection from corrosion, wear, erosion or any other damages, therefore these are expected to continue boosting the thermal spray materials market in the near future.
Thermal Spray Materials Market Competitive Landscape
Majority of companies engaged in the thermal spray materials market are forward-integrated to provide coating solutions in the form of technologies, equipment, and services. Besides, these players have differentiated clients and customers in the aerospace, automotive, medical, oil and gas, and marine industries.
The global thermal spray materials market is majorly dominated by multinational corporations including OC Oerlikon Corporation AG, Praxair S.T. Technology Inc., H.C. Starck GmbH, Kennametal Inc., and Höganäs AB.