Surgical Glue Market Overview
The global surgical glue market is estimated to be valued at $3,810.5 million in 2017 and is projected to reach $6,936.5 million by 2023, witnessing a CAGR of 10.6% during the forecast period. The increase in healthcare expenditure and rise in geriatric population in different regions are some of the factors driving the market growth.
GLOBAL SURGICAL GLUE MARKET, BY TYPE, $M (2013-2023)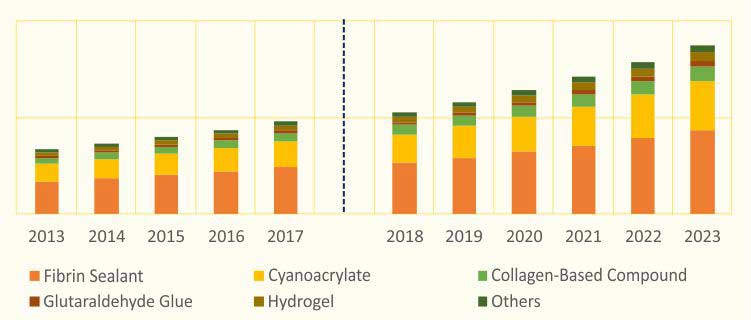 Surgical glue is a biological or synthetic material used after surgeries and traumatic injuries to prevent air or liquid leakage in wounds. It is also referred to as a surgical adhesive and sealant by health professionals and consumers.
On the basis of type, the surgical glue market is categorized into fibrin sealant, cyanoacrylate, collagen-based compound, glutaraldehyde glue, hydrogel, and others. The "others" category includes polysaccharide-based and urethane-based variants. Fibrin sealant held the largest share in the surgical glue market during the historical period and is estimated to contribute more than 45.0% share to the market in 2017. This is attributed to the increasing demand for fibrin sealant and related products for a wide range of applications and its natural origin; that is, it is derived from human or animal blood cells, hence, more compatible with the human body.
Cardiac surgery was the largest application area of surgical glue during the historical period and is estimated to account for more than 25.0% share in the global surgical glue market in 2017. The rising prevalence of cardiac-related diseases globally is contributing to the expansion of surgical glue market.
Based on end user, the surgical glue market is categorized into hospitals, clinics, and others. Other end users include ambulatory surgery centers (ASCs) and primary care providers (PCPs). The hospitals category is estimated to contribute more than 80% share to the surgical glue market in 2017. This can be attributed to complex major surgeries, such as cardiac, pulmonary, and vascular surgeries, which are generally performed in hospitals owing to the need for admitting and keeping the patient under medical supervision for several days.
Geographically, North America is expected to continue being the largest and second fastest-growing surgical glue market in the coming years. This is attributed to increasing investments in the research and development of the medical adhesive and its several applications in different surgeries performed in the region.
Surgical Glue Market Dynamics
The major trend identified in the surgical glue market is the growing popularity of plastic surgeries globally. Besides, the rising healthcare expenditure is a key factor driving the market growth.
Trends
Plastic surgeries are increasingly gaining popularity owing to rising disposable income, increasing consumer awareness, and technological advancements in surgical procedures. Some of the dominant cosmetic procedures in 2016 were breast augmentation, liposuction, nose reshaping, eyelid surgery, and facelift. Similarly, the top five reconstruction procedures of 2016 were tumor removal, laceration repair, maxillofacial surgery, scar revision, and hand surgery. The abovementioned procedures are promoting surgical glue market expansion.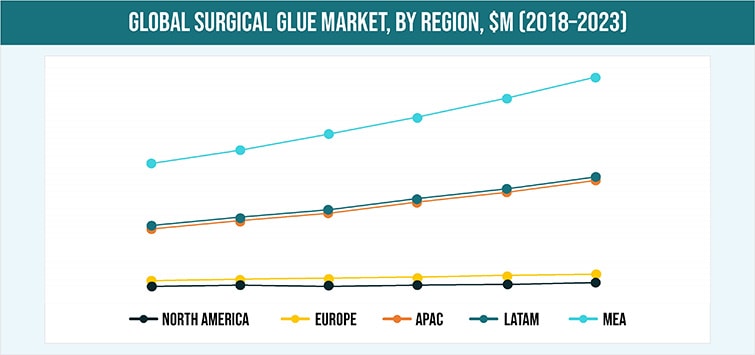 Drivers
People from developing and developed economies are spending hugely on healthcare services owing to the rise in health concerns and increase in disposable income. According to the Centers for Disease Control and Prevention (CDC), in 2015, total national health expenditure in the U.S. stood at $3.2 trillion and per capita national health expenditure was $9,990. As per the reports of the U.K. Office for National Statistics (ONS), the U.K.'s total healthcare expenditure was $282.8 billion in 2015.
Abovementioned data indicate that countries are increasingly spending on healthcare and related facilities owing to rising medical awareness, growth in disposable income, and various developments in surgical facilities. Thus, patients suffering from various diseases are going for surgeries (better and quick treatment options), which, in turn, is driving the surgical glue market growth.
Restraints
Surgical glue has several limitations associated with its usability and safety, such as allergic reactions, wound dehiscence, and skin infections. In addition, it is categorized as class II by the FDA and class B by the Drugs and Cosmetics Acts (1940) in India, which makes it a little risky and thus requiring clinical trials and further leading to legal complexities. The safety, quality, and performance of these materials are necessary facets requiring stringent evaluation for public health, which lead to complex and strict regulations for their affiliation. Therefore, these factors are hindering the growth of the surgical glue market.
Surgical Glue Market Competitive Landscape
Some of the major players operating in the global surgical glue industry are Advanced Medical Solutions Group PLC, B. Braun Melsungen AG, Baxter International Inc., C. R. Bard Inc., Cardinal Health Inc., Cohera Medical Inc., CryoLife Inc., Integra LifeSciences Holdings Corporation, Johnson & Johnson, Medtronic PLC, and Takeda Pharmaceutical Company Limited.