Stepper Motor Market Overview
The global stepper motor market size was $2.5 billion in 2019, and it is projected to register a CAGR of 3.4% over the forecast period (2020–2030). Technological advancements in stepper motors and the increasing demand for miniature stepper motors are some major growth factors driving the stepper motor industry. Additionally, the major factor driving the demand for stepper motors in the Asia-Pacific (APAC) region is the emergence of numerous manufacturing hubs for medical devices in China, India, and other developing economies, such as Vietnam and Singapore.
The COVID-19 pandemic has severely impacted the stepper motor market across the globe, both on the supply and demand sides. The stringent lockdown measures worldwide have slowed business and gross domestic product (GDP) growth, pushing the rates into the negatives in certain places. The supply of the raw materials required for the production of motors, from China, Japan, and Association of Southeast Asian Nations (ASEAN) countries has been hugely disturbed, thereby putting a major strain on the overall production of stepper motors. Further ill-affected by a fall in demand, the market for stepper motors is experiencing a slowdown, but it will eventually jump to pre-COVID levels, over the short term.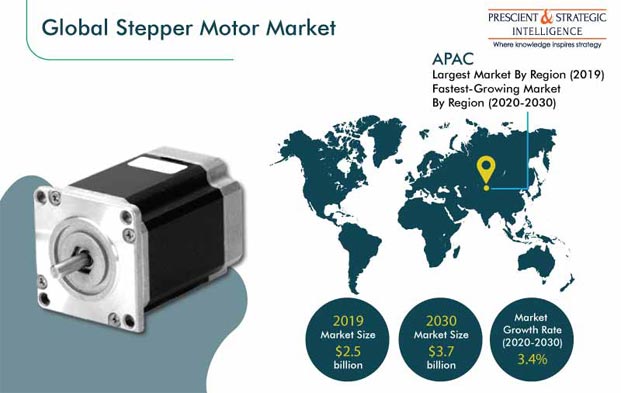 Segmentation Analysis
Hybrid Is Fastest- Growing Category in Industry due to Greater Efficiency of Such Motors
The hybrid motor category accounted for the fastest growth in the stepper motor market till 2019, based on type, and the situation is expected to remain the same over the forecast period. This can be attributed to the advantages offered by these motors over other types.
A hybrid stepper motor works on the combined principles of permanent-magnet and variable-reluctance variants, hence offers a high output torque, high pulse rate, faster acceleration and response, low amount of noise, and better performance delivery. Additionally, their rugged and simple construction makes them extremely reliable, with low maintenance requirements. These features have made hybrid motors a popular choice for use in industrial applications, thus will drive the stepper motor market over the forecast period.
Closed-Loop Is Larger Motion Control Category in Industry due to Smooth Functioning of These Motors
In the stepper motor market outlook, the closed-loop category generated the higher revenue in 2019, based on motion control. The category is also expected to remain the higher-revenue-generating category over the forecast period, primarily due to the low resistance and smooth functioning of closed-loop stepper motors. In terms of functionality, these motors offer improved energy efficiency at high loads, less packaging, higher torque at fewer revolutions per minute (RPM), short transient and free-oscillation time, and cost-effectiveness, compared to other motors. As a result, these variants are expected to witness a surge in demand in the coming years.
Medical Equipment Is Fastest-Growing End-Use Category
Medical equipment has been the fastest-growing end-use category till 2019, and it is further expected to maintain its pace in the stepper motor market over the forecast period. This can be attributed to the growth in the usage of stepper motors in various medical equipment, such as power tools, drug delivery systems, ventilation systems, blood analysis machinery, and orthopedic devices. These applications require stepper motors with accuracy and repeatability, to enhance their life-saving capabilities. Technological advancements in the functioning of motors have led to increased accuracy and reliability, which make them a suitable option for medical equipment, in turn, driving the stepper motor market.
Geographical Outlook
APAC – Largest Regional Market owing to Presence of Major Automotive Manufacturers
The APAC region held the largest stepper motor market share during the historical period (2014–2019), due to the presence of major automotive manufacturers. Japan, China, India, and South Korea are among the major contributors to the demand for stepper motors, since the integration rate of these motors in various products is high here, due to their large populations.
Moreover, the growing industrialization rate and advent of Industry 4.0 are fueling the adoption of industrial automation in major verticals, such as automotive, semiconductor, and robotics which, in turn, is driving the stepper motor industry. Hence, the rising automobile manufacturing capacity and growing automation adoption are expected to drive the market for stepper motors in the region.
APAC Is Fastest-Growing Region due to Rising Investments In Aerospace And Defense Industries
APAC is the fastest-growing region in the world for stepper motors, and it is expected to remain so over the forecast period. Steady economic growth and the growing middle class are driving massive investments in the aerospace industry.
According to the 2019 Boeing Services Market Outlook, the APAC region will account for approximately 40% of all new commercial airplane deliveries over the next 20 years. The defense equipment manufacturing sector is also witnessing expansion, owing to a rise in the demand for various related products and systems from China and India. These industries are growing significantly in the region and are among the major end users of stepper motors, thus driving the overall stepper motor industry.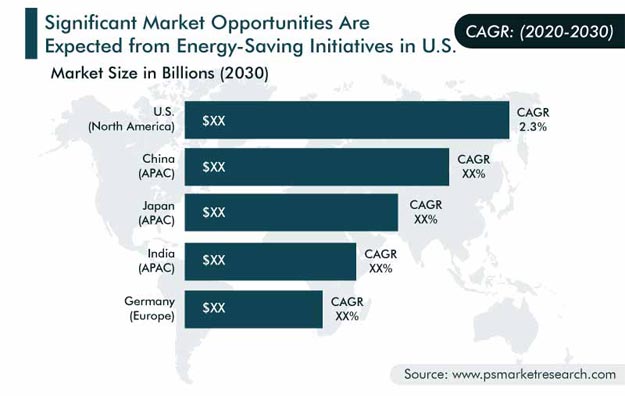 Trends & Drivers
Use of Waterproof Stepper Motors Is Trending in Industry, due to Their Corrosion Resistance
A key trend being observed in the stepper motor market is the growing penetration of waterproof stepper motors. The waterproof technology makes these motors corrosion-resistant, thus leading to an improved product life, even under harsh conditions. This makes them fit for use in several applications, such as industrial automation, undersea exploration, undersea mining, and oil exploration. With various underwater exploration activities being undertaken, stepper motors are being used in robotic submarines, oil exploration equipment, salvage robots, and automated undersea lights and cameras. All these application areas of the waterproof technology have led to a surge in the popularity of such stepper motors around the world.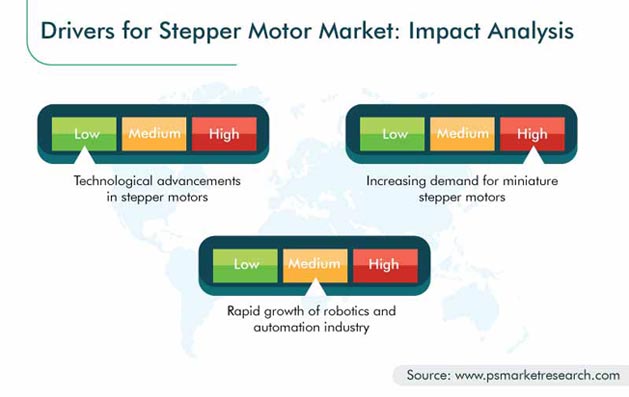 Increasing Demand for Miniature Stepper Motors in Various Applications Is Driving Industry
Owing to their increasing penetration in many electronic applications, such as position control and sensing, the market for miniature stepper motors has substantially grown. A miniature stepper motor is a low-power stepper motor, designed to meet electronic devices' size constraints. The increasing demand for miniature stepper motors for digital cameras and lenses, industrial automation systems, electronic toys and games, and computer peripherals is expected to fuel the stepper motor market growth over the forecast period.
Rapid Growth of Robotics and Automation Industry Is Boosting Demand
The growing robotics and automation industry is another major driving factor for stepper motor market around the globe. Due to the rapid development of the global robotics and automation industry, industrial robotics solutions are gaining immense popularity, visible in their large-scale deployment in the manufacturing sector. The advantages of industrial robots, including the provision of personal assistance on the floor and suitability as autonomous vehicles, are key for the stepper motor market advance.
Other advantages, such as the streamlining of the manufacturing process and human resources, smoothening of the supply chain management, increase in efficiency, and time savings, are leading to the wide adoption of industrial robotics and automation solutions and playing a significant role in raising the demand for motors, thereby driving the stepper motor market.
Stepper Motor Market Report Coverage

| | |
| --- | --- |
| Report Attribute | Details |
| Historical Years | 2014-2019 |
| Forecast Years | 2020-2030 |
| Base Year (2019) Market Size | $2.5 Billion |
| Forecast Period CAGR | 3.4% |
| Report Coverage | Market Trends, Revenue Estimation and Forecast, Segmentation Analysis, Regional and Country Breakdown, COVID-19 Impact, Company Share Analysis, Companies' Strategic Developments, Product Benchmarking, Company Profiling |
| Market Size by Segments | By Type, By Motion-Control, By End-Use, By Region |
| Market Size of Geographies | U.S., Canada, Germany, France, Italy, U.K., Spain, Japan, China, India, Brazil, Mexico, Saudi Arabia, Turkey, U.A.E. |
| Secondary Sources and References (Partial List) | Association for Advancing Automation, Copper Development Association, Electric Apparatus and Service Association (EASA), Electric Motor Education & Research Foundation (EMERF), Energy Information Administration (EIA), European Committee of Manufacturers of Electrical Machines and Power Electronics (CEMEP), India Brand Equity Foundation (IBEF), Institute of Electrical and Electronics Engineers (IEEE), International Energy Agency (IEA) |
Explore more about this report - Request free sample pages
Market Players Focusing on Geographical Expansions to Increase Their Presence
The stepper motor industry is highly fragmented and competitive in nature, with the presence of numerous market players, such as Changzhou Fulling Motors Co. Ltd., ORIENTAL MOTOR CO. LTD., MOOG Inc., and MinebeaMitsumi Inc.
To stay ahead of their competitors, market players are focusing heavily on expanding their business operations around the globe, taking several initiatives in this regard, in recent years. For instance:
In November 2019, AMETEK France opened a new Technology Solutions Centre, as its regional headquarters, in Elancourt City, to grow its electromechanical and electronic instrument business in France.
In July 2019, Applied Motion Products, a MOONS' company, purchased land for its new corporate headquarters in California, U.S. The new headquarters will consolidate all of the company's operations, including production, warehousing, operations, engineering, customer service, and executive management, in the U.S.
In March 2019, Maxon Motors opened a new manufacturing facility in Taunton, Massachusetts, U.S., which is engaged in designing, engineering, and production operations, thereby significantly advancing Maxon's precision motor presence and capabilities in North America.

Some of the key players in the stepper motor market are:
Spirax-Sarco Engineering plc

Nidec Corporation

Aspina Group

Nanotec Electronic GmbH & Co. KG

Phytron GmbH

Schneider Electric SE

ABB Ltd.

Applied Motion Products Inc.

Delta Electronics Inc.

SANYO DENKI CO. LTD.

ElectroCraft Inc.
Johnson Electric Holdings Limited

Dr. Fritz Faulhaber GmbH & Co. KG

Siemens AG

Electric Motor Solutions

Spark Motors Pvt. Ltd.

Lakshmi Technology and Engineering Industries

ND Automation

Franklin Electric Co.

Allied Motion Technology Inc.

General Electric Co.

Danaher Motion LLC
Stepper Motor Market Size Breakdown by Segment
The stepper motor market report offers comprehensive market segmentation analysis along with market estimation for the period 2014–2030.
Based on Type
Permanent Magnet
Variable Reluctance
Hybrid
Based on Motion Control
Based on End Use
Industrial Machinery
Medical Equipment
Packaging & Labeling Machinery
Consumer Electronics
Geographical Analysis
North America
Europe

Germany
France
Italy
U.K.
Russia
Spain

Asia-Pacific (APAC)

China
Japan
India
South Korea

Rest of the World (RoW)