Soy-Based Chemicals Market Overview
The global soy-based chemicals market is expected to grow at a CAGR of 7.5% during the forecast period, to reach $19,362.8 million by 2022. A significant growth in demand for soy-based chemicals is anticipated due to worldwide concern over environmental consequence and consumer preference towards industrial ecology, eco-efficiency and demand for green chemicals.
GLOBAL SOY-BASED CHEMICALS MARKET, BY APPLICATION, $M (2012 - 2022)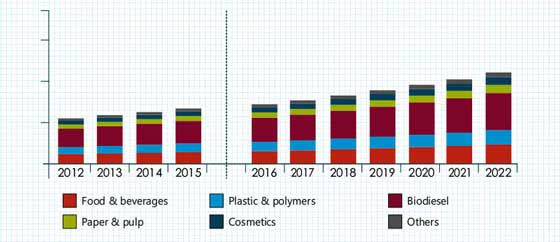 Soy-based chemicals are alternatives to conventional chemicals and those derived from petroleum or crude oil. Soy oil and soy milk are the most common derivatives of soybean. Soy milk finds application in food industry, while soy oil holds enormous potential in the derivation of chemicals such as isoflavones, waxes and polyols. These derivatives are used in the production of biodegradable plastics, soaps, biodiesel and other products. Apart from the plastics & polymers industry, and food & beverage industry, products from the soy-based chemicals are now being used in cosmetics industry. The application of bio-based chemicals has become very significant due to increasing pollution levels. The soy-based chemicals market is a component of bio- fuels setup and this market is expected to show a rapid growth during the forecast period. Soybean chemicals are considered as positive and stable alternative to conventional chemicals derived from petroleum or crude oil. Thus, the growth of the soy-based chemicals market is expected to decrease the carbon footprint.
The soy-based chemicals market has been categorized on the basis of product type and by application. Based on type, the market has been generating highest revenue from soy oil, while polyols, methyl soyate, fatty acids and isoflavones are the other major soy-based chemicals. Among the applications of soy-based chemicals, biodiesel sector accounts for the major revenue in the global market.
North America was the largest regional market, followed by Asia-Pacific in 2015. The developing countries in South America are also expected to make serious progress in the soy-based chemical market. The Asian countries, such as Korea, Singapore and China are investing heavily in the renewable chemical sector. Other promising markets include Western Europe, Eastern Europe, Middle East and Africa.
Soy-Based Chemicals Market Dynamics
The most widespread soybean derivatives include soy-milk and soy-oil. These are extensively used in food and beverage industry, owing to their high nutrient content. Soy-protein concentrate, flakes and isolates can be compounded with synthetic plastics, such as poly lactic acid; and polycaprolactone to extract chemicals, such as polyols, methyl soyate, waxes, thermoset plastics, elastomer, plasticiser, rubber compounds, isoflavones and other oleochemicals that are utilized to make edible films or moulded products, such as bio-degradable plastics, shopping bags, and soaps.
The increasing demand for soybean from traditional applications such as in food industry is the major factor responsible for hindering the growth of the soy-based chemicals market.
Growth Drivers
Worldwide concern over environmental consequence, increasing use of bio based products, along with increasing demand of soybean from traditional applications including food industry are the factors responsible for driving the growth of the soy-based chemicals market. The environmental issues such as global warming, air pollution, acid rain, urban sprawl, ozone layer depletion, waste disposal, water pollution, climate change and others have global effects. Over the last few decades, the degradation of environment and exploitation of planet have increased at an alarming rate, resulting in frequent natural disasters of different forms. Growing concern over the environment is expected to act as growth driver for bio-based chemicals, which will also result in driving the growth of soy-based chemicals market.
Further, there is a growing demand for eco-friendly and bio based products, particularly in specialty chemicals and consumer sectors. This demand has been experienced in many countries across the globe. The existing opportunity across a variety of consumer and industrial sectors include cosmetics, pesticides, fertilizers, and insecticides, greases and lubricants and many others. Substantial demand for eco-friendly chemicals has been experienced from various industries including eco-cosmetics (perfumes, cosmetics, deodorants), eco-cleaning products and detergents, food ingredients and additives, consumer packaging. Moreover, the increasing demand for eco-friendly chemicals from industrial end-user segments such as eco-pesticides and eco-insecticides, biofertilizers and other soil nutrients, greases, lubricants, and cleaning chemicals, industrial polymers, plastics and pharma ingredients is driving the growth of the market.
Trends
The current trend witnessed in the soy-based chemicals market is investment shift towards Asia-Pacific region. The rapidly increasing population in the region along with increasing communication and energy infrastructure, quality human capital and efficient labor markets are attracting the multi-billion dollar companies to invest in this region. The region is also experiencing structural changes in the types of investments it attracts. Asia-Pacific region today stands at a turning point as advancing technologies move beyond national boundaries and create new demands and new industries that will continue the increasing investment in the region.
Opportunities
The key opportunity witnessed in the soy-based chemicals industry is increasing investment in developing renewable chemicals in the emerging economics. The two major problems occurring in the 21st century include climate changes and dwindling supply of low-cost energy sources. Renewable sources have the potential to solve both. Bio based chemicals are becoming cost competitive and represent a near-term opportunity for replacement of petrochemicals with renewable resources. Renewable chemicals and bio products from bio-refineries continue to grow rapidly and gain increased market share. While industrial biotechnology offers a clear value proposition, number of hurdles need to be addressed to fully realize the commercial potential of bio-based products and chemicals. Fortunately, the increasing investments in renewable chemicals by developing countries seem to be on the path to commercialize these solutions and build a worldwide bio-based economy, which is a good opportunity for business, consumers and environment.
Soy-Based Chemicals Market Competitive Landscape
Some of the major companies operating in the soy-based chemical market include The Dow Chemical Company, Archer Daniels Midland Co., Soy Technologies LLC, BioBased Technologies LLC, Bunge Ltd., Cargill Inc., VertecBioSolvents Inc., Cara Plastics Inc., Elevance Renewable Sciences Inc., and Soyaworld Inc.