South America Enterprise Asset Management Market Overview
The South American enterprise asset management market was valued at $426.7 million in 2017 and is forecasted to witness a CAGR of 10.9%, during 2018–2023. Increasing asset utilization, increasing need to reduce operating cost, and inclination toward safeguarding of supply chain availability and visibility are the factors leading to the robust growth of the market.
On the basis of deployment type, the South America enterprise asset management market can be categorized into on-premise and cloud-based types, where cloud-based deployment is poised to witness a higher CAGR of 19% during the forecast, surpassing on-premise revenue by 2023. Cloud-based technologies provide increased versatility as well connectivity throughout the supply chain. Data can be accessed by any number of users of an organization at different locations using cloud-based EAM.
The 'enterprise size' category is further categorized into small and medium enterprises (SMEs) and large enterprises, wherein large enterprises, historically, have been the majority user of enterprise asset management systems, due to increasing need for managing assets. Due to the high implementation cost of enterprise asset management software and significantly higher budgets of large enterprises, this category will continue to hold a larger revenue share in the enterprise asset management market, during the forecast period.
South America EAM Market Dynamics
Trends
Enterprises are moving from a reactive approach to a predictive approach. The reactive approach is basically solving the problem after the problem has been occurred while predictive approach enables enterprises to stop the breakdown beforehand.
The predictive analytics analyzes critical failure mode of assets and determines optimum maintenance schedule. Moreover, it improves customer satisfaction by reducing unexpected outages. Predictive analytics in enterprise asset management reduces potential risks and compliance issues by collating and analyzing both past and current data taken from multiple sources and builds accurate and testable predictive models. These models are capable of generating predictions and risk scores upon which the decision makers can take appropriate calls to keep the assets healthy.
Another notable trend in the enterprise asset management market is the mobility in these systems. With rise of mobile devices like smartphones, personal digital assistants (PDAs), and laptops, demand for mobility in EAM is also increasing. Companies like SAP SE and IBM Corporation have integrated EAM in smartphones in the form of an application software, which enables the workers to input the inspection data directly to the mobile application. This reduces the time delay, data collection errors, and operational cost in the process. The application seamlessly connects with the enterprise's asset management system to keep the mobile ecosystem in synchronization with EAM system.
Drivers
The enterprise asset management market growth will be driven by increasing need to safeguard the supply chain availability and visibility. Supply chain is one of the most important part of an organization, which when disrupted can incur a heavy cost to the organization. Especially in regions like South America, managing a business is particularly challenging due to the complex regulatory and fiscal environment, and poor infrastructure. Moreover, due to long distances, the logistics and value chain management becomes complex, hence, the use of EAM software becomes much more important. The EAM software for supply chain management enables segmentation and strategy, design, planning and execution, supply chain operation, and cloud integration.
Another factor driving the growth of enterprise asset management market is the rising need to reduce operational costs by enterprises. An enterprise asset management system can reduce operating cost by increasing return on investment (ROI) from plant and equipment by optimizing asset utilization and maintain the critical equipment in peak operating condition, performance improvement against key metrics by tracking improvements in production yield, scrap or rework, and overall equipment effectiveness (OEE).
Opportunities
In South America, accessibility of small companies to EAM utilization is prospected in the coming years. The various factors that would increase the adoption of EAM in small companies include a reduction of peripheral EAM cost, where the peripheral includes expensive barcode scanners. This cost can be further reduced by the use of smartphones for reading the barcodes. The other factors would be increasing use of cloud deployment. This cost is minimized by the reduced information technology (IT) needs and the time spent in updating the EAM software. The small companies would thus offer lucrative growth opportunities for enterprise asset management players.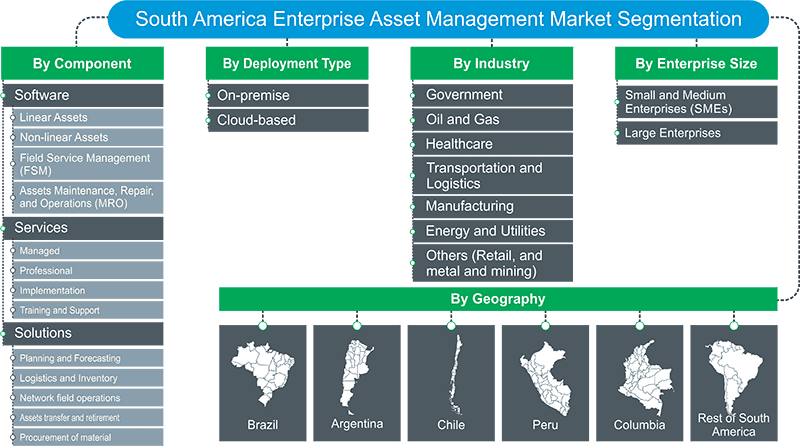 South America Enterprise Asset Management Market Competitive Landscape
Competition in the enterprise asset management market in South America is intense, with the top four players holding over 60% of the market share. Market players such as SAP SE, Schneider Electric, Infor Inc., and IBM Corporation, are adopting various strategies such as mergers and acquisitions, partnerships, and new product launches to compete effectively in the market.
Some of the key players operating in the South America enterprise asset management market are Schneider Electric SE, Oracle Corporation, IBM Corporation, SAP SE, ABB Ltd., Industrial and Financial Systems (IFS) AB, MRI Software LLC, CGI Group Inc., and Infor Inc.