Market Overview
The skin booster market size stood at USD 1,040 million in 2022, and it is expected to grow at a CAGR of 10.5% during 2022–2030, to reach USD 2,304 million by 2030.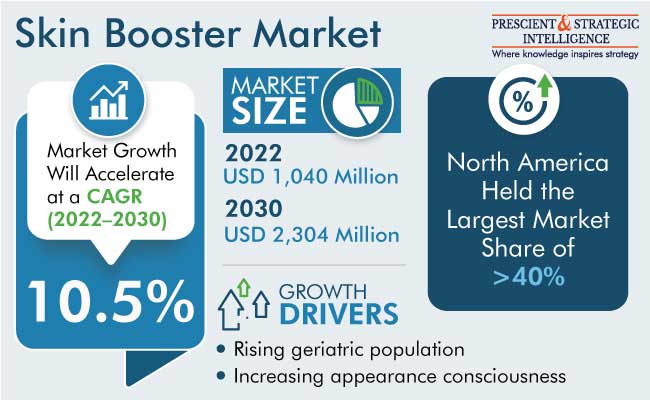 In the last few decades, a significant rise in the concern for the appearance and health of the skin has been observed among millennials. This is boosting the consumption of skin boosters among both men and women. Apart from the increasing interest in skin appearance enhancement, the rising disposable income is driving the public toward sophisticated medical procedures.
Skin boosters are a kind of cosmeceuticals, essentially vitamins, minerals, and hyaluronic acid, which are injected into the epidermis layer of the skin to hydrate and revitalize it and give it a natural, rejuvenated tone.
Moreover, the globally rising geriatric population is a key driver for the market as dull skin texture, skin elasticity, and dark spots, which are prominent signs of aging, start to appear after 25 years of age and become really prominent after 45 years of age.
Furthermore, the growing trend of publishing images on social platforms has encouraged consumers to look good, which is why they are going for such aesthetic procedures. Almost everyone is quite active on social media, where influencers promote and offer guidance on the usage of a range of skin boosting procedures.
With the rising awareness of consumers, market players are continuously focusing on seeking FDA approvals for new products. For instance, in January 2022, Radiesse (+) lidocaine injectable implant was launched by Merz Aesthetics for deep injection, for the augmentation of soft tissues. Similarly, in December 2021, the FDA approved RHA Redensity by Teoxane.
Surging Geriatric Population Drives Market
Globally, the aging population is playing a pivotal role in driving the demand for medical aesthetics. The loss of fibrous tissues and reduction of the vascular and glandular network in the skin layers are key markers of old age. This leads to the occurrence of wrinkles, dryness, pigmentary alteration, and sagging. To overcome these issues, facial injectables are used, to revitalize and tighten the skin.
Further, developing countries, such as India and China, have a larger geriatric population than developed countries, including the U.S., France, Australia, and Canada. According to the United Nations Department of Economic and Social Affairs (UN-DESA), 771 million people fell in the age group of 65 years and above around the world, having grown by over 200% from 258 million in 1980. The older population is further projected to reach more than 990 million by 2030 and more than 1.5 billion by 2050. As a result, by mid-century, more than twice as many persons will be in this age group as children aged less than 5 years. Additionally, this demographic will be almost the same in number as children aged less than 12 years. This rising aging population across the globe would lead to the growth of the skin booster market in the coming years.
Skin Booster Market Report Coverage

| | |
| --- | --- |
| Report Attribute | Details |
| Historical Years | 2017-2022 |
| Forecast Years | 2023-2030 |
| Market Size in 2022 | USD 1,040 Million |
| Revenue Forecast in 2030 | USD 2,304 Million |
| Growth Rate | 10.5% CAGR |
| Report Scope | Market Trends, Drivers, and Restraints; Revenue Estimation and Forecast; Segmentation Analysis; Impact of COVID-19; Companies' Strategic Developments; Market Share Analysis of Key Players; Company Profiling |
| Segments Covered | By Type; By Gender; By End Use; By Region |
Explore more about this report - Request free sample pages
Mesotherapy To Hold Major Share in Global Market Revenue
During mesotherapy, enzymes, hormones, vitamins, and other skin-friendly agents are injected into the mesodermal layer, which results in its tightening, as well as the removal of fat. The procedure uses extremely fine needles to inject a series of liquids to improve the underlying blood circulation and decrease the inflammation that causes skin damage. The technique is a safer alternative to micro-needling, as the agents administered during the former penetrate deeper into the skin with a single elongated needle. While in micro-needling, multiple needles are used to penetrate the skin, the depth the agents reach inside the dermis is minimal, and the mechanism of repair and regeneration involves the creation of wounds.
Moreover, the time required for mesotherapy is much less than micro-needling. This is in addition to the higher effectiveness and the fact that this treatment generates new collagen, which makes the skin more toned. Therefore, the category held the larger share, of around 56%, in the year 2022.
Dermatologists can be specific in relation to the products they want to inject into the skin, depending upon the patient's requirement, such as instant pigmentation or improvement in texture. Moreover, mesotherapy is one of the alternative non-invasive treatments to liposuction for men and women alike.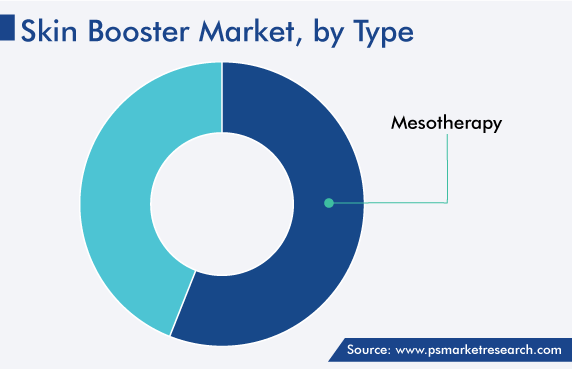 Rising Adoption of Cosmetic Aesthetic Procedures among Females Boosts Market Advance
Females tend to lose collagen faster than men due to the higher density of collagen in men than in women. Additionally, women account for more than 90% of the aesthetic procedures conducted around the world. Therefore, the female category held the larger revenue share in the year 2022, and it is expected to show the same trend in the forecast years.
Further, due to the growing popularity of social media and the desire to look perfect, men too are showing deep interest in skin boosters and other non-invasive or minimally invasive medical aesthetics procedures. There has been a nearly 20% rise in men's preference for aesthetic treatments, including surgeries, laser treatments, and injectables.
Moreover, the increasing awareness among both genders of new techniques of enhancing beauty is expected to drive the market's development. Aesthetics organizations and dermatologists are roping in beauty bloggers to promote their products and generate consumer awareness on social media sites, such as Facebook, Twitter, YouTube, and Instagram, which, in turn, is benefiting the market.
Rising Inclination toward Improved Appearance Boosts Market Growth
One of the major drivers for the market is the rising inclination of people for an improved appearance, for which they are willing to spend on aesthetic medical procedures. Thus, new, advanced products are being introduced in the market, offering a higher level of accuracy and customer satisfaction.
Moreover, in spite of a balanced lifestyle, the skin gradually loses collagen due to hormonal changes and age, which further causes fat and cellulite deposition, laxity, and other complications, such as fine lines, discoloration, acne scars, large pores, broken blood vessels, and age spots on the skin. These issues can be overcome with the help of various medical procedures, such as skin boosters.
North America To Hold Largest Market Share Globally
North America held the largest revenue share, of around 40%, in the global market in 2022. This is mainly ascribed to the changes in consumers' perception of the relationship between beauty and wellbeing and the growing incidence of age-related skin changes in the region. Sagging skin, brown rough patches (seborrheic keratoses), and other blemishes are common in older people. These skin problems affect up to 50 million in the U.S. annually.
Moreover, blackheads, pimples, whiteheads, nodules, and cysts are typical forms of acne, which appears on the face, chest, neck, shoulders, back, and upper arms. While every age group is at a risk of it, adolescents and young adults are the most affected, with at least a minor case of acne presenting in nearly 85% of the population in the age group of 12 to 24 years.
In addition, the increasing awareness of the potential applications of skin boosters for the youthfulness of the skin is contributing to the growth of this market in North America.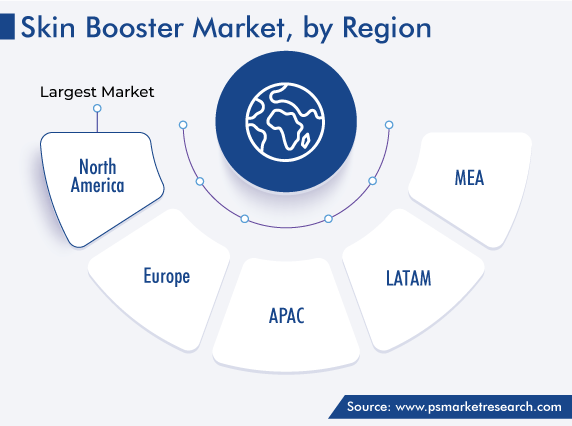 Top Skin Booster Manufacturers Are:
Allergan Plc
Galderma S.A.
Merz Pharma GmbH & Co. KGaA
Bloomage Biotechnology Corporation Limited
Teoxane SA
Colgate-Palmolive Company (Filorga)
IBSA - InstituteBiochemical SA (IBSA Derma)
LEMONBOTTLE SA
Fox Group International (Revolax)
Galderma Laboratories L.P.
Market Size Breakdown by Segment
This fully customizable report gives a detailed analysis of the skin booster market from 2017 to 2030, based on all the relevant segments and geographies.
Based on Type
Based on Gender
Based on End Use
Dermatology Clinics
MedSpa
Geographical Analysis
North America
Europe

Germany
U.K.
France
Italy
Spain

Asia-Pacific

Japan
China
India
South Korea
Australia

Latin America
Middle East and Africa

Saudi Arabia
South Africa
U.A.E.