Market Overview
Retail cloud refers to cloud technology designed for retailers to enable them with cost effective streamlined operations, flexibility of scaling up and down the production process, real time data reporting for interactive customer experience, and quicker speed to market the offerings. Retail cloud allows the enterprises to expand their retail footprints while ensuring streamlined operations, ease of use of latest cloud technology and an agility for an efficient response to the changing market dynamics. The global retail cloud market is gaining interest due to increasing adoption of smartphones, and cloud based solutions in the retail industry. Retail cloud solution and service vary from vendor to vendor, many of whom offer solutions for both small and medium sized businesses, and large businesses.
GLOBAL RETAIL CLOUD MARKET BY TYPE $M (2013–2023)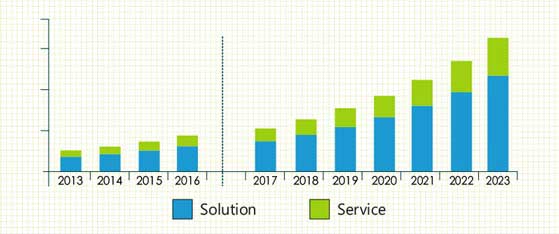 Market Dynamics
The global retail cloud market is expected to witness a CAGR of 20.5% during the forecast period, to reach $40,723.5 million by 2023. A significant growth is expected in the market due to increasing demand for higher digital customer experience and effective, yet efficient point of sale (POS) system, globally. In addition, increasing need for compliance and collaboration by retailers is driving the global retail cloud market growth.
Trends
Multiple payment options and emergence of cloud based retail business are some of the key trends observed in the global retail cloud market. Moreover, the global retail cloud market is expected to witness rapid growth, owing to the development of new technologies to help retailers with compliance and security.
Apart from this, edge to edge decision making inventory management is also escalating the growth of global retail cloud market. Real time data and robust cloud architecture would help retailers in eliminating stock-outs and overages frequently. Through cloud computing, efficient utilization of logistics would also keep the losses in inventory management to minimum.
Growth Drivers
The global retail cloud market is driven by factors such as growing demand for digital customer experience, rapid adoption of smartphones, immediate need for compliance and collaboration, and shift toward omni-channel by retailers. With rapid increase in the adoption of smartphones and tablets globally, these devices are serving an effective and efficient point of sale (POS) systems, helping in handling the inventory, payment management and location information. Further, through vast adoption of smartphones and cloud technology, retailers are now able to capture the real-time information to adjust their product and service offering according to the dynamic market conditions and take advantages of new growth opportunities.
Due to high demand of compliance and collaboration systems, retail cloud allows retailers with edge-to-edge compliance lifecycle management. This enables them in observing the detailed product information during the sourcing and the selection of various suppliers and the product manufacturing processes.
Apart from this, need for digital customer experience is also driving the growth of global retail cloud market. Customers expecting more variety, convenience, information and access to the product and service from retailers are putting extreme pressure on supply chains. Retail cloud help retailers to build greater brand identity and protect consumer trust by eliminating various complexities in the supply chain management.
Opportunities
One of the major opportunities for the global retail cloud market growth is the adoption of internet of things (IoT) in retail sector. Retail industry is in demand for effective connected solutions to minimize the risk and cost associated with insufficient production, mishandled product stocking, and poor inventory management. With the help of connected devices such as cameras, RFID chips, and sensors, retailers can collect critical store data such as stock-out and make greater use of cloud technology to take better decisions for business continuity.
Competitive Landscape
The intensity of rivalry in the global retail cloud market is presently moderate. With the emergence of demand for retail cloud technology, vendors are either launching new products or aggressively upgrading their current platform features. Further, continuous adoption of new technologies by vendors is also elevating the degree of competition. The global retail cloud market is dominated by some major players. However, with growing business complexities due to rapid digitalization, many new players have also entered the market and are offering consumer specific retail cloud solutions.
Some of the key players in the global retail cloud market are Cisco Systems Inc., SAP SE, IBM, Microsoft Corporation, Oracle Corporation, Infor, RetailCloud, and Epicor Software Corporation.
Scope for Customization
P&S Market Research offers customization as per specific business requirements of clients. Illustrative customization within the scope of this report includes:
Period of Analysis – Increase in the study period, including historic and forecast years
Segment Analysis – More granular coverage related to:

Solution - "Others" can be further broken down into different solutions

Company Profiles – Wider company coverage in terms of detailed analysis or additional company profiles
New custom report – A completely customized report can be provided on the market, specific to a region/ country/ segment