Residential Security Market Overview
Residential security refers to security and safety of residential buildings and individuals. It is an electronic system that primarily takes care of the overall security of consumer's residence, especially when away from home. In the past few years, global residential security market witnessed significant growth, owing to the development of new technologies such as Internet of Things (IoT), along with various advanced residential security equipment.
GLOBAL RESIDENTIAL SECURITY MARKET, BY PRODUCT, $M (2013 – 2023)
Residential security solutions can further be described as a combination of various input and output security devices. The input residential security devices include sensors and actuators that sense suspicious acts or movements, while the output residential security devices include hooters and alarms, to notify in case of a breach. Growth in the global residential security market is further reinforced by the introduction of new security software solutions such as wireless locks and smart apps for home safety.
Residential Security Market Dynamics
The global residential security market is expected to witness a CAGR of 8.7% during the forecast period, with the market expected to reach $60,765.2 million by 2023. On account of increasing adoption of advanced technologies such as IoT in home automation, advancement in real-time monitoring, etc. significant growth in demand for residential security is anticipated during the forecast period. In addition, increase in demand for advance security solutions such as smart alert systems and wireless locks is further propelling the global residential security market growth.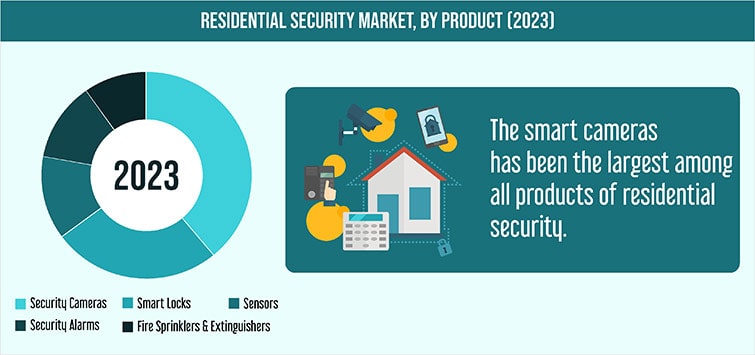 Trends
Rapid advancement in cloud computing, adoption of sensor based technologies by real estate builders and augmenting demand for advanced residential security management systems are some of the key trends observed in the global residential security market. Through real-time information sharing for home security, cloud technology helps in providing updates and status of residential buildings, complexes and individual homes. Moreover, continuous development of new technologies for theft and intrusion detection are expected to assist the global residential security market.
Apart from this, having residential security in place is becoming more of a status symbol and is gaining hype globally. Real estate builders and large society project owners are majorly focusing on incorporating advanced residential security solutions to attract more number of potential buyers.
Growth Drivers
The global residential security market is driven by factors such as rapid growth in IoT, decreasing cost of security equipment such as security camera, growing need for advanced residential protection plans, and heightened adoption of smart security devices.
Rapid technological advancements have led to development of smarter and better security solutions and devices at cheaper costs. Devices such as sensors, provide real-time information of activities occurring in an environment, and the same can be accessed through over smartphones or tablets, granting customers remote access to the information. In addition, smart intercom and app based security systems (wireless) have also gained interest of independent as well as residential communities and societies as an all-in-one security system.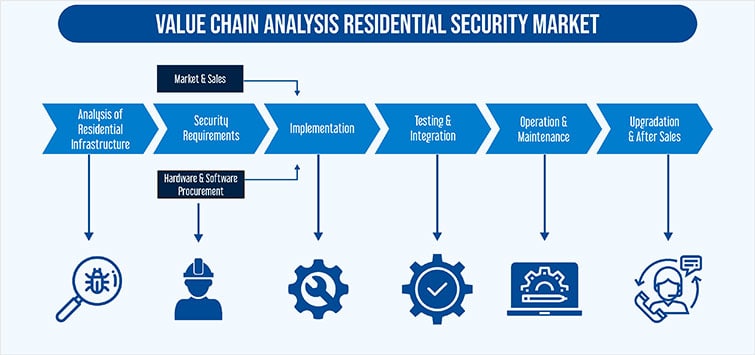 Another factor driving the global residential security market is technological advancement in fire extinguishers and sprinklers. Though fire sprinklers and extinguishers have been used as a means of ensuring residential security for more than a decade, with advancement in technology, automatic sprinklers and instant fire extinguishers have been developed. Smart home fire sprinklers and extinguishers can enable residents to control and tackle fire within a short span of time.
Opportunities
With the implementation of automating technologies such as IoT, and adoption of data driven solutions, such as analytics, there is a huge opportunity for the global residential security market to grow during the forecast period. Increasing crime rate, augmenting use of remote monitoring through smartphones and tablets, ease of installing wireless security technology, and attractive insurance policies provided by vendors are few of the major factors creating opportunity for further market growth. In addition, funding and investments by federal and state governments in some of the major countries for promoting advancement of residential security, are further expected to bolster global residential security market.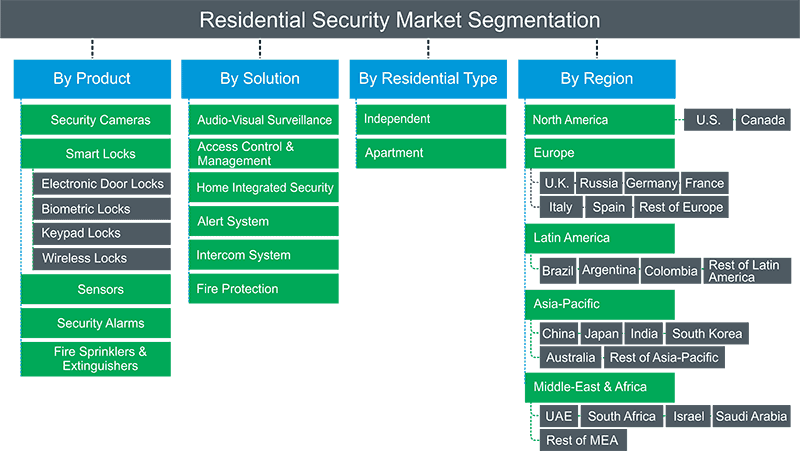 Residential Security Market Competitive Landscape
The intensity of rivalry in the global residential security market is comparatively high. Most of the vendors operating in the residential security market, are actively upgrading their products and services according to the rapidly evolving customer needs. Many market players are entering into strategic partnerships with technology giants to transform their offerings and bring them in line with the new residential security technologies, such as wireless security and mobile applications, that are in high demand.
Some of the key players operating in the global residential security ecosystem are Bosch Security Systems Inc, Honeywell Security Group, Alarm.Com, Allegion PLC, Nortek Security & Control LLC, United Technologies Corporation, Ingersoll Rand, Control4 Corporation, and Godrej & Boyce Mfg. Co. Ltd.