Market Overview
The global pet food market is expected to reach USD 140.1 billion by 2030 from USD 102 billion (E) in 2023, witnessing 4.6% CAGR during 2023–2030.
The demand for these items is propelled by the increasing customer leaning toward the adoption of pets, along with the increasing anxieties about their wellbeing. The need to enhance the general digestion and health of companion animals is also expected to fuel the industry's development in the projection period, as nutritious food plays a key role in ensuring this.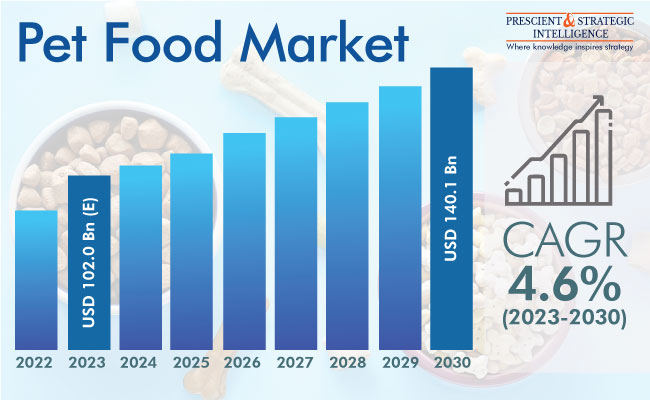 The pet food items obtainable worldwide rarely vary, which has encouraged producers to include multi-functional and pioneering ingredients in their items to differentiate themselves. Moreover, the need for convenience while feeding pets is set to play a key role in the growth of the market, reflected in the rising popularity of ready-to-eat food. The increasing availability of organic products in a variety of flavors and the inclusion of essential ingredients, such as antioxidants and probiotics, also have a positive effect on the worldwide industry.
The industry value chain is categorized by the existence of raw material suppliers, end users, manufacturers, and distributors. The raw materials utilized for making food for companion animals include meat byproducts, grains & cereals, specialty proteins derived from animals, vitamins, minerals, flavors & sweeteners, and enzymes.
Dog Owners Are Projected To Be Major Revenue Contributors
Based on animal type, the dogs category held the largest share in the market in 2023. The acceptance of dogs as pets is comparatively higher than other animals throughout the world. Furthermore, the high spending on the comfort and wellbeing of canines is boosting the demand for natural and advanced-quality dog food. The introduction of dog treats and nutrition-rich meals is another substantial factor contributing to the development of the category.
The cats category is the second-highest revenue generator worldwide, because of the augmenting worries regarding the wellbeing and balanced diet needed for felines. Cats are strict meat eaters and require high amounts of proteins (derived from other animals) in their everyday meals. Animal-derived proteins are preferred by cat owners over plant-based proteins as the former are stated to be better in quality and biological value. Thus, poultry (chicken and turkey) and rabbit-derived proteins are chosen for cat meals.
Dry Food To Witness Growing Demand
The dry category, under the form segment, is predicted to witness significant growth during the forecast period. The acceptance of dry food can be credited to the convenience and longer shelf life it offers compared to wet food. Further, because of its affordability, it is popular among dog owners. Moreover, its firm texture helps in handling pets' dental health and hygiene.
The snacks & treats category is also gaining ground, because of the introduction of delicious and high-quality options for numerous kinds of pets. Further, with their growing disposable income, people are substituting the everyday meals of their companion animals with luxury treats, which cost significantly more.
Plant Source To Experience Promising Development in Future
The market is also bifurcated into plant and animal sources. Usually, animal-sourced ingredients, such as poultry meat, fish meal, and red meat, were extensively utilized in making cat and dog food globally. The nutrient-rich profile and convenient obtainability of animal sources contribute to the growth of the animal category.
Similarly, the plant category is projected to experience rapid growth in the forecast period, boosted by the growing popularity of vegetarianism among pet owners. A large chunk of the religiously included population does not eat meat and subjects its pets to the same regulations. In addition, dogs are highly adaptable, and with time, they have become used to a majorly plant-based diet, especially in countries such as India.
Increasing Pet Ownership across Emerging Economies To Support Growth
The growth of the pet food market is boosted by the increasing rate of pet ownership. As per an article in Forbes, almost 45% of the households in the U.S. have a dog, while around 30% have a cat. Moreover, till 2022 from 2016, there was an over six-point increase in the percentage of U.S. households with a dog, while the percentage of houses with a cat rose by four points.
Urbanization and pet humanization are motivating people to seek nutritious and high-quality food for their furry companions. Consumers' growing disposable income and interest in organic items also boost the industry's development. Moreover, the availability of companion animal feed products in various price ranges caters to consumers with different financial capacities.
Pet Food Market Report Coverage

| | |
| --- | --- |
| Report Attribute | Details |
| Market Size in 2023 | USD 102 Billion (E) |
| Revenue Forecast in 2030 | USD 140.1 Billion |
| Growth Rate | 4.6% CAGR |
| Historical Years | 2017-2022 |
| Forecast Years | 2023-2030 |
| Report Scope | Market Trends, Drivers, and Restraints; Revenue Estimation and Forecast; Segmentation Analysis; Impact of COVID-19; Companies' Strategic Developments; Market Share Analysis of Key Players; Company Profiling |
Explore more about this report - Request free sample pages
North America Is Dominating the Industry
North America is dominating the market because of the rising awareness of the positive effect of proper food on pets' wellbeing and the growing trend of humanizing pets. The U.S. led the North American industry in 2023 with its high percentage of pet ownership and an advanced food & beverage sector that caters to animals.
APAC is projected to be the fastest-growing region in the worldwide market during 2023–2030, with Australia, Japan, and China as the key contributors. Japan is one of the foremost importers of ready-to-eat products for domesticated canines and felines. Moreover, the industry in China and India is projected to advance at a significant pace credited to the growing consumer spending on food items for companion animals, coupled with the rising investment by market players in these economies.
As per a report, between 2017 and 2022, the number of pet dogs in India grew by almost 60%. Moreover, traditionally, whatever people eat at their homes is given to pets, which is why the demand for processed pet food has been low here. But, with the increasing influence of social media and the aggressive promotional campaigns by the players, which project such products as being high in nutrients, the demand for it is rising among traditionalist communities.
Key Industry Developments
Market participants are motivated to spend heavily on research and technology, to enhance production procedures and come up with new recipes with diverse ingredients. Major manufacturers are also focusing on expanding their output of high-quality food for companion animals that contains ingredients and uses technologies approved by both domestic and international veterinary agencies.
For instance, in March 2021, Mars Inc. invested USD 200 million to enlarge its Royal Canin plant in Lebanon, Tennessee. The business will add six new lines to double the production capacity.
Similarly, in December 2020, Nestle Purina Petcare publicized plans to spend USD 550 million to expand its companion animal feed manufacturing facility in Georgia.
Key Companies in Pet Food Market Include:
The J.M. Smucker Company
Nestle S.A.
Mars Inc.
LUPUS Alimentos
Total Alimentos SA
Hill's Pet Nutrition Inc.
General Mills Inc.
Wellness Pet LLC
The Hartz Mountain Corporation
Schell & Kampeter Inc.
BASF SE
Darling Ingredients Inc.
Cargill Incorporated
Archer–Daniels–Midland Company
Koninklijke DSM N.V.
Ingredion Incorporated