Programmed Death-1 (PD-1) and Programmed Death Ligand-1 (PD-L1) inhibitors are the therapeutic candidates or drugs, popularly known as checkpoint inhibitors, used most commonly for the treatment of cancer and other malignancies. Programmed death 1 (PD-1) is found on the surface of cancer cells and it is used by tumor cells to evade the immune system. PD-1 inhibitors block the action of PD-1 receptor, enable the body to attack and kill cancer cells. It can constantly monitor body for abnormal cells, and eliminate them before they can turn into cancer. The tumor development process tries to find its way in shutting down the activation of immune system. After the activation of T cells, a stop signal is needed to make sure it does not get over-activated. This can be done through inhibitory receptors, such as PD-1.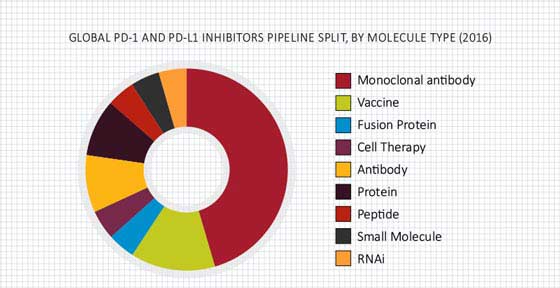 PD-1 proteins bind with two ligands, programmed death-ligand 1 (PD-L1) and programmed death-ligand 2 (PD-L2). PD-L1 in humans is encoded by the CD274 gene. PD-L1 is a 40kDa type 1 transmembrane protein that contains CD274 gene. PD-L1 inhibitors plays a key role in suppressing the immune system during tissue allograft, pregnancy, autoimmune disease, hepatitis and other diseases.
The PD-1 and PD-L1 inhibitors market is expected to grow at a CAGR of 23.4% during 2017 - 2025. The increased investment and funding, strong pipeline, technological advancements and innovations, high prevalence of cancer, and improved safety and efficacy are the key factors driving the growth of global market. Different companies are developing PD-1 and PD-L1 inhibitor drugs by using innovative techniques such as combination therapy and biomarkers. In combination therapy approach, PD-1 and PD-L1 inhibitors combine with all types of molecules such as monoclonal antibodies, vaccines, small molecule and cell therapies. The two therapies given together are more effective and powerful as compared to single immunotherapy. This will significantly drive the growth of the global PD-1 and PD-L1 inhibitors market.
The pipeline of PD-1 and PD-L1 inhibitors is enriched with 47 drugs in different stages of development and there are approximately 245 active clinical studies.
The increased use of combination therapy of PD-1 and PD-L1 inhibitors represent a new signal of immunotherapeutic, which is expected to alter the standard of care for cancer across the globe.
Some of the key players operating in the global market include Merck & Co., Inc., Bristol-Myers Squibb Company, AstraZeneca plc and others.