Foam blowing agents refers to the additives that produce cellular structure in the substrate through foaming process. The foam blowing agents market in North America is expected to grow, due to large base of end-user industries for polymer foams and high demand of blowing agents in the manufacturing of PU foam. The global warming and ozone layer depletion are the major environmental challenges across the globe. The U.S. government is framing stringent environmental regulations, in order to reduce the emission of greenhouse gases. The development of low GWP and zero/low ODP blowing agents is creating abundant opportunities for the growth of the market in the region.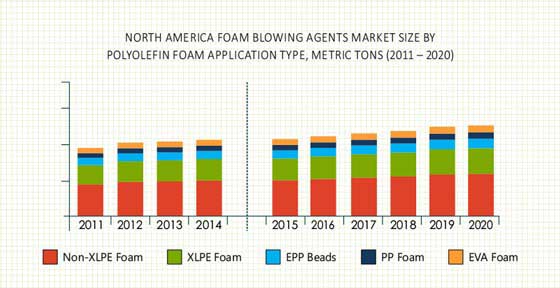 Based on application, the North America foam blowing agents market comprises polyurethane (PU) foam, polystyrene foam, phenolic foam, and others. The PU foam segment is further segmented into PU spray, rigid PUF injected, rigid PUF discontinuous panel, rigid PUF continuous laminate/boardstock, PUF integral skin, rigid PUF residential appliances, rigid PUF block for pipe sections, rigid PUF continuous block, and flexible PU foam. The demand for blowing agents in PU spray foam is increasing, due to increasing demand of PU spray as roof and wall insulation in the agricultural, commercial and residential structures.
The polystyrene foam segment is further categorized into extruded polystyrene (XPS) foam and expanded polystyrene (EPS) foam. Similarly, the polyolefin foam segment is segmented into non-chemically crosslinked polyethylene (non-XLPE) foam, XLPE foam, expanded polypropylene (EPP) beads, polypropylene (PP) foam, and ethylene vinyl acetate (EVA) foam.
The polymer foams produced using blowing agents are low weight, and characterized with uniform foam structure. Some of the different types of foam blowing agent are chlorofluorocarbons (CFCs); hydrochlorofluorocarbons (HCFCs), such as HCFC-141b, HCFC-142b and HCFC-22; hydrofluorocarbons (HFCs) such as HFC-245fa, HFC-134a, HFC-152a, and HFC-365mfc; hydrocarbons (HCs) such as n-pentane, iso-pentane, c-pentane, and iso-butane; and others such as methyl formate, hydrofluoroolefin (HFO), and inert gases. The North America foam blowing agents market has witnessed frequent changes in the type of blowing agents used over the years.
CFCs were most commonly utilized blowing agents earlier, however, they were banned as per the Montreal Protocol of 1989, due to their high ozone depletion potential (ODP). Therefore, CFCs were replaced by another group of blowing agents, i.e. HCFCs, for their low ODP. However, these blowing agents still contain ODP, and hence the U.S. government intends to phase out HCFCs in accordance with Montreal Protocol. In addition to the HCFC-141b, HCFC-142b and HCFC-22 restrictions (as implemented in 2010), the U.S. implemented no production and no importing of any other HCFCs from 2015, except for use as refrigerants in equipment manufactured before January 1, 2020. HFCs have been used as alternatives of HCFCs as these have zero ODP; although stringent regulations are being framed in the U.S. to regulate the usage of HFCs. The reason behind such regulations is high global warming potential (GWP) of HFCs, which is equivalent to CFCs and HCFCs. Therefore, the growth of the HFCs market is anticipated to slow down during the forecast period. The major players in the U.S. foam blowing agents market are investing huge capital to produce low GWP and zero ODP blowing agents, such as inert gases, HFOs and methyl formate blowing agents.
Among the various applications, the PU foam segment held the largest market size in 2014, which is anticipated to retain its dominance during the forecast period. Among the different types of PU foam, the consumption of blowing agents is anticipated to be the highest for rigid PU foam.
Some of the key companies operating in the North American foam blowing agents market include Arkema S.A., Daikin Industries Ltd., Exxon Mobil Corporation, Honeywell International Inc., Sinochem Group, Linde AG, Zeon Corporation, Solvay S.A. and Harp International Ltd.