North America Diagnostic Imaging Systems Market Overview
The North American diagnostic imaging systems market is expected to generate $17.7 billion revenue by 2024, progressing at a CAGR of 5.0% during the forecast period. This growth can be ascribed to rising technological advancements, surging geriatric population, increasing prevalence of chronic diseases, and booming healthcare expenditure in the region.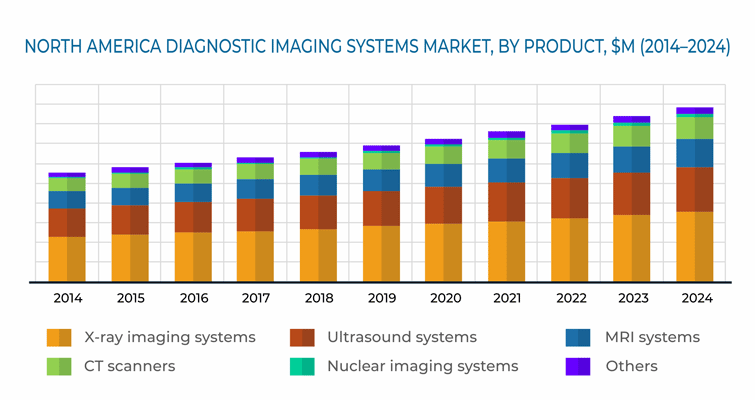 Based on product, the North American diagnostic imaging systems market is classified into X-ray imaging systems, magnetic resonance imaging (MRI) systems, ultrasound systems, computed tomography (CT) scanners, nuclear imaging systems, and others; where, the "others" category includes endoscopes, fluoroscopy systems, elastography systems, and mammography devices. Among these products, X-ray imaging systems are expected to hold the largest share, of 40.0%, in the regional market by 2024. This can be attributed to the fact that X-rays are the fastest and easiest way of viewing and assessing bone structures, injuries, and joint abnormalities, which leads to their increased adoption in the market.
End users in the North American diagnostic imaging systems market include diagnostic imaging centers, hospitals, and others. Diagnostic imaging centers constituted the largest share, as an end-user category in this market, and accounted for more than 50.0% share in 2018. This end-user category is also expected to witness the fastest growth in the industry, with 5.4% CAGR during the forecast period.
North America Diagnostic Imaging Systems Market Dynamics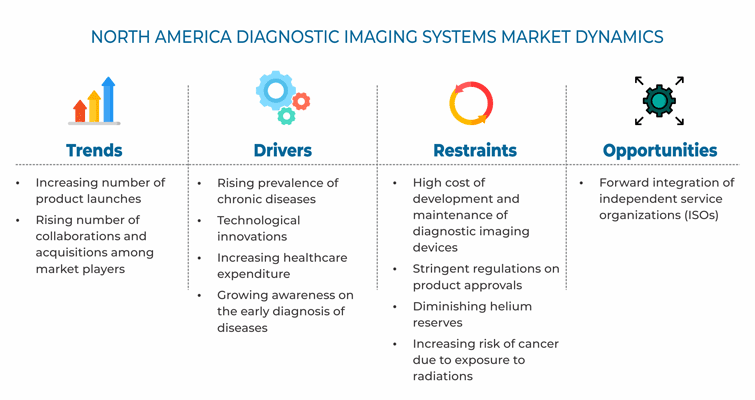 Growth Drivers
Some of the key factors driving the growth of the North American diagnostic imaging systems market are the rising prevalence of chronic diseases, technological innovations, increasing healthcare expenditure, and growing awareness on the early diagnosis of diseases.
Chronic diseases are the leading cause of death and disability worldwide, and the prevalence of these conditions is increasing in the North American region as well. Four of the major chronic diseases—cardiovascular diseases (CVDs), cancer, chronic obstructive pulmonary disease (COPD), and type 2 diabetes—are connected by common and preventable biological risk factors such as high blood pressure, high blood cholesterol, and obesity. Other behavioral risk factors, including tobacco consumption, poor nutrition, lack of physical activity, and alcohol abuse, lead to chronic diseases.
According to the Centers for Disease Control and Prevention (CDC), 6 in 10 adults in the U.S. suffers from a chronic disease. Moreover, each year in the U.S., more than 1.7 million people are diagnosed with cancer and around 600,000 people die from the disease, making it the second leading cause of death in the country.
Further, due to the increasing prevalence of cancer, advancements in the field of nuclear imaging are being witnessed. An important technological advancement in diagnostic imaging has been nuclear imaging system with low-dose ionizing radiation, which results in reduced effects of radiation on patients as well as technicians. Another major technological advancement in this domain has been the emergence of low-dose automated CT scanners. These devices offer high-quality images with improved spatial resolution and low radiation exposure. For example, the Discovery CT750 HD FREEdom Edition CT scanner by General Electric Company provides high image resolution with low-dose radiation.
Moreover, healthcare expenditure in the region is rising, leading to improved healthcare infrastructure and increased patient affordability and accessibility to diagnostic imaging procedures for different medical conditions. In North American countries, governments invest a significant portion of their gross domestic product (GDP) on healthcare. For example, healthcare spending in the U.S. was $3.5 trillion in 2017 as compared to $3.2 trillion in 2015. This rising healthcare expenditure is leading to increased demand for diagnostic imaging systems; thus, driving the growth of the industry in North America.
Furthermore, increasing awareness among the people about the early symptoms of diseases and the advantages of early diagnosis is propelling the demand for diagnostic imaging systems in the healthcare settings of North America. Governments across various countries in North America are running awareness programs to educate people regarding the early diagnosis of chronic diseases, especially breast cancer, lung cancer, cardiovascular diseases, diabetes, arthritis, and tuberculosis. Such initiatives are leading to increased patient awareness on the use of advanced diagnostic systems, capable of diagnosing several critical diseases, such as lung cancer, osteomyelitis, pulmonary tuberculosis, pneumonia, and rheumatoid arthritis, at an early stage.
Opportunities
Forward integration can be viewed as an opportunity by independent service organizations (ISOs) to enter the North American diagnostic imaging systems market.
An ISO is an organization that provides maintenance service and support for the equipment manufactured by other companies. There are various ISOs in the U.S., including NovaMed Corporation, Aramark, and Agiliti Health Inc., which provide repair and maintenance services for diagnostic imaging systems installed in hospitals, imaging centers, and other healthcare facilities. Some of these organizations also provide refurbished diagnostic imaging systems. These companies can, thus, utilize their potential and expertise to make their own devices and enter the diagnostic imaging systems industry in the near future.
North America Diagnostic Imaging Systems Market Competitive Landscape
Collaborations and acquisitions among the players in the North American diagnostic imaging systems market are resulting in improved patient accessibility to new technologies, enhanced patient outcomes, and increased market reach and share of players. Such collaborations are helping in the development of advanced technologies in diagnostic imaging.
For instance, in January 2019, Shimadzu Medical Systems USA, a subsidiary of Shimadzu Corporation, acquired Core Medical Imaging Inc., to expand its healthcare business in North America. Furthermore, in November 2018, GE Healthcare announced a partnership with the Veterans Affairs (VA) Puget Sound Health Care System to accelerate the use of 3D imaging in healthcare. Prior to this agreement, the VA was using 3D software that was not designed for medical use. However, with this partnership, the VA gained access to GE Healthcare's advanced visualization AW Volume Share workstations with 3D printing software. Such collaborations are helping to improve diagnosis and treatment quality in North America.
Several major players, such as General Electric Company, Siemens AG, Koninklijke Philips N.V., Shimadzu Corporation, Carestream Health Inc., Esaote S.p.A., FUJIFILM Holdings Corporation, Canon Medical Systems Corporation, Samsung Electronics Co. Ltd., Hologic Inc., DEL MEDICAL Inc., Konica Minolta Inc., Dornier MedTech GmbH, Hitachi Ltd., and Karl Storz GmbH & Co. Kg. are present in the North America diagnostic imaging systems market.