Market Overview
Needle-free diabetes management refers to treatment, diagnosis and monitoring of diabetic patients without using needles. Needle-free diabetes management devices are used for injecting insulin and monitoring blood glucose level in diabetic patients. Controlling blood glucose levels in diabetes requires administration of insulin in human body, which is conventionally done by injecting insulin with needles. Parenteral dosage forms are intended for administration, as an injection or infusion. Parenteral administration of drug is one of the most widespread methods of drug delivery.
Insulin in delivered with the help of various delivery devices, such as insulin pumps, pen injectors, insulin syringe and jet injectors. Insulin syringes are most commonly used delivery system for self-medication. However, insulin syringe not being convenient option for few, has resulted in development of other devices for the treatment of diabetes.
The key problems associated with parenteral drug delivery are lack of safety, sterility, affordability, accuracy and convenience. Conventional insulin delivery devices have several draw backs such as high cost, chances of needle-stick injuries, and possible infections. These factors lead to increased demand for needle-free diabetes management. Needle-free diabetes management devices are easy and secure to use. These devices are novel systems to introduce insulin into patients without piercing the skin with a needle. Needle-free diabetes treatment devices propel insulin at high speed, which penetrates the skin for intradermal, subcutaneous, or intramuscular administration.
Needle-free diabetes management devices are mainly of three types, including treatment devices, diagnostic devices and artificial pancreas. The treatment devices are used to administer or infuse insulin in diabetic patients, whereas diagnostic devices are used to monitor blood glucose levels without needle. Artificial pancreas is developed for the automatic monitoring of blood sugar levels by functioning similarly as healthy pancreas.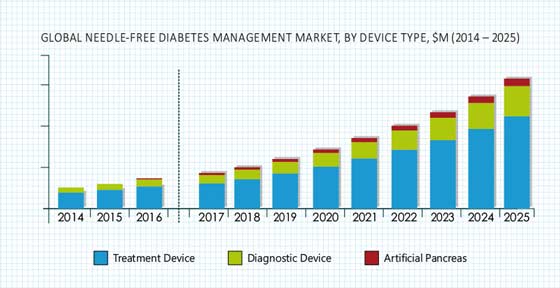 Market Dynamics
The global needle-free diabetes management market is expected to witness a CAGR of 17.8% during the forecast period, to reach $16,831.5 million by 2025. The increasing awareness regarding the safety issues associated with needles is the key growth driver for the global market. Among the different types of needle-free diabetes management devices, artificial pancreas market is expected to witness the fastest growth during the forecast period.
Opportunity
The adoption of needle-free diabetes management in the emerging economies is expected to provide huge growth potential for the market, during the forthcoming years. The growth will be driven by the increasing healthcare awareness, increasing healthcare spending, and regulatory initiatives for needle stick injuries. Although the market is growing at a significant rate in the emerging economies, especially in Asia-Pacific and Latin America, there is still massive unexplored market for needle-free diabetes management devices. With the boom in e-commerce industry in Asia, the major manufacturers of the needle-free diabetes management devices are penetrating the untapped market in the region.
Growth Drivers
The factors driving the growth of the needle-free diabetes management market are growing geriatric population, increasing prevalence of diabetes and technological advancements. The development of technologically advanced diabetes management devices has become necessary to ensure increased healthcare efficiency and productivity. Earlier, diabetic patients needed to prick their fingers to obtain blood sample for frequent glucose level monitoring. However, with the development of advanced biosensors, glucose monitoring has become easy to operate and painless. Also, these devices are designed for use in at home, so patients are capable of monitoring blood glucose level frequently. Similarly, treatment of diabetes has also become needle-free with the development of advanced insulin jet injectors. These devices help patient to painlessly inject drugs themselves, while eliminating the risk of infection and needle-stick injuries associated with the use of insulin delivery through needle.
Competitive Landscape
The global needle-free diabetes management device manufacturers are focusing on the product innovation to strengthen their position in the global market. Some of the key players in the global market include Medtronic plc, Insulet Corporation, Tandem Diabetes Care, Inc., Inovio Pharmaceuticals, Inc., Pharmajet, Inc., Zogenix, Inc., Antares Pharma Inc., and Glide Pharmaceutical Technologies Ltd.
Scope for Customization
P&S Intelligence offers customization as per specific business requirements of clients. Illustrative customization within the scope of this report includes:
Period of Analysis – Increase in the study period, including historic and forecast years
Geographical Analysis – Increase in country coverage
Segment Analysis – More granular coverage related to:

Country level market breakdown by device type

Company Profiles – Wider company coverage in terms of detailed analysis or additional company profiles
New custom report – A completely customized report can be provided on the market, specific to a region/ country/ segment