Market Overview
The muscle relaxant drugs market is expected to propel from USD 4,559.3 million (E) in 2023 to USD 10,604.6 million in 2030, at 13.1% CAGR between 2024 and 2030.
The growth of this industry is attributed to the surging incidence of skin illnesses, increasing usage of neuromuscular blocking agents in surgical procedures, adverse effects of ultraviolet radiation, rising disposable income, and increasing elderly population.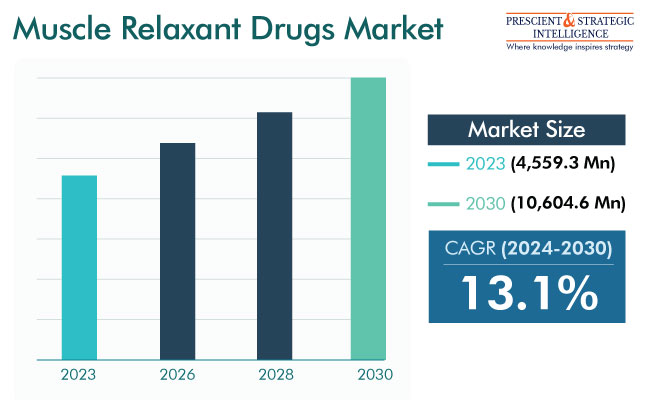 Muscle relaxant drugs are a type of medicine that are used to reduce muscle stiffness, spasms, and tension. Such medicines relax the muscles to reduce discomfort and enhance movement. They are prescribed to patients with conditions such as fibromyalgia, myofascial pain syndrome, and lower back or neck pain. Additionally, they are used during surgical procedures along with general aesthetics to relax the muscles.
Surging Prevalence of Musculoskeletal Disorders To Boost Market
The prevalence of musculoskeletal disorders is increasing at a high pace because of the rising prevalence of inactive lifestyles and mounting aging populace. As per the World Health Organization, by 2050, the number of people affected by lower back pain will reach 843 million globally.
The usage of muscle relaxants among such patients is further boosted by the rising consciousness regarding accessible treatment choices, as well as the significance of effectively managing musculoskeletal disorders. Drug manufacturers all over the world are boosting their output to meet this surging demand.
Improvements in Drug Formulations Are Key Driver
The advancements in pharmaceutical R&D and manufacturing technologies have transformed drug formulations, resulting in the production of more-effective medications. In addition, new drug delivery systems, including sustained-release formulations and transdermal patches, provide benefits such as greater effectiveness, fewer side-effects, and better patient compliance.
Pharmaceutical businesses are investing in drug-related R&D to produce formulations that offer faster action, long-lasting effects, and better pain relief. For example, Amneal Pharmaceuticals Inc. introduced an FDA-approved baclofen oral granules specialty product, named LYVISPAH, for treating spasticity connected to multiple sclerosis as well as other spinal cord disorders. This product, launched in June 2022, offers the clinical advantages of baclofen in a fast-dissolvable granule formulation with flexible dosing, for precise patient requirements.
Muscle Relaxant Drugs Market Report Coverage

| | |
| --- | --- |
| Report Attribute | Details |
| Market Size in 2023 | USD 4,559.3 Million (E) |
| Revenue Forecast in 2030 | USD 10,604.6 Million |
| Growth Rate | 13.1% CAGR |
| Historical Years | 2017-2023 |
| Forecast Years | 2024-2030 |
| Report Scope | Market Trends, Drivers, and Restraints; Revenue Estimation and Forecast; Segmentation Analysis; Impact of COVID-19; Companies' Strategic Developments; Market Share Analysis of Key Players; Company Profiling |
Explore more about this report - Request free sample pages
Growing Attention to Minimally Invasive Approaches
A noteworthy shift toward minimally invasive approaches is being observed in the healthcare sector for musculoskeletal disorders. This is because they lead to reduced trauma, better patient outcomes, and shorter recovery times. Muscle relaxants play an important role in such approaches by assisting muscle relaxation and enabling less-invasive surgical methods. Drug manufacturers are taking advantage of this trend by producing short-acting products precisely formulated for use in minimally invasive surgeries.
Skeletal Muscle Relaxants Are Largest Contributors
The skeletal muscle relaxants category, based on type, is the largest contributor to the industry. Such medications are generally prescribed to manage muscle stiffness, cramps, spasms, and other musculoskeletal symptoms. Moreover, they can assist in the recovery stage by reducing muscle tension and pain.
The neuromuscular blocking agents category will observe significant growth during this decade. These drugs can ease surgical processes, assist in mechanical ventilation by relaxing the skeletal muscles, and accelerate endotracheal intubation. The increasing number of operations is leading to the surging need for neuromuscular blocking medicines for anesthetization purposes.
On the global level, around 310 million major surgeries are performed every year, including 40 to 50 million in the U.S. and 20 million in Europe. With the increasing number of surgical procedures, the requirement for muscle relaxants will be on the rise.
Oral Category Is Leading Route of Administration Segment
The oral category, based on route of administration, is leading the industry. This is because the oral route has the benefits of non-invasiveness, easier medication delivery, and patient compliance. In addition, the introduction of medications for oral administration significantly supports the progress of the industry. For example, in February 2022, Azurity Pharmaceuticals Inc. declared the U.S. FDA approval for FLEQSUVY, which is indicated for the treatment of spasticity from MS or spinal cord diseases.
Hospital Pharmacies Are Major Contributors
The hospital pharmacies category, based on distribution channel, is the major contributor to the industry. Hospitals are the foremost dispensers of these drugs because of the high incidence of musculoskeletal disorders and the requirement for effective pain management during different medical procedures. Hence, the large number of patients visiting hospitals on a daily basis leads to an extensive sale of such drugs via on-site pharmacies.
Moreover, hospital pharmacies guarantee timely access to these medications to patients and medical providers. This streamlines the supply chain and enables effective inventory management, thus benefiting both medical professionals and manufacturers.
Muscle Relaxant Drugs Producing Top Companies:
Pfizer Inc.
Amneal Pharmaceuticals Inc.
Johnson & Johnson Services Inc.
Ipsen S.A.
Merck & Co. Inc.
Eisai Co. Ltd.
Intas Pharmaceuticals Ltd.
Mallinckrodt PLC
Galderma Holding SA
Endo International plc
F. Hoffmann-La Roche AG
Merz Holding GmbH & Co. Kg
North America Is Dominating Market
North America is dominating the muscle relaxant drugs industry. This is because of the rising investment by the government in setting up quality medical infrastructure, growing utilization of facial muscle relaxants, and increasing occurrence of chronic illnesses in the region.
Moreover, the increasing count of surgical operations, as well as the high healthcare expenses, offers a favorable environment for the acceptance and development of drugs. In addition, the well-established healthcare systems and strong regulatory framework guarantee drug efficacy, patient safety, and access to advanced treatments.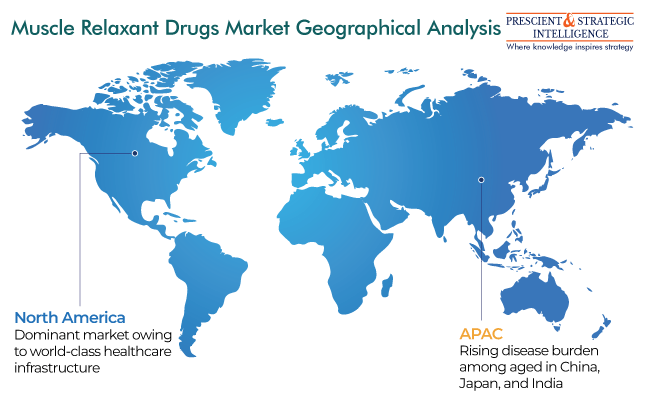 APAC is expected to propel at the highest rate in the market during the forecast period. This is because of the enormous and fast-growing aging populace in the region, which leads to the increasing incidence of musculoskeletal conditions, especially osteoporosis and arthritis. Additionally, the surging middle-class populace, coupled with the increasing disposable income in India and China, is boosting healthcare expenses and access to medical treatments.