Modular Robotics Market Overview
The global modular robotics market was valued at $5.6 billion in 2019 and is projected to witness a CAGR of 9.9% during the forecast period (2020–2030). Penetration of industrial internet of things (IIoT) in the manufacturing process is a major trend in the market due to its ability to enhance productivity and reduce operational costs for the manufacturers. However, the complexity of modular robotics systems with respect to their designs is one of the key factors restraining the growth of the modular robotics industry.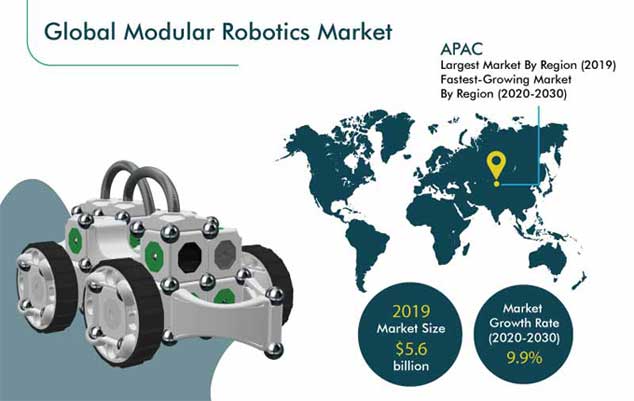 COVID-19 pandemic that started in the late 2019 has hampered the growth of modular robotics market across the globe. This is attributed to the disruption in the supply chain of components like controllers, manipulators, drive modules, and others, required in the modular robotics infrastructure.
Segmentation Analysis
Software Is Fastest Category in Industry Owing to the Adoption of Artificial Intelligence (AI)
In the modular robotics market, on the basis of offering, the software category witnessed the highest growth in 2019, and is expected to maintain its pace over the forecast period. This is attributed to the increasing demand for software to check real-time functioning of the modular robotics system, and increasing adoption of AI and internet of things (IoT).
Collaborative Modular Robotics System Is Fastest-Growing Category due to Industry 4.0 Revolution
In the modular robotics market, based on robot type, the collaborative modular robots category is projected to witness the fastest growth, during the forecast period. This can be attributed to the various advantages offered by these robots, leading to wider adoption in electronics and automotive industries. Also, significant developments and advancements such as machine vision and speech recognition related to end-effectors, such as grippers, controllers, and various robotic modules, are taking place and hence driving the demand for collaborative modular robotics systems.
60.1–225.0 Kg Payload Capacity Category Generates Largest Revenue
The 60.1–225.0 kg category dominated the payload capacity segment in 2019 and is expected to hold the largest modular robotics market share during the forecast period. This is attributed to the large adoption of 60.1–225.0 kg modular robotics systems in heavy industries like automotive and electrical & electronics for palletizing process, picking & placing, transferring parts & components, materials handling, machine tending, and several other tasks.
Industrial End User Is Largest and Fastest-Growing Category
In Modular robotics market, the industrial category in terms of application held the largest share in 2019. This category is also expected to grow fastest during the forecast period. This can be ascribed to the increasing spending on robotics systems toward integration of automation solutions and robotics in the end-use industries, reaching an estimated sum of $112.4 billion by 2020. The automotive sector is the biggest contributor to the revenue from this category since the growing demand for vehicles, especially from emerging markets, has encouraged automotive manufacturers and original equipment manufacturers (OEMs) to opt for automation to increase production volume and meet the industry demand.
Geographical Outlook
Asia-Pacific (APAC) Is the Largest Hub of Automotive Sector which in turn will Raise the Demand from OEMs for Modular Robots
During the historical period (2014–2019), APAC held the largest market share in modular robotics industry, due to increasing investments in automation in automotive, electricals, and electronics industries, especially in countries such as China, South Korea, and India. Also, the increasing adoption of collaborative modular robotics system by manufacturers has elevated the demand for modular robotics systems in APAC. With industrial cobots gaining momentum in the industrial robotics sector due to their ability to handle short-run and repetitive tasks, high adaptability, and pre-enabled plug and play features, the market witnesses' substantial growth during the forecast period.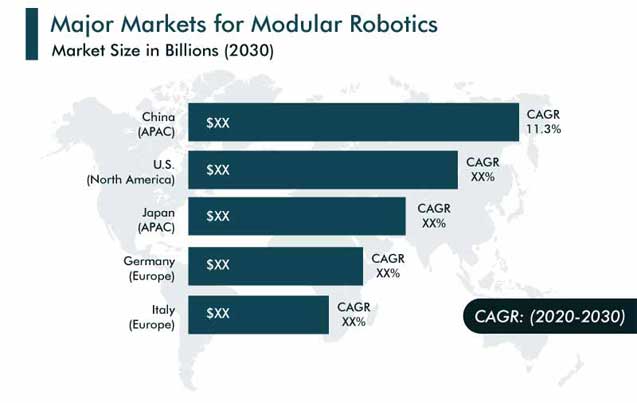 Increasing Urbanization Coupled with Growing Automotive Is Driving the Demand of Modular Robotics Systems in APAC Region
One of the major factors responsible for driving the market demand in the APAC region is the sustained growth of the automotive industry, owing to rise in demand for passenger cars in countries like China, Japan, and India. Also, increasing urbanization coupled with growing electrical & electronics and plastic industries is driving the demand for modular robotics system in the region. The region has China and Japan as the major manufacturing hubs for automotive, electrical & electronics, and plastics industries. Also, according to International Federation of Robotics (IFR), sales of industrial robots in India increased by around 39% and reached to 4,771 new units installed in 2018 from 3,412 units in 2017.
Trends & Market Drivers
Penetration of IIoT in Industrial Manufacturing is a Key Market Trends
The prominent trend in the modular robotics market is the Penetration of IIoT in industrial manufacturing, which has transformed the industrial sector in terms of manufacturing capability. In modern manufacturing, IIoT is impacting market positively, by increasing efficiency, facilitating streamlined maintenance, asset monitoring, and more to create a new age of industrial growth and development. Machinery maintenance can be scheduled with advanced data insights and real-time tracking before any problem arises. The IIoT is introducing the major changes in the industries, by transforming the linear, traditional manufacturing supply chains into interconnected, dynamic systems.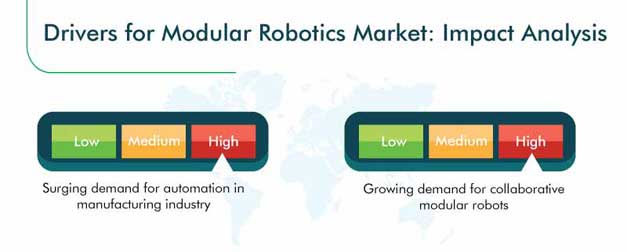 Growing Demand for Collaborative Modular Robotics System in Logistic Industry
Increasing adoption of collaborative modular robotics system is another major driver for the growth of the modular robotics market. Collaborative modular robotics systems, or cobots, are redefining human and robot relationships across the manufacturing and logistics industries. When working with cobots, the operator can directly provide the parts to the robot to perform the rest of the task resulting reduction in time, cost, and floor space. Their versatile nature has allowed them to take on different tasks with the help of suitable end-effectors. In the logistics sector, cobots are being deployed not just for carrying and transporting loads but also inspecting the fragile items. Therefore, owing to all such reasons, the rising demand for collaborative modular robotics system is driving the modular robotics market.
Modular Robotics Market Report Coverage

| | |
| --- | --- |
| Report Attribute | Details |
| Historical Years | 2014-2019 |
| Forecast Years | 2020-2030 |
| Base Year (2019) Market Size | $5.6 billion |
| Forecast Period CAGR | 9.9% |
| Report Coverage | Market Trends, Revenue Estimation and Forecast, Segmentation Analysis, Regional and Country Breakdown, Company Share Analysis, Companies' Strategical Developments, Product Benchmarking, Company Profiling |
| Market Size by Segments | By Offering; By Robot Type; By Payload Capacity; By End User; By Region |
| Market Size of Geographies | U.S., Canada, Germany, France, Italy, Spain, U.K., Japan, China, India, South Korea, Brazil, Mexico, Saudi Arabia, South Africa, Turkey |
| Secondary Sources and References (Partial List) | Association for Advancing Automation (A3), Association for Electrical, Electronic & Information Technologies, Austrian Association for the Electrics and Electronics Industry Distributors Association of Foreign Semiconductors, European Electronic Component Manufacturers Association, European Semiconductor Industry Association, European Engineering Industries Association, United Robotics Trade Association, India Electronics and Semiconductor Association, Institute of Electrical and Electronics Engineers, Institute of Electrical Engineers of Japan (IEEJ) Sensors, Japan Robot Association (JARA), Robotic Industries Association (RIA) |
Explore more about this report - Request free sample pages
Robotics Companies Have Also Prospered by Investments in 2019
In recent years, players in the modular robotics industry have launched several new and advanced products, to stay ahead of their competitors. For instance: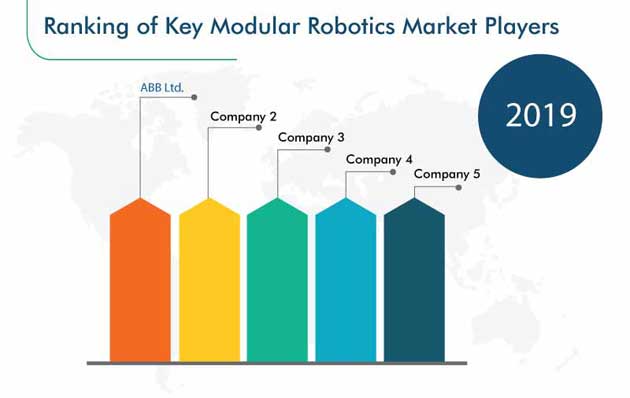 In May 2020, FANUC Corporation introduced ARC Mate 120iD, an arc welding robot. The robot is integrated with integrated cables and has high rigidity. The new model has a payload capacity of 25 kg and contains a reach for working up to 1.8 meters.
In May 2020, FANUC Corporation introduced "AI Path Control Function" to improve the precision of welding and cutting with ARC Mate series robots. This function can be used for applications in which the path's precision is important, such as water-jet cutting of automobile sheet material and LASER cutting of sheet metal.
In April 2020, Yaskawa Electric Corporation introduced a multipurpose robot, MOTOMAN-GP300R under the MOTOMAN-GP series. The robot has a payload capacity of 300 kg and a maximum reach of 3,220 mm. It can be used for applications in transportation of automobile body parts, transportation between machines, and jig transportation.
Some of the key Market Players Listed in Modular Robotics Market Report include:
Rethink Robotics GmbH

DENSO Products and Services Americas, Inc.

OTC DAIHEN Inc.

Vision Machinery Inc.

Stäubli International AG

Yamaha Motor Co. Ltd.

Comau S.P.A.

ENGEL AUSTRIA GmbH

Aurotek Corporation

Shibaura Machine Co., Ltd.
TM Robotics (Americas) Inc.

Acmi S.p.A.

Cassioli Group

Franka Emika GmbH

Omron Adept Technology, Inc.

b+m surface systems GmbH

igm Robotersysteme AG

ST Robotics Limited

Seiko Epson Corporation

Durr Group
Modular Robotics Market Size Breakdown by Segment
The modular robotics market report offers comprehensive market segmentation analysis along with market estimation for the period 2014–2030.
Based on Offering
Hardware

Controller
Driver module
Manipulator
Sensor

Software
Services
Based on Robot Type
Articulated Modular Robots
Cartesian Modular Robots
Selective Compliance Assembly Robot Arm (SCARA) Modular Robots
Parallel Modular Robots
Collaborative Modular Robots
Based on Payload Capacity
1–16.0 Kg
16.1–60.0 Kg
60.1–225.0 Kg
More Than 225.0 Kg
Based on End User
Industrial

Automotive
Electrical & Electronics
Plastics & Rubber
Metals & Machinery
Food & Beverages
Healthcare

Commercial
Residential
Geographical Outlook
North America
Europe

Germany
France
U.K.
Italy
Spain

Asia-Pacific (APAC)

China
India
Japan
South Korea

Latin America (LATAM)
Middle East and Africa (MEA)

Turkey
Saudi Arabia
South Africa