Medical Bionics Market Overview
The global medical bionics market size is estimated to be valued at $ 16,226 million in 2017 and is projected to progress at a CAGR of 10.1% during the forecast period. Increasing accidents and injuries leading to amputations, rising number of people opting for organ transplants, and increasing pool of geriatric population and associated organ failures are some of the factors driving the growth of the global market.
GLOBAL MEDICAL BIONICS MARKET, BY PRODUCT, $M (2013-2023)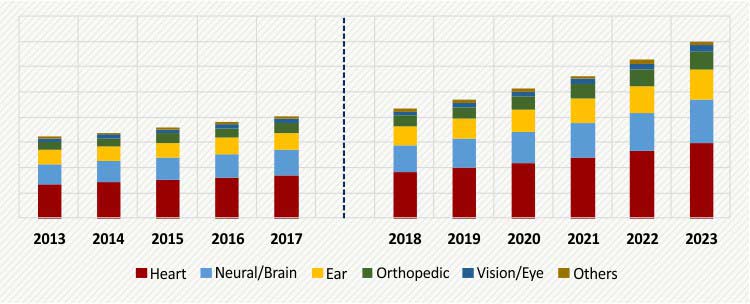 On the basis of product, the medical bionics market is categorized into heart, neural/brain, ear, orthopedic, vision/eye, and others. Of these, the fastest growth during the forecast period will be witnessed by the orthopedic category. This can mainly be ascribed to the increasing number of lower and upper limb amputations, requiring these bionics.
Based on fixation type, the vendors in the market offer implantable and non-implantable medical bionics. Implantable bionics are estimated to hold a larger share in the medical bionics market, with more than 70.0% contribution in 2017. Its larger market share is mainly due to the growing organ-failure patient base, and increasing number of patients opting for organ transplants, globally.
Geographically, North America has been the largest market for medical bionics, owing to increasing number of cases of amputees, growing aging population, high healthcare expenditure, economic growth, and expanding private healthcare sector.
Medical Bionics Market Dynamics
Market Trend
Healthcare companies are manufacturing technologically advanced bionic implants in order to compete with traditional implants in the medical bionics market. However, custom-made bionics are now available in the market by vendors and offer customized bionics with numerous length and size options, such as bionic hands by Open Bionics. Also, in order to sustain their competitive position in the global market, manufacturers are focusing more on the production process of bionics and developing a cost-effective design, at the lowest possible cost.
On the other hand, mind-controlled bionic sensors are also gaining traction in the medical bionics market, as they reduce stress-strain shielding, are biocompatible, improve intra-operative flexibility, and increase motion range with high-performance. For instance, the Symbionic Leg by Össur hf is the first bionic leg available in the global medical bionic market. It is unique and novel in itself, as it connects a controlled power ankle with a microprocessor knee unit, due to which an individual can easily move its lower limbs and reduce the chances of falling.
Growth Drivers
Some of the major factors contributing to the growth of the medical bionics market are increasing prevalence of chronic diseases, technological advancements, increasing number of amputations due to accidents and injuries, and growing geriatric population and associated organ failure.
A traumatic amputation can be a result of accident and may result in full or partial amputation. Only in few cases is it possible to re-attach the detached body part, where the remaining part of the detached limb undergoes surgery and a prosthetic limb is attached. Such mishaps could be accidents at work, on road from motorcycle, while cycling, or involving pedestrians or even public transport such as train crashes.
For instance, according to the Association for Safe International Road Travel (ASIRT), 2.35 million are annually injured or disabled in the U.S., and road crashes cost about $230.6 billion (an average of $820 per person) in the country. Also, according to the Organization for Economic Co-operation and Development (OECD), there was an increase in road accidents in the U.S., from 1.57 million in 2010 to 1.75 million in 2015, leading to an increase in the demand for medical bionics.
Opportunities
Due to increasing cases of limb loss and eye problems, healthcare organizations are creating awareness regarding the use of medical bionics. For instance, in December 2016, American Cochlear Implant (ACI) Alliance partnered with Hearing Loss Association of America (HLAA) to provide awareness about improved cochlear implants. Together, ACI Alliance and HLAA are reaching out to adults and others to improve information flow from trusted sources, and increase the likelihood of adult candidates adopting cochlear implants.
In 2011, the Amputee Coalition of America declared April as limb-loss awareness month, in order to increase awareness about and prevention of limb loss. Across the U.S., during the month of April, veterans, amputee support groups, rehabilitation centers, prosthetists and those with limb loss, participate in a number of activities in their local areas to raise awareness. These awareness programs are prompting the players to invest in the medical bionics market.
Medical Bionics Market – Competitive Landscape
With a number of technological advancements taking place in the medical bionics market, the players are introducing new and advanced bionics. For instance, in October 2017, Össur hf introduced the RHEO KNEE XC and RHEO KNEE for its prosthetic solution. The products help patients go anywhere and give full support for rehabilitation after amputations.
In December 2017, Boston Scientific Corporation received the United States Food and Drug Administration (USFDA) approval for the Vercise Deep Brain Stimulation System (DBS). The system is used to treat the symptoms of Parkinson's disease by stimulating the targeted area of the brain through implanted leads that are powered by a device called implantable pulse generator (IPG).
Some of the other key players operating in the medical bionics market are Cochlear Ltd., Medtronic plc, Edwards Lifesciences Corporation, Ekso Bionics Holdings Inc., LifeNet Health, Retina Implant AG, Orthofix International N.V., and Otto Bock Holdings GmbH & Co. KG.