Market Overview
The MEA specialty chemicals market valued $11,406.4 million in 2017 and is projected to witness a CAGR of 5.3% during 2018–2023. Revival of the oil and gas industry; rising usage of agrochemicals in African nations; and growing construction activities for the development of new industrial plants, commercial centers, and housing projects are the key drivers of the MEA specialty chemicals market.
MEA SPECIALTY CHEMICALS MARKET, BY TYPE, $M (2013–2023)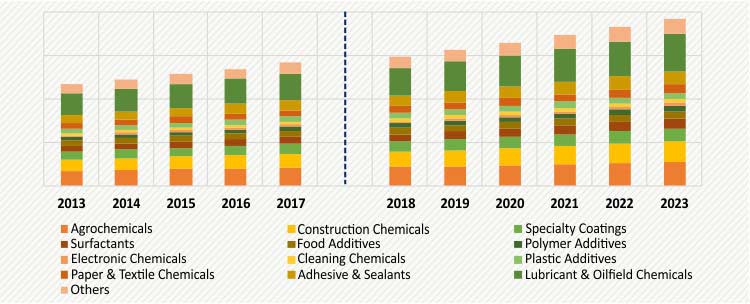 Based on the type, the MEA specialty chemicals market has been categorized into agrochemicals, construction chemicals, specialty coatings, surfactants, food additives, polymer additives, electronic chemicals, cleaning chemicals, plastic additives, paper & textile chemicals, adhesive & sealants, lubricant and oilfield chemicals, and others (water treatment chemicals, advanced ceramic materials, rubber processing chemicals, and mining chemicals). Of these, lubricant and oilfield chemicals held the largest share in the market, accounting for more than 20.0% in 2017. The dominant market share of the category can be attributed to the large-scale production of crude oil in the region.
Among all countries, Saudi Arabia held the largest share in the MEA specialty chemicals market, accounting for more than 60.0% in 2017. The country's vast reserves of oil and its leading position in oil exports call for significant consumption of specialty chemicals in oil fields. Also, growing end user industries such as construction, plastics, and adhesives and sealants are giving an impetus to the MEA specialty chemicals market.
Market Dynamics
MEA is endowed with large hydrocarbon reserves, particularly crude oil. Major oil producing countries in the region, such as Saudi Arabia, Nigeria, and Iran are investing in the expansion of oil fields in order to cater to the global demand for the commodity. Due to high risk associated with oil production, major oil producers aim to achieve greater oil field efficiency, and effective maximization of output from oil fields. The aforementioned factors result in different services in the well bores of oilfields, for which specialty chemicals are widely used. Owing to this, the MEA specialty chemicals market is expected to grow further in the future.
Trends
The MEA specialty chemicals market is undergoing rapid consolidation through increased merger and acquisition activities over the recent years. The growing merger and acquisition activities are expected to result in lesser, yet more efficient number of players, who will provide new product offerings to end user industries. For instance, in 2017, Saudi Basic Industries Corporation announced that it was aiming for $3-6 billion business acquisition opportunities in petrochemicals, specialty chemicals, and fertilizers. Thus, mergers and acquisitions is the major trend being witnessed in the MEA specialty chemicals market.
Drivers
Agriculture is the dominant sector in terms of economic output and serves as a major source of income in African nations. With advancement in agricultural practices, farmers in different African nations are shifting to modern agricultural practices, such as the use of fertilizers, insecticides, fungicides, and other agrochemicals. These agrochemicals are used during the different stages of farming in order to improve soil fertility, and prevent crop damage due to environmental factors, weed growth, and pests. The growth in the usage of different types of agrochemicals will continue to boost the MEA specialty chemicals market growth.
Restraints
Companies engaged in the production of specialty chemicals are extremely sensitive to frequent fluctuation in raw material price. The frequent rise and fall in the raw material prices result in uncertainty in prices of end products, thereby negatively impacting the profit margins of the companies. The uncertainty created as a result of fluctuating raw material prices also adversely impacts the expansion plans of specialty chemical companies. Thus, fluctuating raw material prices is a major restraint in the MEA specialty chemicals market.
Market Competitive Landscape
Some of the major players operating in the MEA specialty chemicals market are Saudi Basic Industries Corporation (SABIC), Sadara Chemical Company, Saudi Speciality Chemical Industries Co Ltd., Thebe Unico, AECI Ltd, Clariant AG, Akzo Nobel N.V., Evonik Industries AG, BASF SE, and DowDuPont Inc.