Latin America (LATAM) Physiotherapy Tapes and Bandages Market Overview
The Latin American (LATAM) physiotherapy tapes and bandages market size was $30.4 million in 2019, and it is expected to reach $39.8 million by 2030, witnessing a CAGR of 2.7% during the forecast period (2020–2030). The major factors behind the growth of the market are an increase in the prevalence of chronic diseases, high incidence of sports injuries and road accidents, rise in the number of awareness programs initiated by private and public organizations, and product affordability and easy availability in the LATAM region.
During the COVID-19 period, manufacturing facilities catering to the LATAM physiotherapy tapes and bandages industry are facing several challenges, due to smaller workforces, government mandates for lockdowns, and restricted movement of people and goods; on account of the latter two factors, the demand from end users is decreasing. The pandemic negatively impacted the supply chains in the first two quarters of 2020, which led to the reduced trade of physiotherapy tapes and bandages, as a consequence of the closure of manufacturing facilities to protect workers in all regions and constraints in the handling capacity of goods at ports. Moreover, the reduced product demand on account of the impacted monthly income of individuals, which has, in turn, led to widespread financial distress, has also ill-affected the industry.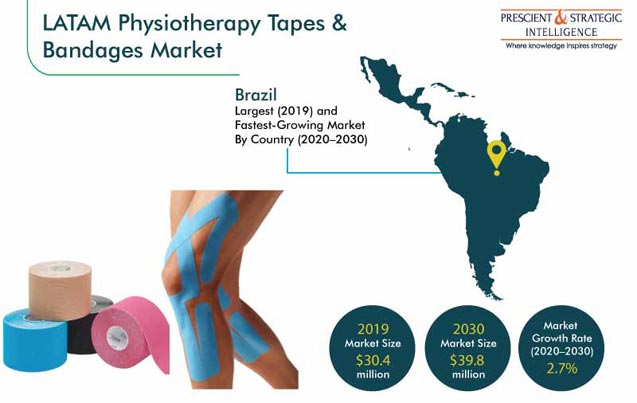 Tapes Category Is Expected To Account for Largest Share in Industry
On the basis of product, the LATAM physiotherapy tapes and bandages market has been categorized into tapes, bandages, and others. Among these, the tapes category is expected to dominate the market during the forecast period. Most of the physiotherapy tapes available in the market adhere to the skin with a medically approved, water- and sweat-proof adhesive. Generally, kinesiology tapes come in the latex-free and hypoallergenic varieties, for people who may be allergic to latex.
The adoption of a sedentary lifestyle in the regional countries has increased the probability of people suffering from joint and lower back pain. All these factors indicate an increasing demand for physiotherapy tapes, thereby impacting the category growth positively in the LATAM physiotherapy tapes and bandages market.
Brazil Accounted for Largest Market Share in Region
Brazil has accounted for the largest share in the LATAM physiotherapy tapes and bandages market till now, mainly due to its improving healthcare infrastructure and growing incidence of orthopedic injuries and diseases. Soccer/football, wrestling, and volleyball are the most played sports in Brazil, which are responsible for several types of injuries, such as traumatic injuries, groin pulls, and hamstring strains. Generally, 80% of the sports injuries are traumatic injuries, thereby increasing the demand for physiotherapy tapes and bandages, which, in turn, supports the growth of the market.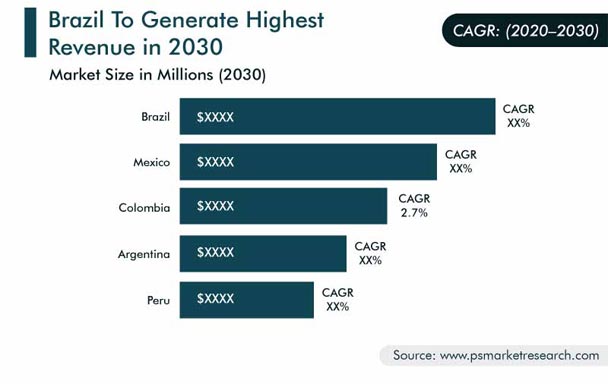 Advancements in Physiotherapy Products Are Key Market Trend
The advancements in physiotherapy maintain a broad and interdisciplinary approach, in order to reflect the actual collaboration between physiotherapists, practitioners, and scholars from other disciplines. Physiotherapists or sports medicine physicians provide information regarding what type of tapes or bandages are used for different types of injuries. Moreover, the heating technology is being increasingly deployed in bandages and tapes, which provides a pain-relieving sensation at the site of injury and for joints. Thus, advancements in physiotherapy products are being observed as a key trend in the LATAM physiotherapy tapes and bandages market.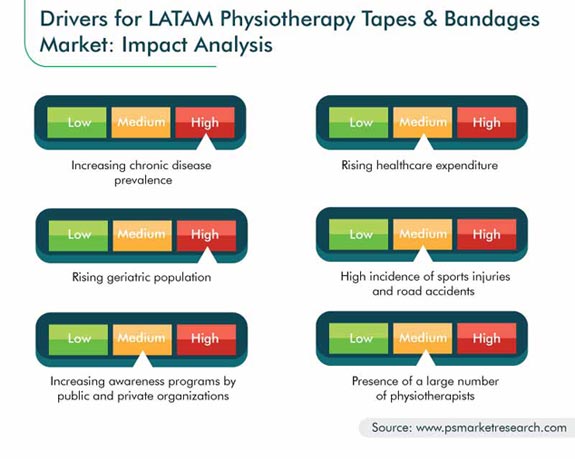 High Incidence of Sports Injuries and Road Accidents is Driving Market
According to the World Health Organization (WHO), the death rate per 100,000 people due to road accidents was 24.8% in Ecuador, 21.5% in Colombia, 20.2% in Brazil, 40.8% in Venezuela, 13.7% in Peru, 13.4% in Argentina, and 10.2% in Chile in 2018. Road accidents lead to severe fractures and injuries, which require surgeries. Further, post-op care often involves physiotherapy, to overcome or reduce the effects of the disability caused by accidents. Aftercare physiotherapy is often carried out using physiotherapy bandages, which provide relief from pain, thereby resulting in growth in the LATAM physiotherapy tapes and bandages market.
Presence of Large Number of Physiotherapists Is Expected to Positively Impact Market Growth
The increasing number of physiotherapists plays a significant role in the growth of the LATAM physiotherapy tapes and bandages market. As stated by the World Confederation for Physical Therapy, as of June 2019, there were 350,221 physiotherapists in the region. Of these, Brazil had around 250,000 practicing physiotherapists, Mexico had 4,861, Chile had 30,360, Peru had 5,000, Ecuador had 2,530, and Colombia had 29,483. Hence, the increasing number of physiotherapists is driving the demand for physiotherapy tapes and bandages in the region.
Latin America (LATAM) Physiotherapy Tapes & Bandages Market Report Coverage

| | |
| --- | --- |
| Report Attribute | Details |
| Historical Years | 2014-2019 |
| Forecast Years | 2020-2030 |
| Base Year (2019) Market Size | $30.4 Million |
| Forecast Period CAGR | 2.7% |
| Report Coverage | Market Trends, Revenue Estimation and Forecast, Porter's Five Forces Analysis, Impact of COVID-19, Segmentation Analysis, Country Breakdown, Competitive Analysis, Companies' Strategic Developments, Brand Mapping, Company Profiling |
| Market Size by Segments | By Product, By Country |
| Market Size of Geographies | Brazil, Mexico, Colombia, Argentina, Peru, Chile, Ecuador |
| Secondary Sources and References (Partial List) | International Osteoporosis Foundation, Latin American Society of Orthopaedics and Traumatology, Mexican Orthopaedic Association, Mexican Ministry of Health, Ministry of Health and Social Protection of Colombia, Ministry of Health of Brazil, Rheumatology Community Oriented Program for the Control of Rheumatic Diseases, World Health Organization, International Agency for Research on Cancer, International Diabetes Federation |
Explore more about this report - Request free sample pages
With Launch of New Products, Market Players Seek to Gain Competitive Edge
The LATAM physiotherapy tapes and bandages market is fragmented in nature, with the presence of several key players. In recent years, the major players in the market have taken several strategic measures, primarily product launches, to gain a competitive edge.
In May 2020, SpiderTech Inc. launched do-it-yourself (DIY) kinesiology tape masks. These are made from breathable materials that act as a filter for the user's mouth and nose and provide full-seal protection. The kinesiology tape masks remain in place even with vigorous activity, thereby reducing the contamination that can be caused through the continual adjustment of typical masks. Offerings include XL tape rolls for $3.97, from which up to 30 masks can be made.
In June 2018, 3M Company announced that it has expanded its lineup of advanced adhesives for medical devices, with the addition of the 3M single-coated medical extended wear adhesive nonwoven tape on liner (3M 4077). This water-resistant tape offers appreciable skin adhesion and a 14-day wear time, as well as conformability during long wear times.
The Key Players in the LATAM Physiotherapy Tapes and Bandages Market include:
DeRoyal Industries Inc.

Johnson & Johnson

3M Company

Essity AB

Beiersdorf AG

Becker Orthopedic

Implus Corporation
KT Health LLC

Kinesio Taping LLC

THYSOL Group BV

Atex Co. Ltd.

SpiderTech Inc.

NASARA Corporation
LATAM Physiotherapy Tapes and Bandages Market Size Breakdown by Segment
The Latin American physiotherapy tapes and bandages market report offers comprehensive market segmentation analysis along with market estimation for the period 2014–2030.
Based on Product
Geographical Analysis
Brazil
Mexico
Colombia
Argentina
Chile
Peru
Ecuador