IoT Market in Structure Monitoring Overview
The global IoT market in structure monitoring is expected to grow at a CAGR of 24.2% during 2017 – 2022, to reach $2,35,281.4 million by 2022. The global IoT market in structure monitoring refers to system which deals with inter connected devices to monitor the structures such as building and bridges. It enables to transfer data over network with minimum human intervention to keep a constant check on cost maintenance, carbon emission and space management.
GLOBAL IOT MARKET IN STRUCTURE MONITORING, BY SOLUTION, $M (2013 – 2022)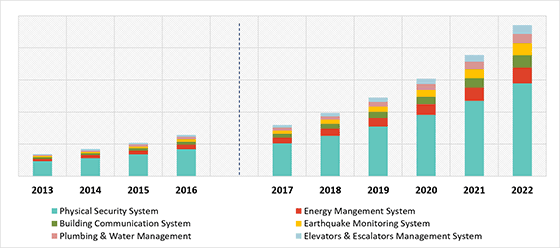 Structure monitoring refers to the detection of damage and implementation of strategies for engineering structures such as buildings, bridges and tunnels. The structure monitoring concept deals with the overall health monitoring and operational evaluation of structures. It is designed for the efficiency of all components of the structure, such as lighting, monitoring, safety and security, emergency systems, heating, ventilation and other aspects. It aims to improve the life span of a building by identifying problems and when they occur, thereby taking required corrective measures through one platform. Surging urbanization and continuous development in infrastructure have been the major macroeconomic factors driving the growth of the IoT in structure monitoring market.
The surge in global warming is also one of the secondary factors augmenting the growth of the IoT in structure monitoring market. One of the targets of the U.S. government under its Commercial Building Initiatives (CBI) is to make commercial buildings and bridges completely energy independent by 2025. The adoption of automated structure monitoring has been witnessing a rapid growth, owing to government inclination across countries towards smart cities and rising untoward incidences such as earthquake, and cyclones. The real estate companies utilize IoT in structure monitoring to increase the life of existing structure with minimum maintenance cost and time, which can be sighted as one of the major contributing factors for the growth of IoT market in structure monitoring.
IoT Market in Structure Monitoring Dynamics
In recent years, the demand for physical security system has increased, owing to the development of smart cities in China, India, and South-East Asian countries. The demand of physical security is witnessing a rapid growth in building surveillance system. Also, the increasing urbanization, in addition to the growing penetration of maintenance and repair activities in bridges in developing countries, is expected to bolster the demand of IoT in structure monitoring, during the forecast period.
Growth Drivers
The global IoT market in structure monitoring is driven by factors such as rising concern for infrastructural protection, growing demand for infrastructure across the globe and low operating cost monitoring system. The rising need among the government authorities and real estate professionals to assess structures such as hospitals, airports, control centers and fire stations in case of major catastrophic events such as earthquake and volcanoes, is one among the prime growth factors of the IoT market in structure monitoring. The growing dependence on wireless devices to communicate data for structure monitoring in buildings, bridges and dams in developing countries is driving the growth of the global IoT market in structure monitoring. The adoption of connected devices has also benefited the market as it offers data synchronization from different location of the sensors in the structure, in a time bound manner.
Medical infrastructure, which includes hospitals, clinics and institutions, are anticipated to adopt structure monitoring system through IoT to increase the life of existing infrastructure and detect damages, which in turn will improve the safety and maintainability of critical structures. The hospital buildings that come under high seismic zone are embracing the usage of structure monitoring to protect the life of patients, staff and visitors from any untoward incident.
Opportunities
With growing technological advancements in sensors, actuators and analytical tools, structure monitoring through IoT is reaching the next level of infrastructure solutions. Integration of complex IoT hardware and software opens a myriad opportunity for the competitive players to enhance their offerings, which will lure end-users. The proper choice of sensors, actuators and data processing tools in structure monitoring enable infrastructure authority with better decision making to minimize maintenance cost & damages. Also, the integration of sensors, actuators and analytical tools provide real-time data during construction and roofing to ensure proper deployment of construction products, resulting in extended life of the infrastructure.
IoT Market in Structure Monitoring Competitive Landscape
The intensity of rivalry in the IoT market in structure monitoring is moderate. Most of the major vendors in this market are actively focusing on research & development to enhance infrastructural health of existing and new upcoming buildings & bridges. They are also focusing on product launch and partnerships to enhance product feature and expand their consumer base across the globe. Companies such as Johnson Control Inc. and Cisco System Inc. are adding new products to their existing portfolio to cater to the growing demand of under- construction infrastructure. Honeywell International Inc., Schneider Electric SE and General Electric have also won contracts of many infrastructural projects to provide structure monitoring through IoT.
Key competitors are specifically focusing on Asia-Pacific and Middle East & Africa for the expansion of IoT market in structure monitoring, as the builders in these regions show strong purchase intention for these solutions in the coming years. Similarly, manufacturers are also investing in Asia-Pacific to offer better services for structure monitoring. Some of the key players operating in the global IoT market in structure monitoring are Johnson Control Inc., Cisco System Inc., IBM Corporation, General Electric, Honeywell International Inc., Schneider Electric SE, Accenture PLC., Siemens AG, ABB Ltd, Delta Control Inc.
Scope for Customization
P&S Intelligence offers customization as per specific business requirements of clients. Illustrative customization within the scope of this report includes:
Period of Analysis – Increase in the study period, including historic and forecast years.
Company Profiles – Wider company coverage in terms of detailed analysis or additional company profiles.
By Application - Others under this segmentation can further be broken down into individual segments.
New custom report – A completely customized report can be provided on the market, specific to a region/ country/ segment.