Industrial Brakes Market Overview
Valued at $930.3 million in 2018, the global industrial brakes market is projected to reach $1,105.7 million by 2024, demonstrating a CAGR of 3.0% during the forecast period. The growth in the market is attributed to the growing requirement of brakes in various industries, including manufacturing, construction, metal and mining, and oil and gas.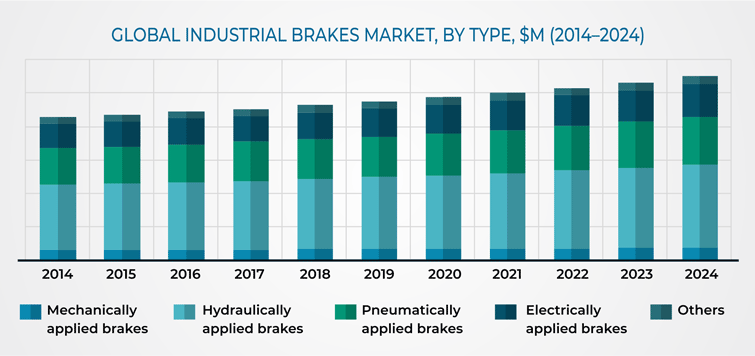 Industrial brakes are frictional devices that are used to control the motion of moving bodies in industrial operations. These systems provide brake solutions in packaging machines, cranes, construction machinery, wind turbines, tube machines, metals and mining machines, marine and shipping machines, and other machines. These brakes can increase the production capabilities of a plant through automated and consistent quality with minimum human supervision.
Based on type, the industrial brakes market is categorized into mechanically applied brakes, hydraulically applied brakes, pneumatically applied brakes, electrically applied brakes, and others. Among these, hydraulically applied brakes held the largest market share by generating revenue of more than $400.0 million in 2018. Besides, the market for these brakes is expected to witness a CAGR of nearly 3% during the forecast period. The demand for these brakes is increasing due to their advantages, such as reliability, easy to use, long life, and competitive price.
Based on industry, the industrial brakes market is categorized into manufacturing, metal and mining, construction, marine and shipping, power generation, and others. Among these, the manufacturing industry accounted for the largest share, of more than 45%, in the market. This significant market share is ascribed to rising investments in the manufacturing sector for both expansion and upgradation of existing equipment. Further, with growing standards and regulations on safety in manufacturing facilities, the demand for industrial brakes is expected to increase during the forecast period.
Industrial Brakes Market Dynamics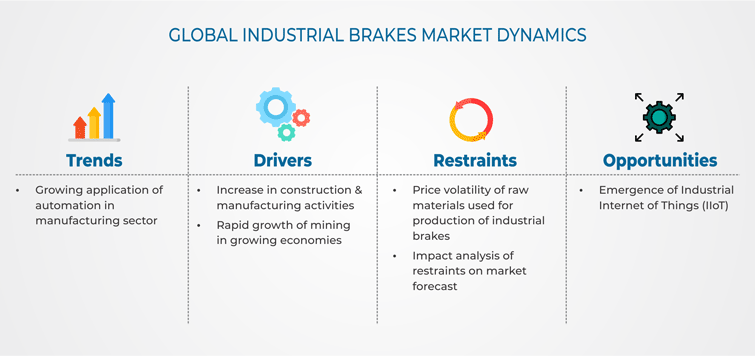 Trends
The industrial brakes market is characterized by strategic developments of key players in the form of product launches, acquisitions, partnerships, and other developments. In recent years, investments in the manufacturing sector are raising for implementation of automation due to safety, cost minimization, and quality of end products. This widespread investment suggests a fundamental reshaping of production landscape that would eventually have implications for more advanced equipment in the manufacturing industry. This evolution in the industry encourages brake manufacturers to invest in research and development to develop new types of brakes, according to changing environment.
Drivers
The growth in the industrial brakes market is likely to be driven by increase in construction and manufacturing activities, and rapid growth of mining sector in emerging economies.
Growth in economy, rapid urbanization, and increase in disposable income have led to increase the demand for finished products and construction activities, globally. Emerging economies such as China, India, and African countries have witnessed a significant growth in their infrastructure sector over the past few years and are expected to continue on the growth path in the future. This generates the demand for construction and manufacturing machinery, such as cranes, lifts, and construction equipment, which in turn, are expected to drive the industrial brakes market during the forecast period.
In addition, to meet the rising demand for minerals, growing economies have witnessed significant investments on exploration of minerals in the last few years. These countries are adopting various technologies such as automation and internet of things (IoT) to reduce labor cost and operational time associated with mining activities. In result, these investments are expected to boost the demand for industrially used brakes in the forthcoming years.
Restraints
Industrial brake systems face frequent wear off issues from brake discs and pads due to friction between them. As a result, the brake pads and discs used in these systems require replacement based on raw materials used for their production. However, impact of international economic factors and fluctuating exchange rates of foreign currencies affects the prices and availability of the raw materials used in making these brakes, which would further affect the profit margins of industrial brake manufacturers. Thus, volatile prices of the raw materials are expected to hinder the industrial brakes market growth during the forecast period.
Opportunity
Industrial internet of things (IIoT) has boosted the scope of sensors in industrial machinery and equipment. This could enhance safety features in industrial smart brakes equipped with sensors that are automatically capable of applying emergency brakes through artificial intelligence systems to prevent any motion without supervision. In addition, proximity sensors equipped around assembly station or machinery could also facilitate the automated brakes in various industries, enhancing the safety of workstation, which is expected to provide profitable opportunity in the industrial brakes market.
Industrial Brakes Market Competitive Landscape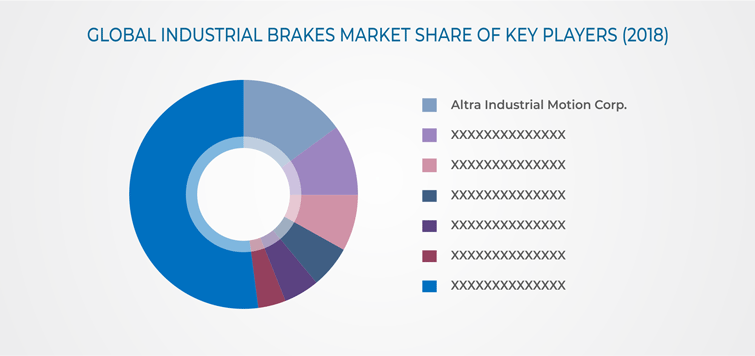 Some of the major players operating in the global industrial brakes market are Akebono Brake Industry Co. Ltd., Altra Industrial Motion Corp., Eaton Corporation plc, Aplicacion Nuevas Technologias Antec S.A., Carlisle Brake & Friction, Coremo Ocmea S.p.A, PINTSCH BUBENZER GmbH, RINGSPANN GmbH, SIBRE Siegerland Bremsen GmbH, Magnetek Inc., HUAWU SOLUTIONS, and Dellner Brakes AB.