India E-Cigarette Market Overview
India e-cigarette market was valued at $7.8 million in 2018 and is expected to register a CAGR of 26.4% during 2019-2024. Rising health awareness among the traditional cigarette smoking populace and growing cancer related cases in the country is driving the adoption of e-cigarettes in India. Moreover, increasing popularity of ash-less vaping devices among the Indian consumers is boosting the growth of the market.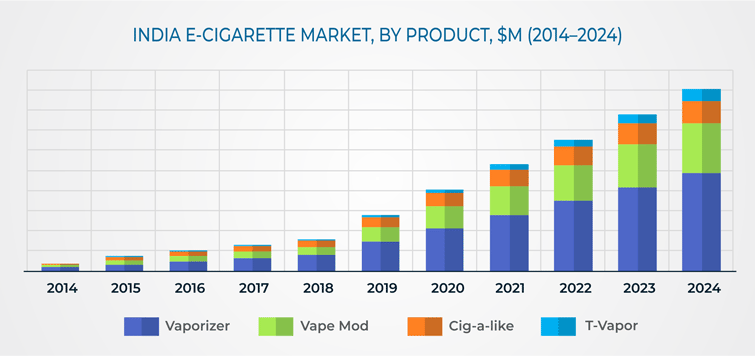 On the basis of product, India e-cigarette market has been categorized as vaporizer, vape mod, cig-a-like, and T-Vapor. The demand for vaporizer category is projected to grow with the fastest rate. This can be attributed to the growing popularity of modular vaporizers such as JUUL SMOK, and Eleaf. The rising popularity of vaporizer can be attributed to varied factors such as moderate cost, dense aerosol production, and flexibility with the type of flavors that can be used with this device.
India e-cigarette market has been segmented under the age groups of 16-24 years, 25-34 years, 35-44 years, 45-54 years, 55-65 years, and 65+ years. E-cigarettes are currently popular among the younger generation living in urban areas, due to the influence of social media channels. With more direct and indirect marketing, the consumption among other age groups across tier-2 and tier-3 cities is expected to rise in the country.
The e-cigarette aftermarket is categorized into refill, battery and charger, and others, which includes atomizers, tanks, and coils. Out of these, refill category held the largest share in the India e-cigarette aftermarket. Presently, India has over 0.3 million vapers. The number of vapers is projected to reach 0.6 million by 2024, indicating shift toward e-cigarettes from conventional tobacco products, which in turn would increase e-cigarette consumption, thereby, leading to more demand for e-cigarette accessories, mainly refills.
E-Cigarette refill aftermarket is categorized on the basis of flavor into fruit, tobacco, menthol, candy, savory/spice, bakery/dessert, beverage, menthol tobacco, and others. Out of these, tobacco was the most preferred flavor among consumers in India, as it helps vapers to quit conventional smoking, without having to experience sudden tobacco withdrawal symptoms. It is also observed that experienced vapers shift toward non-tobacco flavors, such as fruit and bakery/sweet, after prolonged usage; the market for these two flavors together contributed about 19% in the Indian e-cigarette refill aftermarket in 2018.
The northern region of India accounted for the largest share in total e-cigarette revenue in the country, in 2018. The surging number of consumers switching from traditional tobacco cigarettes to e-cigarettes has been driving the e-cigarette market growth in the region. Additionally, vaping trend is on the rise in cities such as Delhi, Gurgaon, and Chandigarh, primarily due to the prevalence of pub-culture. However, states including Punjab, Himachal Pradesh, Uttar Pradesh, and Rajasthan, have banned the sale on e-cigarettes, thus posing hindrance to the growth of e-cigarette market in the region.
India E-Cigarette Market Dynamics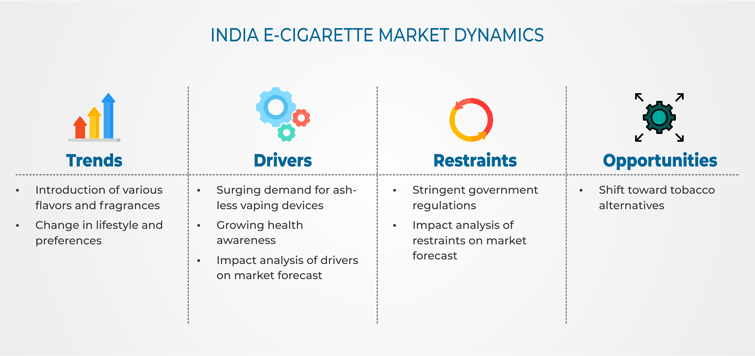 Growth Drivers
Smoke generated from burning tobacco is equally harmful to humans as it is to the environment. E-cigarettes eliminate the emission of smoke and instead, produce mist, which easily dissolves in the air within seconds. E-cigarette also eliminate the need for dumping cigarette butts and flicking ash openly. Used cigarette butts contain nicotine, carcinogens, and various other toxins. On account of this, demand for ash-less vaping device is growing in the country, providing steady growth to the overall India e-cigarette market.
Trends
With the growing popularity of e-cigarettes, vendors are introducing a wide range of e-cigarette flavors such as menthol, mint, chocolate, cola, bubble gum, and fusions of other fruits and flavoring substances to attract more customers. Among these various flavors, it has been observed that preference toward tobacco flavor is high in the country. Further, introduction of various flavors of e-cigarettes is luring the young populace (16-24 years) to use e-cigarettes. For instance, it has been recorded that young populace held the largest share of 33.6% in the market, in 2018, and is expected to hold 35.9% share by 2024.
Restraints
E-cigarettes, being less harmful, do not completely eliminate the risk of health damage caused by nicotine or emission of certain chemicals. Following an advisory from the Ministry of Health and Family Welfare, as of March 2019, 12 states in the country including Punjab, Karnataka, Maharashtra, Bihar, Kerala, Uttar Pradesh, Himachal Pradesh, Jammu & Kashmir, Puducherry, Tamil Nadu, and Jharkhand, have taken steps to ban the use of electronic nicotine delivery systems (ENDS) including e-cigarettes. Further, other states are also planning to ban the sale and consumption of e-cigarettes.
India E-Cigarette Market Competitive Landscape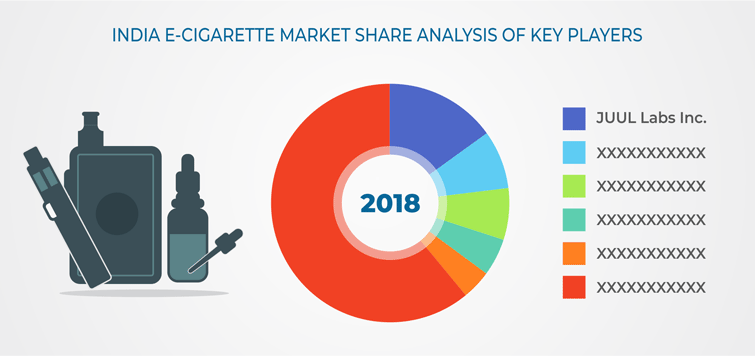 Due to unclear regulations and import policies, the e-cigarette market in India is dominated by imported devices, majorly form China. Companies including JUUL Labs Inc., Joyetech Group, Shenzhen IVPS Technology Corporation Ltd., Shenzhen Eigate Technology Co., Ltd, and ITC Limited are the key players in the market. British American Tobacco p.l.c., Altria Group Inc., Japan Tobacco Inc., Imperial Brands PLC, Philip Morris International Inc., JUUL Labs Inc., Innokin Technology Co. Ltd., Shenzhen Kanger Technology Co., Ltd., Pax Labs, Inc., ITC Limited are some other major players trying to gain significant foothold in India e-cigarette market.