Disease Overview
Herpes is an infection caused by a virus known as, herpes simplex virus. It is estimated, that around 3.7 billion people under the age of 50 years are suffering with the herpes simplex virus infection, globally. The disease is categorized into two types: HSV1 and HSV2. HSV1, also known as oral herpes can lead to sores on the mouth and around the lips, HSV2 causes genital herpes. A person can get infected with HSV1 by sharing lip balm, kissing and eating from the same utensils. HSV2 spreads through sexual contact with a person, already suffering from HSV2.
Both HSV1 and HSV2 belong to the herpes virus family and their genome consists double stranded DNA within an icosahedral nucleocapsid. Outside this capsid, the virus is covered by a lipid membrane layer. The lipid membrane layer can be affected by environmental factors such as detergents, solvents and heat. These viruses generally do not remain viable in the environment; direct inoculation is thus required for the infection to be transmitted. Some of the risk factors of HSV2 virus include sex with multiple partners, sex at a young age, a weak immunity and sexually transmitted infection. Some of the symptoms associated with Herpes infection are blistering sores, itching, and pain during urination, tiredness, headache, loss of appetite etc. Herpes simplex virus can be easily diagnosed by physical appearance and also by performing certain lab tests which include a DNA or a PCR test.
Pipeline Analysis
As of May 2017, the herpes simplex virus infection therapeutics pipeline comprised of approximately 20 drug candidates in different stages of development.
NUMBER OF HERPES SIMPLEX VIRUS INFECTIONS THERAPEUTICS UNDER DEVELOPMENT (2017)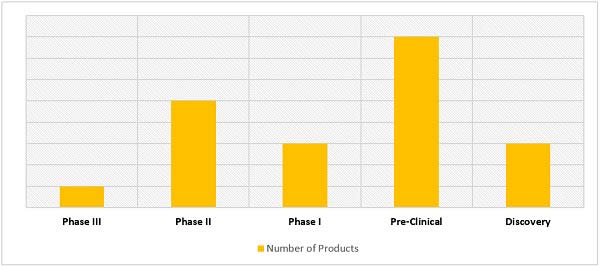 Competitive Landscape
Some of the key players developing drugs for Herpes virus simplex infections include Vical, Inc., Maruho Co., Ltd., Sanofi Pasteur and others.
Scope for Customization
P&S Intelligence offers customization as per specific business requirements of clients. Illustrative customization within the scope of this report includes:
Market Forecast – Market analysis and forecast for the drug candidates in the latest stage of development
Company Profiles – Wider company coverage in terms of detailed analysis or additional company profiles