Market Overview
The home automation market size was estimated at USD 45.7 billion in 2023, and it will reach USD 86.8 billion by 2030, advancing at 9.6% CAGR between 2023 and 2030.
The rising need for energy-efficient and eco-friendly solutions, swiftly advancing technology, and increasing fondness of consumers for connectivity and convenience are some factors boosting the market. Home automation enables people to control and automate several appliances and fixtures in their homes through smart devices and online platforms.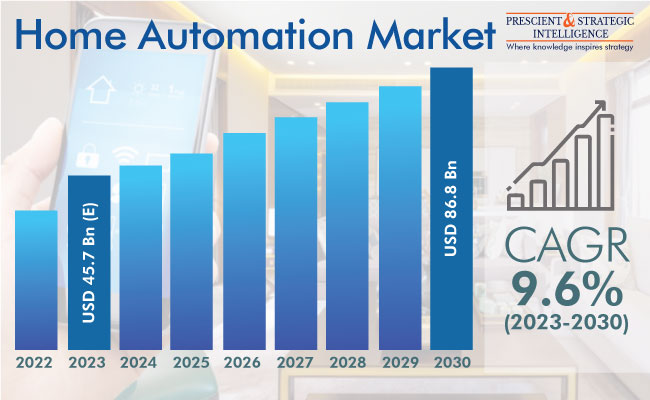 Smart thermostats, which enhance cooling and heating; intelligent lighting systems, which adjust brightness based on natural light availability and room occupancy; and energy monitoring tools, which enable customers to track and manage their usage of energy; are some features provided by home automation systems. These features can help in cutting down household bills, thus making them highly appealing to users.
Additionally, several initiatives are being implemented by governments around the world to promote green buildings and smart cities. This has led to the increasing acceptance of home automation systems, thereby boosting the market advance. As part of such initiatives, many nations as well as local governments have implemented regulations and are offering incentives to boost the deployment of energy-efficient technologies in residential and commercial buildings.
Another major factor leading to the advance of the industry is the growing requirement for convenience, connectivity, and safety. Homeowners, nowadays, live a busy lifestyle and search for ways to simplify their daily tasks. Home automation systems enable them to remotely manage numerous features of their houses while at work or outside.
Internet of Things (IoT) Deployment Is Driving Market
The deployment of the IoT technology is a key driver for the home automation market advance. This technology allows various smart devices to interact and work together in an interconnected environment. These smart devices include smart meters, security and access control systems, lighting controls, smoke detectors, and entertainment hubs.
This interconnectivity of smart devices allows homeowners to automate various routines and tasks. For instance, a smart home can turn off appliances when not in use, automatically adjust lighting and temperature based on occupancy, and notify homeowners of possible security risks.
The deployment of IoT in residences has sparked rapid innovation, thus resulting in the introduction of a wide range of platforms, services, and smart devices. The expanding IoT-enabled device ecosystem, along with the increasing interoperability standards, has made it easier for homeowners to integrate and implement home automation technologies into their lives.
Powerline Communication Technology Is Creating Opportunities
The adoption of the powerline communication technology is also playing a significant role in generating opportunities for the market players. This technology allows data communication over existing powerlines, thus offering a lucrative and suitable solution for connecting devices within a home.
Powerline communication enables the structured control of electrical and electronic systems via automation and computerized controls, making home automation systems easier to install and utilize, while meeting interoperability necessities for numerous applications.
Luxury Home Automation Systems Hold Largest Share
Based on type, the luxury home automation system category held the largest share of the industry in 2022. This is because of the surging elderly population and the rising acceptance of smart home solutions among affluent customers. Luxury home automation systems often provide high-end features and customization choices, which cater to the preferences of discerning homeowners. Moreover, with the increasing incidence of crimes against the elderly, concerned loved ones are integrating remote security and access control monitoring solutions into geriatric people's homes.
Wirelessly Connected Systems To Gain Rapid Popularity
The wireless category will witness the higher growth rate in the coming years, on the basis of technology. The surging need for eliminating the hassles of installing and maintaining a complex network of wires and the growing usage of ICs and microchips are boosting the acceptance of wireless home automation technologies. Wireless systems provide the benefits of flexibility and easy installation, thus making them an attractive choice for modern homeowners.
This is attributed to the freedom provided to customers to control their home automation systems via mobile phones, through network protocols such as Wi-Fi, ZigBee, and Bluetooth. Users also favor products that provide smooth communication with minimal battery consumption. For example, the ZigBee protocol operates on a lower latency and a low duty cycle, for instant device-to-device interaction, thus resulting in a longer battery life for devices.
Security and Access Control Application Dominates Market
The security and access control category, based on application, dominates the market. The introduction of smart grids and the assistance of powerline communication have made security and access control systems extremely reliable and effective. The growing worries concerning home safety because of the increasing rates of crime across the globe are also boosting the growth of this category. For instance, as per an article in Forbes, every year, 1 million home burglaries take place in the U.S.; one happening every 25.7 seconds.
The lighting control category is projected to observe significant growth in the years to come. The increasing emphasis on energy efficiency for both residential and commercial buildings is boosting the acceptance of lighting automation systems. These systems encourage energy savings by sensing the movements of humans and levels of natural light available to adjust lighting accordingly, thus decreasing the unnecessary consumption of energy. Moreover, advanced LED lights allow for remote color changes as per mood.
Home Automation Market Report Coverage

| | |
| --- | --- |
| Report Attribute | Details |
| Market Size in 2023 | USD 45.7 Billion (E) |
| Revenue Forecast in 2030 | USD 86.8 Billion |
| Growth Rate | 9.6% CAGR |
| Historical Years | 2017-2022 |
| Forecast Years | 2023-2030 |
| Report Scope | Market Trends, Drivers, and Restraints; Revenue Estimation and Forecast; Segmentation Analysis; Impact of COVID-19; Companies' Strategic Developments; Market Share Analysis of Key Players; Company Profiling |
Explore more about this report - Request free sample pages
North America Is Market Leader
North America leads the global home automation market, and it is expected to continue its dominance in the years to come. The Technological advancements, existence of key industry players, and advantageous government policies make the region attractive for home IT investments.
Additionally, the consumer acceptance of smart gadgets and voice assistants is swiftly increasing in North America, thus further driving the need for home automation systems.
APAC is set to observe the fastest growth in the home automation market in the forecast period. The region is witnessing rapid urbanization, with a surging number of individuals moving to urban areas looking for modern and convenient living solutions. Home automation provides an attractive solution for urban residents looking to improve their quality of life, by managing their homes more efficiently.
Additionally, the middle-class population in Asian countries is likely to reach 3.5 billion by 2030, says the World Economic Forum. With the changing lifestyles and rising disposable incomes, there is a mounting need for home automation systems that add value, comfort, and convenience to homes.
APAC has also observed substantial technological advancements of late, mainly in AI, IoT, and wireless connectivity solutions. This has allowed for the development of advanced home automation systems that are more user-friendly, reliable, and affordable, thus making them accessible to a broader range of consumers.
Major players in home automation market include:
Schneider Electric SE
Legrand S.A.
United Technologies Corporation
Ingersoll-Rand PLC
Siemens AG
Cytech Technology Pte. Ltd
Johnson Controls Inc.
ABB Ltd.
Honeywell International Inc.
Crestron Electronics Inc.