Hepatitis Drugs Market Overview
The hepatitis drugs market is expected to reach $118.5 billion by 2020, registering a CAGR of 29.7% during 2015–2020, globally. Growing aging population, rising prevalence of hepatitis, and increasing investments in research and development (R&D) to carry out research on hepatitis and drug discovery by public and private organizations are major factors driving this market.
Hepatitis can be identified as an inflammatory condition of the liver. It is normally caused by a viral infection and can be further classified into hepatitis A, B, C, D, and E.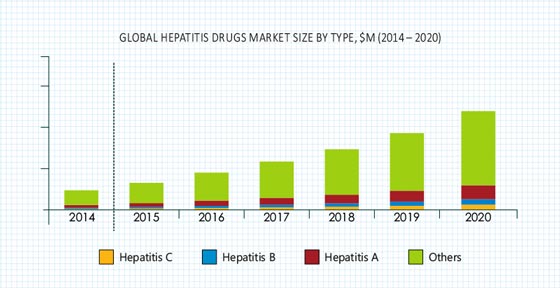 On the basis of type, the hepatitis drugs market is bifurcated into hepatitis A, B, C, and others. Among these, hepatitis C held the largest share in the market and it is further estimated to hold more than 80% by 2020. In addition, it is also estimated to be the fastest growing category in the coming years.
Globally, North America held the largest share historically and is further projected to follow the same trend during the forecast period, mainly on account of increasing geriatric population, and measures taken up by government and private organizations to raise awareness about hepatitis infections, its forms, severity, and management.
Moreover, another factor driving the growth of hepatitis drugs market is increasing investments in the R&D to improve healthcare infrastructures in the region. Among the countries of the region, the U.S. is a major contributor to the hepatitis drugs market and is estimated to progress at a CAGR of 30% during the forecast period.
Hepatitis Drugs Market Dynamics
Trends
Increasing collaborations and partnerships are the evolving trend in the hepatitis drugs market. Market players are actively partnering and collaborating to provide novel solutions to treat hepatitis infections. Furthermore, these strategic development activities are focused on streamlining and accelerating the drug development process, in order to provide a wide range of therapies for the treatment of chronic diseases including hepatitis.
Growth Drivers
Increasing number of incident cases of different types of hepatitis, including hepatitis B and C are playing an important role in driving the growth of the hepatitis drugs market. According to an article published by Hepatitis B Foundation, hepatitis is identified as a leading cause of mortality. Approximately, one million deaths are recorded every year due to hepatitis type B, and various complications associated with it, whereas, hepatitis C is responsible for approximately 500,000 cases of mortality every year, as stated by the World Health Organization (WHO). Therefore, rise in hepatitis incidence has increased the overall demand of drugs to treat and manage the disease.
In addition, increasing participation of market players and government associations, in the form of promoting and funding, play a pivotal role in driving the growth of hepatitis drugs market. In turn, these initiatives are supporting the development of drug therapies, encouraging diagnosis, and providing tailor-made solutions to patients. The major organizations include U.S. Department of Health and Human Services (HHS), Centers for Disease Control and Prevention (CDC), American Liver Foundation, WHO, Immunization Action Coalition, and Hepatitis Foundation International (HFI).
Restraints
The development of hepatitis drugs is highly priced, as their manufacturing process are labor intensive and require expensive drug intermediates and active pharmaceutical ingredients (APIs). Therefore, the high capital requirement for the development and commercialization of drugs indicated for the treatment of hepatitis is a key restraint, which is impeding growth of the hepatitis drugs market. Moreover, the isolation, production, and ensuring contamination free usage of raw materials is a complex procedure that demands skilled professionals, adding to the overall cost of pharmaceuticals.
Furthermore, factors such as pro-longed development process and approval time of pharmaceutical drugs further impedes the growth of the hepatitis drugs market. For example, the development time of any new drug is around 8–10 years, because of the identification of drugs safety and efficacy, which is required to minimize adverse events.
Hepatitis Drugs Market Competitive Landscape
Dynavax Technologies Corporation, F. Hoffmann-La Roche Ltd., Johnson & Johnson, Merck & Co. Inc., Novartis AG, AbbVie Inc., Gilead Sciences Inc., Mitsubishi Tanabe Pharma Corporation, GlaxoSmithKline plc, and Bristol-Myers Squibb Company are some of the key players in the global hepatitis drugs market.
Key Questions Answered in the Report:
What is the current scenario of the hepatitis drugs market
Emerging technologies for the development of hepatitis drugs market
Historical and present size of the market segments and their comparative future potential
Evolving opportunities for the players in the hepatitis drugs market
Key geographies from the investment perspective
Key strategies adopted by the major players to expand their market share