Healthcare Cognitive Computing Market Overview
The global healthcare cognitive computing market size is estimated to value $1,722.0 million in 2017 and is projected to grow at a CAGR of 34.0% during the forecast period. The market will be led by the natural language processing (NLP) technology, in terms of both size and growth, owing to the potential of this technology to easily convert human language to machine language and provide better patient care as compared to other technologies.
GLOBAL HEALTHCARE COGNITIVE COMPUTING MARKET, BY DEPLOYMENT MODEL, $M (2014–2024)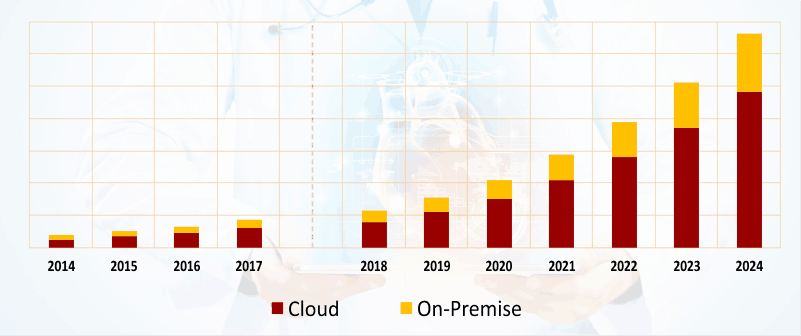 Based on deployment model, healthcare cognitive computing is made available through either cloud or on-premise model. Cloud computing is a majorly used platform in healthcare cognitive computing, and its market is expected to witness growth at a CAGR of 34.5% during the forecast period. The growth in demand for cloud computing is driven by its ability to store a huge amount of data, at a lower cost, allowing even smaller hospitals to access the information they require to offer the best healthcare.
Healthcare providers, healthcare payers, pharmaceutical companies, and other medical device companies are the main end-users of healthcare cognitive computing. Globally, healthcare providers form the largest end-user base of healthcare cognitive computing and are estimated to contribute revenue of $767.2 million to the global market in 2017. This is mainly attributable to the increasing patient pool and implementation of advanced surgical units in the hospitals across various regions.
Globally, North America was the largest contributor in the healthcare cognitive computing market in 2016 and is expected to account for 44.3% of the market share by 2024. This leading position of the North American market is driven by growing R&D activities by pharmaceutical companies, rising healthcare expenditure, proliferating geriatric population, increasing number of hospitals, and increasing collaborations between information technology firms, healthcare firms, and research centers in the region.
Healthcare Cognitive Computing Market Dynamics
Market Trend
Increasing partnerships between the leading players in the industry is a key trend observed in the healthcare cognitive computing market. Companies such as Nuance Communications Inc., NVIDIA Corporation, and Koninklijke Philips N.V. are partnering with several research institutes for the testing and implementation of cognitive computing solutions offered by them. For instance, in November 2017, Nuance Communications Inc. and NVIDIA Corporation announced they would together bring the power of machine learning to radiologists and data scientists working across the healthcare system. The collaboration aimed at detecting key clinical findings and improving patient care.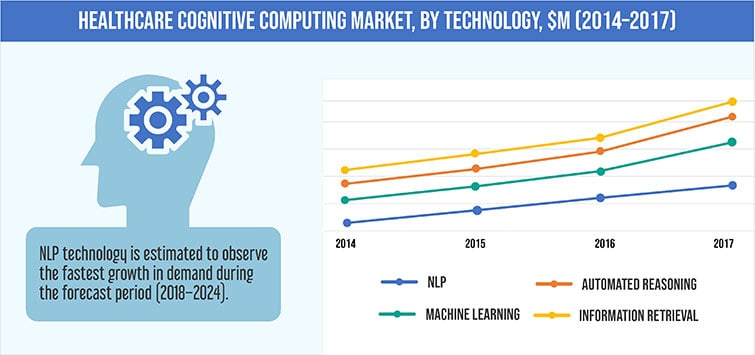 Growth Drivers
Some of the major factors contributing to the growth of the healthcare cognitive computing market include increasing burden of chronic diseases, advancements in technology in the healthcare industry, and spur in the adoption of third computing platforms.
Increasing clinical trials and drug discoveries to address complex healthcare procedures have generated significant demand for data assimilation and advanced data analytics. This increase in demand for advanced data analytics, in turn, has led to the increased implementation of cognitive computing to help doctors understand patients' medical conditions and develop suitable treatment plans for them. In recent years, several hospitals in Europe and North America have implemented cognitive computing solutions in their operations. For instance, in May 2016, Alder Hey Children's Hospital, along with Roald Dahl Foundation, a healthcare charity, implemented cognitive computing to their patient solutions.
Third computing platforms are increasingly gaining importance in the healthcare cognitive computing market. They facilitate management of a significant amount of healthcare data and retention of information on various clinical outcomes. Third computing platforms such as big data and cloud computing facilitate integration of hardware and software to store and retrieve information pertaining to certain diseases or patients. They are becoming increasingly popular for the information management of outpatients, inpatients, and emergency care settings. These platforms allow physicians, nurses, and other healthcare professionals to view comprehensive data sets in real time for making informed decisions.
Opportunities
Increasing demand for personalized medication and developing healthcare infrastructure in emerging markets are the factors offering growth opportunities to the players operating in the healthcare cognitive computing market. These growth opportunities can be largely attributed to increasing disposable income of the population residing in the emerging markets, which is further increasing the affordability for advanced treatment options among the patients. This has enabled the healthcare providers in these regions to concentrate their resources on the adoption of various technologies to provide advanced healthcare solutions.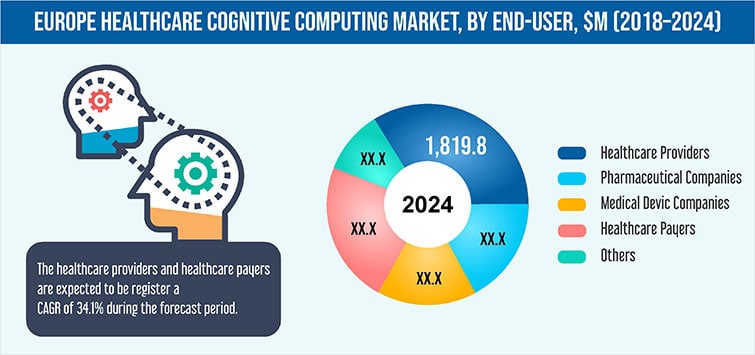 Increase in recommendations by physicians for personalized medication has also offered ample opportunities to the players in the healthcare cognitive computing market to cater to the huge patient pool adhering to personalized medicine regimes. Players such as IBM Corporation are focused on the development of cognitive medication and genomic technologies. This, in turn, is encouraging widespread acceptance for personalized medication in the healthcare cognitive computing market.
Healthcare Cognitive Computing Market Competitive Landscape
Key players in the healthcare cognitive computing market are partnering with several research institutes and biotechnology and pharmaceutical companies to increase their market share. For instance, in October 2017, Microsoft Corporation and PAREXEL International Corporation, a leading global biopharmaceutical services organization, entered into a technology development alliance aimed at driving innovation across the life sciences industry with technology powered by Microsoft Azure. The collaboration between Microsoft and PAREXEL is aimed at helping the industry to accelerate drug development and bring new therapies to patients by combining Microsoft's global cloud infrastructure, intelligent services, and research and development capabilities with PAREXEL's clinical and regulatory technology domain expertise.
In June 2017, IBM Corporation collaborated with RITE Solutions Limited to deploy Watson for Oncology, a cognitive computing platform trained by Memorial Sloan Kettering, in hospitals in Bangladesh. According to the agreement, RITE Solutions would work with the hospitals across the country to support physicians in providing personalized, evidence-based cancer care. This agreement marked the first IBM Corporation partnership in Bangladesh, further driving the growth of the healthcare cognitive computing market.
Some of the other key players operating in the healthcare cognitive computing market include Enterra Solutions, LLC, Intel Corporation, Alphabet Inc., Hewlett Packard Enterprise (HPE), Nuance Communications, Inc., CognitiveScale, Healthcare X.0 GmbH, and MedWhat.com Inc.