Guidewires Market Overview
The global guidewires market is estimated to be valued at $816.3 million in 2017 and is projected to showcase a CAGR of 5.5% during the forecast period. Based on material type, the market has been categorized into nitinol, hybrid and stainless steel. Nitinol based guidewires acquired the largest share in the market and generated an estimated revenue of $385.6 million in 2017.
GLOBAL GUIDEWIRES MARKET, BY APPLICATION, $M (2016-2023)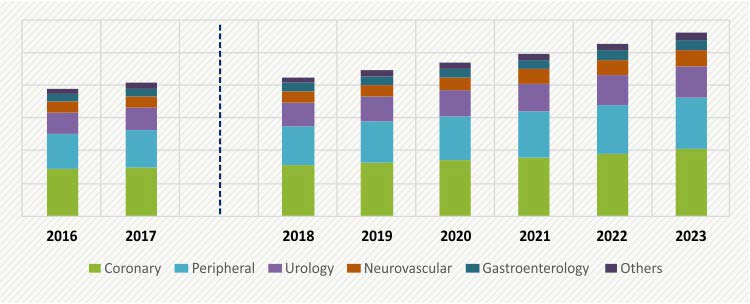 On the basis of product, the market is categorized into surgical and diagnostic, where the former is estimated to hold 87.0% share in the guidewires market, in 2017. The category is also expected to showcase faster growth in demand witnessing a CAGR of 5.7% during the forecast period.
On the basis of application, these products are used for coronary, peripheral, urological, neurovascular, gastroenterological and other diseases. Among its various applications, guidewires are most commonly used for coronary applications, with an estimated contribution of 36.9% in 2017.
Based on end user, the guidewires market is categorised into hospitals and diagnostic clinics, ASCs and others including academic and research institutes, and research laboratories. Hospitals and diagnostic clinics are the largest end user, with an estimated contribution of 86.9% in 2017, and are also expected to showcase fastest growth in demand during the forecast period.
Guidewires Market Dynamics
Market Trends
Increasing demand for interventional procedures in developing countries and technologically advanced and innovative guidewires are the prominent trends observed in the guidewires market. An increasing demand for coronary procedures has been observed in India. According to the data published in coronary interventional registry established by the National Interventional Council (NIC), Cardiological Society of India, in 2012, 177,240 PCI procedures were captured in the registry, which reflected a 16.4% growth as compared to the previous year. This indicates that the increasing number of coronary procedures are expected to spur the demand of these products.
Growth Drivers
Favorable reimbursement scenario, increasing prevalence of chronic and lifestyle associated disorders, and growing demand for minimally invasive surgeries (MISs) are the factors driving the growth of the guidewires industry.
Lifestyle diseases share risk factors similar to prolonged exposure to three modifiable lifestyle behaviors such as smoking, unhealthy diet, and physical inactivity. Obesity is also one of the leading cause for various chronic diseases. According to an obesity report published in 2015, by the Organization of Economic Cooperation and Development (OECD), 19.5% of the adult population was obese across the OECD countries. This rate varies less than 6% in Korea and Japan to higher than 30% in Hungary, New Zealand, Mexico and the U.S.
Increasing prevalence of CVDs in developed countries promote the coronary guidewire treatment particularly in the interventional procedures such as PTCA and PTA. According to a report published by European Association of Cardio-Thoracic Surgery (EACTS), in 2015, minimally invasive cardiac surgery has developed rapidly in the past 10-15 years. According to Eurostat, there was increase in the number of laparoscopic colectomy procedures per 100,000 inhabitants, ranging from 26.4 in 2010 to 29.8 in 2015. Thus, the increasing demand for minimally invasive surgeries is expected to drive the growth of the guidewires market.
Opportunities
Rising medical tourism in emerging economies, government initiatives to control the burden of hospital acquired infections (HAIs) in developed countries and rising healthcare expenditure in emerging countries provide opportunities for the players in the guidewires industry. There are many awareness programs introduced by various government organizations to reduce the mortality rate globally. For instance, according to the Centers for Disease Control and Prevention (CDC), about 6%–7% of population lose their lives due to HAIs in developed countries, whereas in developing countries about 10%–12% population are affected by HAIs.
Guidewires Market Competitive Landscape
Key players in the guidewires market are acquiring other firms to increase their market presence. For instance, in January 2017, Abbott Laboratories, acquired St. Jude Medical Inc. After the acquisition companies together hold the largest share in cardiovascular market. The acquisition strengthens the Abbott's portfolio in guidewires market.
In January 2018, Microbot Medical Inc., a medical device company specializing in micro-robotic medical technologies, agreed to acquire a novel patent-protected technology from CardioSert Ltd., a medical device company. CardioSert's technology includes guidewire delivery system. Under the terms of the transaction and following the closing, CardioSert will transfer ownership of its innovative technology) to the Microbot Medical Inc. in exchange for 100,000 restricted shares of Microbot's common stock, cash payments totaling $300,000 (including $50,000 paid at signing), the potential for future milestone payments based on development progress and regulatory approvals, as well as royalties from future sales related to the technology.
Some of the other key players operating in the guidewires market are Cardinal Health Inc., Boston Scientific Corporation, Stryker Corporation, B. Braun Melsungen AG, Cook Medical LLC, CONMED Corporation, Medtronic PLC, Asahi Intecc Co. Ltd., and Terumo Corporation.