Geospatial Imagery Analytics Market Overview
The global geospatial imagery analytics market is estimated to be valued at $3,196.2 million in 2017 and is forecasted to witness a CAGR of 28.7% during 2018–2023. Technological advancements in this field and urge among enterprises to increase competitiveness are the key factors driving the growth of this market.
GLOBAL GEOSPATIAL IMAGERY ANALYTICS MARKET, BY COLLECTION MEDIUM, $M (2013 – 2023)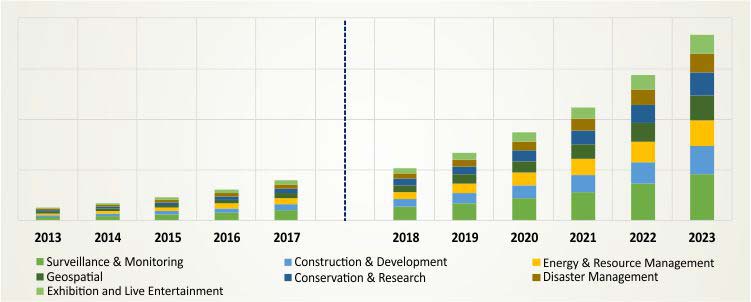 On the basis of collection medium, the market for geospatial imagery analytics is categorized into geographic information system (GIS), satellites, unmanned aerial vehicles (UAVs), and others. Among these, GIS has been holding the largest market share. This can majorly be attributed to increased adoption of GIS systems in various industries including aerospace and defense, oil and gas exploration, water and wastewater, and government.
On the basis of imaging type, the global geospatial imagery analytics market is divided into image and video; of which, image has been a larger category, with an estimated 69% share in 2017. This can be attributed to the rising demand of video analytics in government as well as non-government sectors, and advent of industrial automation.
Of all analysis types in the global geospatial imagery analytics market, geovisualization has been contributing the highest revenue so far, accounting for an estimated 49% share in 2017. It is the most traditional technique which allows users to explore, synthesize, communicate, and analyze the meaning of georeferenced information. However, there is an increasing implementation of network analytics solutions by various industries to curtail the additional time required and cost incurred due to inefficient networks. Thus, network analysis is expected to be the fastest growing category during 2018-2023.
On the basis of vertical, the geospatial imagery analytics market is segmented into government, energy and mining, defense, agriculture and forestry, media and entertainment, and civil engineering and archeology. In terms of size, government has been the dominant vertical in the geospatial imagery analytics market till now. This can be ascribed to the fact that such analytics helps government bodies to make critical planning decisions such as city planning and disaster management.
Of the various applications of geospatial imagery analytics, surveillance and monitoring has been contributing the highest share so far. The technology holds immense prospects in regards to problem solving and decision-making capabilities of battle-field management, for the security of a nation and its people. Due to this, military and defense sectors across geographies are increasingly making use of information obtained through this technology, thereby backing the high adoption of it for surveillance and monitoring.
Geospatial Imagery Analytics Market Dynamics
Trends
The increasing adoption of video-based imagery is a recent trend observed in the global geospatial imagery analytics market. Video-based imagery involves imagery analytic services in which the information is stored in video recording format. For capturing these videos, several mediums including UAVs, satellite or airborne sensors, aircrafts, helicopters, and airships are used. Due to its advanced and sophisticated utility, video-based imagery has greater potential of growth and is increasingly drawing the interest of businesses, globally.
The growing number of small and nano satellite launches is another trend observed in the geospatial imagery analytics market. Small and nano satellites are of low mass and size and are easier to launch. For example, in February 2017, Indian Space Research Organization (ISRO) recorded a launch of 104 satellites, of which, 88 were small satellites. A higher number of satellites all around the earth means high-revisit rates and greater data frequency.
Drivers
Advancements in geospatial imagery analytics is a key factor driving the growth of the market. Technologies such as artificial intelligence (AI) and big data enable a faster and efficient analysis of data, thus vendors are increasingly integrating them into their offerings to deliver knowledgeable insights in less time. Retail and e-commerce; banking, financial services and insurance (BFSI); healthcare; disaster management; and military sectors/industries are increasingly benefitting from technological advancements and generating high demand for this analytics to categorize the massive amount of data and extract useful information out of it.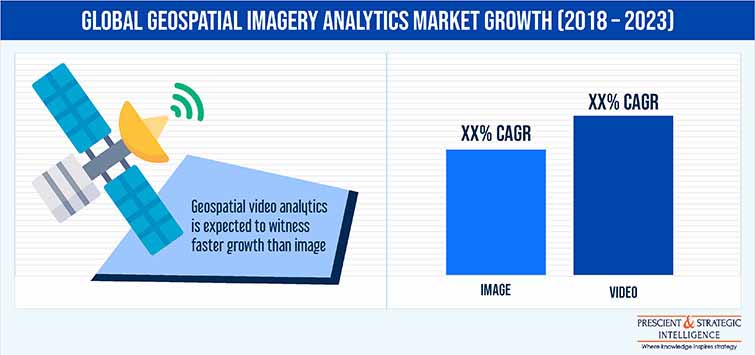 Restraints
The stringent government policies regarding geospatial data is an impediment to the growth of the global geospatial imagery analytics market. Governments of all countries have their own regulations related to the access and use of geospatial data pertaining to their territory. This is due to the fact that leak of location-based data makes countries or regions vulnerable to various threats such as security breach, privacy harm, and terror/criminal activity. The need to study and comply with complex country-specific legal norms discourages players to enter the market, which hampers the market growth.
Opportunities
The location-based analytics feature provides intelligent decision-making ability to end users. Companies have started investing in location-based service (LBS) for geospatial applications. For example, in 2017, Microsoft Corporation announced its plans to launch Azure LBS for enterprises. The new LBS will provide critical geographical data to cloud developers to provide many capabilities to them, including fleet management, IoT asset tracking, automotive, logistics, urban planning, and retail. Thus, the increasing preference for and adoption of LBS is a lucrative opportunity for the geospatial imagery analytics market growth.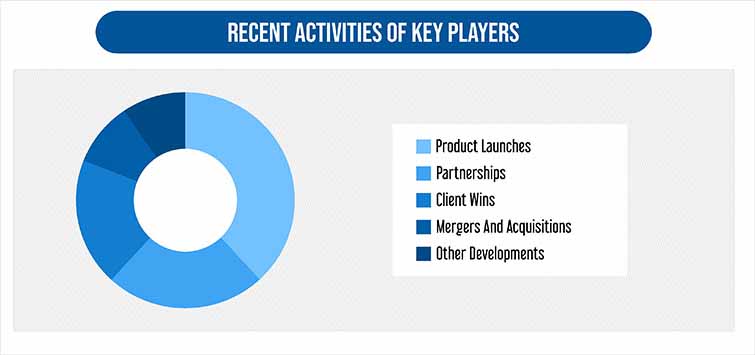 Geospatial Imagery Analytics Market Competitive Landscape
The key players in the geospatial imagery analytics market are resorting to acquisitions to improve their competitiveness. MacDonald, Dettwiler and Associates Ltd. (MDA) completed the acquisition of DigitalGlobe Inc., a company dealing in high resolution earth imagery. The company (MDA) announced that it would be renamed as Maxar Technologies Ltd. post this corporate reorganization. Maxar Technologies would provide satellites and geospatial imagery analytics solutions to commercial and government customers worldwide.
Also, Esri announced the acquisition of ClearTerra location data extraction technology from ClearShark, a provider of cybersecurity, enterprise IT, and analytics solutions. Through this expansion, Esri plans to improve its geospatial imagery analytics business by allowing its ArcGIS platform users to easily discover and extract geographic coordinates from unstructured textual data such as e-mails, reports, and briefings.