Market Overview
The global forensic technologies market revenue was USD 16.4 billion (E) in 2023, and it is expected to reach USD 43.7 billion by 2030, with a CAGR of 15% during 2023–2030.
This expansion is attributed to the escalating rate of crime worldwide, continuous advancements in forensic techniques, and rising number of forensic laboratories. Additionally, the growing consciousness regarding DNA testing in paternity/maternity disputes is playing a significant role in the growth of the market.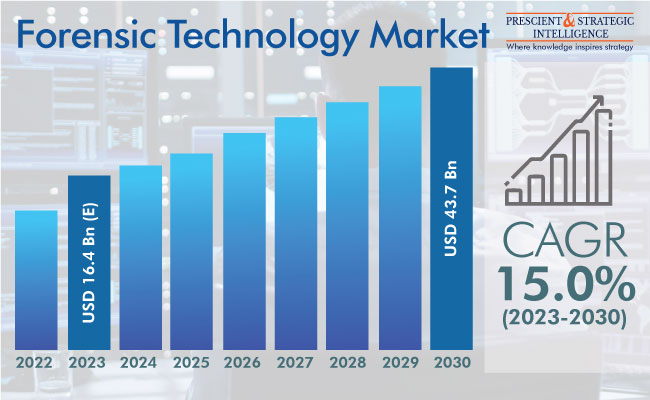 Moreover, forensic scientists utilize a range of advanced technologies to search, retrieve, and analyze large and complex datasets. This enables them to gather information that can be effectively used to address litigation issues, regulatory compliance, financial crime requirements, and various investigations.
Increasing Crime Rate Is Strongest Market Driver
The surge in the number of criminal cases, coupled with a shortage of service providers and outsourcing of crime cases from government laboratories to privately held facilities, is creating ample opportunities in the space.
The major players in the industry are actively engaged in research and development to introduce cost-effective and efficient forensic techniques. Additionally, the growing need for mobile forensic analysis services and the high preference of investigators for DNA testing are propelling the growth of the market.
Usage of DNA Profiling Is Key Market Trend
A prominent trend in the global forensic technologies market is the increasing adoption of DNA profiling. DNA testing has demonstrated a great potential in solving crime cases by helping easily identify criminals and victims. The DNA can be extracted from a range of body parts and tissues, such as hair, fingernails, skin, saliva, semen, teeth, blood, and mucus. DNA sampling is often the first step in identifying Jane and John Does, so that the rest of the investigation can be initiated.
This technology is also useful for establishing the identity of living people, in case they are missing, which can be a result of trafficking. For instance, as per the International Commission on Missing Persons, 36 million people around the world are currently being trafficked. Upon their location, their identities need to be established, so they can be sent back home safely.
Digital Forensic Products Witnessing Rapid Growth in Demand
On the basis of type, the market is bifurcated into laboratory forensics and digital forensics. Of these, the digital forensics category is expected to witness swift growth in the forecast period.
The remarkable growth in internet usage over the last decade has led to a significant increase in cybercrime, which has become a major concern across the globe. Consequently, the key market players are heavily focused on innovating and developing new digital forensic techniques to counter and extract evidence from computer crimes.
With the advent of these advanced techniques, the recovery of deleted data, which has been a major challenge for criminal investigators, has now become possible, thus enabling law enforcement agencies to tackle cyber criminals.
Growing Cloud Service Adoption To Boost Market Revenue
The growing adoption of cloud services and IoT-enabled devices has provided cybercriminals with more opportunities to exploit the gaps in technology and gain unauthorized access to customer data. This increased vulnerability of individuals, governments, and enterprises to malware and viruses has made digital forensics crucial in investigating financial fraud and cyberattacks.
In addition, businesses worldwide are focusing on the digitization of data, thus making themselves more susceptible to cybercrime. The increasing incidence of data breaches and financial losses, along with brand and reputation damage due to cyberattacks are escalating the demand for digital forensics products and services.
Their main objectives are to extract data from electronic evidence, convert it into usable intelligence, and present the results for prosecution. These solutions play an important role in helping companies obtain critical information if their computer systems or networks are compromised. Digital forensics efficiently identifies cybercriminals wherever they are, thereby protecting organizations' financial assets, time, and even customers.
DNA Testing Services Will Hold Largest Share
The DNA testing category, based on service, is predicted to hold the largest share in 2030. DNA testing is a crucial instrument in criminal investigations and is commonly used to identify individuals. In the cases of murders, this technology is vital in establishing the identity of the deceased and the culprit from their body tissues left on the scene.
Additionally, the fingerprint/biometric analysis category is expected to experience significant growth over the forecast period. Fingerprint/biometric analysis uses distinctive physical traits, such as fingerprints, facial makeup, and iris pattern and color, to identify individuals. Law enforcement organizations are increasingly seeking to strengthen their identification and verification procedures, to combat identity fraud, thereby driving the demand for fingerprinting/biometric analysis technologies.
Judicial/Law Enforcement Application Accounted for Largest Share
The judicial/law enforcement category, based on application, held the largest share in 2022. This can be attributed to the continuous efforts by government authorities worldwide to generate DNA databases. Forensics studies can help shed light on a number of aspects of crimes, such as the identity of the victim and criminal, the gun and kind of bullet used, the exact chemical utilized for poisoning someone, and conducting routine postmortems.
The pharmacogenetics category is projected to observe significant growth over this decade, driven by the need for the reduction of the case backlog and the rising demand for criminal investigations. Most of the pharmacogenetic analysis is performed using the teeth, bones, hair, skin, fingerprints, blood, and tissue samples collected from crime scenes.
Furthermore, the arrival of technologically advanced products, along with the numerous conferences and symposiums that are conducted to increase the consciousness about such technologies for routine DNA analysis, is expected to provide a boost to the overall market growth.
Forensic Technologies Market Report Coverage

| | |
| --- | --- |
| Report Attribute | Details |
| Market Size in 2023 | USD 16.4 Billion (E) |
| Revenue Forecast in 2030 | USD 43.7 Billion |
| Growth Rate | 15.0% CAGR |
| Historical Years | 2017-2022 |
| Forecast Years | 2023-2030 |
| Report Scope | Market Trends, Drivers, and Restraints; Revenue Estimation and Forecast; Segmentation Analysis; Impact of COVID-19; Companies' Strategic Developments; Market Share Analysis of Key Players; Company Profiling |
Explore more about this report - Request free sample pages
North America Leads Market
Geographically, North America leads the forensic technologies market, primarily owing to the widespread adoption of these technologies by law enforcement organizations and the presence of major industry players. The market in this region is expanding due to the rising crime rate, particularly in New Mexico, Tennessee, and Alaska, and the need for cutting-edge solutions to combat them. The increasing use of DNA analysis in criminal investigations is another factor driving the market in North America.
APAC is projected to witness the fastest growth in the industry, as a result of the rising rate of crime in India, Japan, and China and governments' focus on strengthening their law enforcement agencies with advanced forensic analysis capabilities. The capture of 6.4 million pills of methamphetamine in Thailand in June 2023 is a grim reminder of the unabated trade of illicit drugs from the infamous Golden Triangle despite local and international steps to combat it.
Moreover, the demand for precise and prompt investigations, expanding government attempts to upgrade forensic facilities, and presence of major players are fueling the market's expansion in this region.
Major Forensic Technology Providers:
GE Healthcare
Eurofins Medigenomix Forensics Gmbh
Pyramidal Technologies Ltd.
Life Technologies Inc.
SPEX Forensics
NMS Labs Inc.
LGC Forensics
3M Company
Agilent Technologies Inc.
Thermo Fisher Scientific Inc.
Eurofins Scientific S.E.
Qiagen N.V.
Abbott Laboratories
Illumina Inc.
Thales Group