Foam blowing agents refer to substances, which produce cellular structure through foaming process and increase thermal and acoustic insulation, and flexibility of final product. Foam blowing agents are used as additives in the manufacturing of foam and are injected through high pressure injection into the substrate, when they are in liquid state. These agents then create holes and expand in matrix providing cellular structure to the substrate. The cellular structure provides strength to the foam, while using very less material.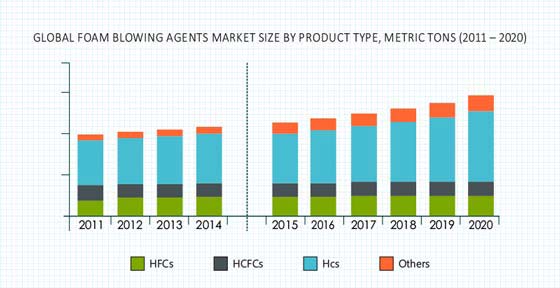 Foam blowing agents are utilized to upgrade and enhance certain properties and nature of polymers. Polymer foams produced using blowing agents are low weight, and characterized with uniform foam structure. Some of the different types of foam blowing agent are chlorofluorocarbons (CFCs); hydrochlorofluorocarbons (HCFCs) such as HCFC-141b, HCFC-142b and HCFC-22; hydrofluorocarbons (HFCs) such as HFC-245fa, HFC-134a, HFC-152a, and HFC-365mfc; hydrocarbons (HCs) such as n-pentane, iso-pentane, c-pentane, and iso-butane; and others such as methyl formate, hydrofluoroolefin (HFO), and inert gases. The global foaming agents market has witnessed frequent changes in the type of blowing agents used over the years. Although, CFCs were most commonly utilized blowing agents earlier, they were banned as per the Montreal Protocol of 1989, due to their high ozone depletion potential (ODP).
Therefore, CFCs were replaced by another group of blowing agents, i.e. HCFCs, for their low ODP. However, these blowing agents still have ODP, and hence different governments are planning to phase out HCFCs in the coming years. Other alternatives of HCFCs that are being formulated are HFCs with zero ODP; although several regulations are being framed across the world to regulate the usage of HFCs. The reason behind such regulations is high global warming potential (GWP) of HFCs, which is equivalent to CFCs and HCFCs. Therefore, the growth of the HFCs market is anticipated to slow down in the coming years. As of now, the most ecofriendly blowing agents in usage are HCs, HFO, and inert gases among others, owing to their very low GWP and zero ODP.
The global warming and ozone layer depletion are the major environmental challenges across the globe. The government of different countries and international organizations are framing stringent environmental regulations, in order to reduce the emission of greenhouse gases. The conventional blowing agents, i.e., CFCs had high GWP and ODP. These compounds caused severe damage to the ozone layer, following which their usage was banned. HCFCs have been utilized as alternative to CFCs, as their ODP was comparatively low. However, with the development of HFCs (with zero ODP), the consumption of HCFCs started to decline. This was primarily due to the increased government initiatives across the globe. Moreover, HFCs are also not the ideal replacement of HCFCs or CFCs, as their GWP is high and almost equivalent to HCFCs. Such factors accelerated the research and development of very low GWP and zero ODP blowing agents.
The HC blowing agents, such as cyclopentane, isopentane, n-butane, and n-pentane, and other ecofriendly blowing agents, such as HFOs, methyl formate and CO2, have zero ODP and very low GWP. This makes the blowing agents most suitable in the current scenario, and therefore their consumption and production is anticipated to grow at a higher rate, as compared to that of HFCs and HCFCs. The development of the ecofriendly blowing agents is creating abundant opportunities for the manufacturers of blowing agents, who earlier had to suffer due to stringent environmental regulations. There also lies an opportunity for new players to establish their presence in the global foam blowing agents market, by developing very low GWP and zero ODP blowing agents.
Based on application, the polyurethane foam segment held the largest market size, with 167,675.8 metric tons volume in 2014, and it is expected to reach 230,461.0 metric tons by 2020, growing with a CAGR of 5.5% during the period 2015-2020.
The global foam blowing agents market was valued at 332,690.0 metric tons in 2014, and it is expected to grow with a CAGR of 5.3% during 2015 - 2020. The factors driving the growth of the global market include increasing demand for polymeric foams in construction and automotive industries and high demand for foam blowing agents in the manufacturing of polyurethane foam
In 2014, the Asia-Pacific market held the largest share in the global foam blowing agents market, in terms of value and volume. The major reasons behind the sustained growth in the region are increasing consumption of blowing agents in China and growing base of end-use industries of polymer foams. However, the increasing international pressure of reducing the consumption of HFCs and HCFCs would hinder the growth of the Asia-Pacific foam blowing agents market to some extent.
Some of the key companies operating in the global foam blowing agents market include Arkema S.A., Daikin Industries Ltd., Exxon Mobil Corporation, Haltermann GmbH, Honeywell International Inc., Sinochem Group, Linde AG, Zeon Corporation, Solvay S.A. and Harp International Ltd.