Pipeline Overview
Estrogen Receptor-Positive (ER+) breast cancer is the most common type of breast cancer diagnosed and it refers to the cancer cells that have receptors on their surface to bind with estrogen. Breast cancer is said to be estrogen receptor-positive (ER+), if it contains estrogen that receives signals from estrogen to promote cell growth. Breast cancer is a syndrome that affects breast tissues and cells in the breast grow in an uncontrollable manner forming a tumor, which can be felt as a lump or can be viewed under x-ray. Majority of breast cancers begin in lobules, tissues which are made up of glands for milk production and ducts that connect the lobules to the nipple. The risk factor of the disease includes personal or family medical history or certain changes in their genes. The increased life expectancy, shift toward urbanization and adoption of western lifestyles are the common factors instigating the risk of development of breast cancer. Early detection of ER+ breast cancer is important for the improvement of breast cancer outcome and survival.
Breast cancer still remains the major cause of deaths among women, but in coming years, it is likely that mortality and morbidity would increase in much less proportion than the standard reckoning, and there is even a possibility of decrease in the rate of occurrence of the disease. There are several reasons that are likely to contribute to the same, such as progress in screening/diagnosis, which leads to early detection of the tumor, making it more acquiescent for treatment.
The second reason can be progress in the pharmacological treatment and incursion of new drugs such as tamoxifen, which have been highly effective in the treatment of contralateral breast cancer in ER+ patients.
Thirdly, the pipeline is very profuse; new therapeutic agents are under development, which are likely to become available in next few years.
Pipeline Analysis
As of February 2017, the ER+ breast cancer pipeline comprised of approximately 74 drug candidates in different stages of development.
NUMBER OF ER+ BREAST CANCER DRUG CANDIDATES UNDER DEVELOPMENT (2017)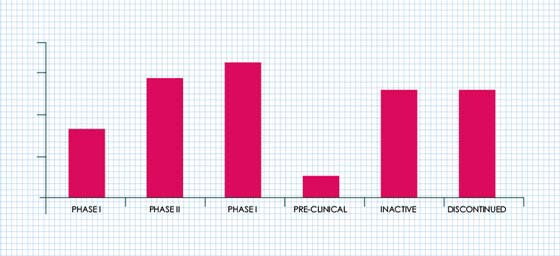 Competitive Landscape
Some of the key players developing drugs for ER+ breast cancer includes Chipscreen Biosciences, Ltd., Eli Lilly & Company, Genentech, Inc. and others.
Scope for Customization
P&S Intelligence offers customization as per specific business requirements of clients. Illustrative customization within the scope of this report includes:
Market Forecast – Market analysis and forecast for the drug candidates in the last stage of development
Epidemiology Forecast - Epidemiology analysis and forecast.
Company Profiles – Wider company coverage in terms of detailed analysis or additional company profiles