Market Overview
The estimated size of the digital X-ray devices market is USD 12.2 billion in 2023, and it will grow at a rate of 7.7% from 2023 to 2030, to reach USD 20.6 billion by 2030.
The development of the market is credited to technical improvements, surge in the occurrence of chronic illnesses, and increase in the knowledge among patients of initial diagnostic methods. Chronic syndromes, such as cancer, lung disorders, cardiovascular disorders, and musculoskeletal conditions, are becoming more common. According to the World Health Organization, chronic illnesses account for around 74% of the annual demises worldwide.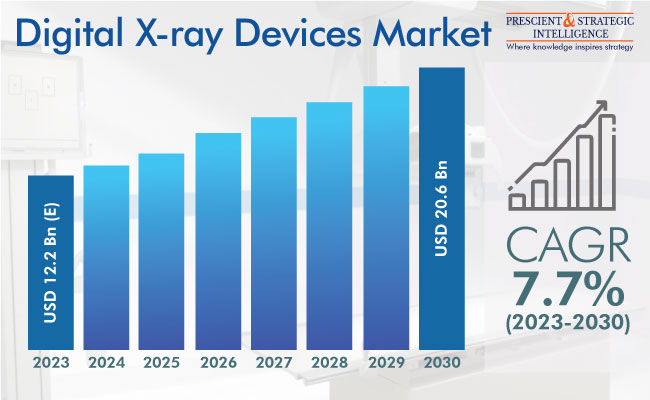 Radiograms are widely performed for an initial diagnosis, as they are quick and inexpensive. As per the National Health Service, in the U.K., in 2022, around 3.44 million imaging tests were done, with X-rays accounting for nearly 1.71 million of those. The development of the market is further boosted by the constant improvements in radiology, such as artificial intelligence integration, low-radiation-dose systems, and high-resolution imaging, all of which lead to better diagnoses.
Hence, governments worldwide are taking steps to make these newer systems easily accessible to hospitals, primary-care facilities, and diagnostic imaging centers. In 2022, the EU and the World Health Organization donated digital X-ray devices to the Armenian Ministry of Health for utilization in eight hospitals.
Moreover, several medical device corporations are developing digital systems with advanced performance and productivity, permitting radiologists to address numerous clinical indications with high-quality images and image integration functionality. For instance, GE Healthcare introduced AMX Navigate, a portable digital X-ray system, in 2021. Similarly, Koninklijke Philips N.V. received the 510(k) clearance from the U.S. FDA for CombiDiagnost R90, a high-end, remote-controlled, digital fluoroscopy system in 2021.
Growing Prevalence of Musculoskeletal Diseases Is Biggest Market Driver
The strongest market driver is the growing incidence of musculoskeletal diseases and conditions. Among all such health issues, fractures are the most common, numbering almost 180 million annually. The causes are diverse, ranging from falls and violence to sports injuries and long-term diseases. Another key reason for the high incidence of fractures is the rising geriatric population, which has weak bones and a high tendency of falling down.
Moreover, among the highly prevalent musculoskeletal diseases are cancer, osteoporosis, arthritis, polio, osteopenia, osteopetrosis, and sarcopenia. These diseases can cause muscular inflammation, broken bones, restricted motor functions, and severe, long-term pain. Hence, X-rays are widely utilized to detect the presence of these conditions and assess their progression over time.
Mobile Category Is Projected To Experience Growth with Highest Rate
On the basis of portability, the mobile category is projected to experience the highest CAGR during the projection period. With mobile medical imaging systems, photos of the internal anatomy can be attained at the person's bedside in comparatively less time than shifting the patient to an X-ray suite. Furthermore, these devices are being accepted more extensively with industry participants concentrating on creating improved mobile X-ray devices.
The fixed category is leading the worldwide market. The requirement for fixed X-ray machines is higher in emerging economies, where the acceptance of novel technologies is slower. The technical improvements in fixed X-ray devices are further projected to fuel the industry development. For example, in October 2021, Samsung joined VUNO, a South Korean healthcare AI software company, to add VUNO's AI-supported solutions to Samsung's ceiling-mounted radiography systems.
Based on Application, General Imaging Category Is Significant
The general imaging category within the application segment holds a significant share. This can be credited to the rising acceptance of X-ray machines for scanning the abdomen, chest, ureters, kidneys, intestines, bladder, and other organs. Chest radiograms are widely utilized for the diagnosis, staging, and treatment monitoring of TB, pneumonia, pneumothorax, pulmonary edema, pleural effusion, and even pulmonary embolism.
The dental category is projected to experience substantial growth during the projection period. X-rays are a key procedure performed during dental examinations. Dental X-rays offer numerous advantages in odontology, such as the capability to identify cavities, infection, affected teeth, and several other conditions. There has been an increasing requirement for improved dental technologies credited to the rising knowledge regarding oral wellbeing.
The orthopedic category is also significant, as radiograms are extensively performed for diagnosing bone fractures and ascertaining their severity. The cause of muscle pain and swelling and the presence of foreign objects, such as metallic pins and needles; can also be ascertained by radiograms. Moreover, X-rays are a critical tool in the diagnosis of chronic musculoskeletal issues, such as arthritis, osteopenia, osteopetrosis, osteoporosis, and even bone cancer.
Hospitals Category Is Highest Revenue Generator
The hospitals category is dominating the end user segment of the market. This can be credited to the acceptance of technically progressive radiology devices by hospitals. Furthermore, a surge in the number of people with chronic diseases looking for medicinal attention is projected to propel the category's growth.
Moreover, the diagnostic imaging centers category will showcase a considerable CAGR over this decade. The fact that these places are dedicated to diagnostic imaging enables personalized experiences for customers. Moreover, scheduling a scan here is typically less hassle-prone than at a full-fledged hospital. Another factor that is making diagnostic imaging centers popular among patients is their cost-effective services.
Digital X-Ray Devices Market Report Coverage

| | |
| --- | --- |
| Report Attribute | Details |
| Market Size in 2023 | USD 12.2 Billion (E) |
| Revenue Forecast in 2030 | USD 20.6 Billion |
| Growth Rate | 7.7% CAGR |
| Historical Years | 2017-2022 |
| Forecast Years | 2023-2030 |
| Report Scope | Market Trends, Drivers, and Restraints; Revenue Estimation and Forecast; Segmentation Analysis; Impact of COVID-19; Companies' Strategic Developments; Market Share Analysis of Key Players; Company Profiling |
Explore more about this report - Request free sample pages
North American Region Is Dominating Market
The North American region is dominating the industry, propelled by the existence of major medical device companies and significant government expenditure in progressive clinical technologies. Additionally, the players in the region continue to engage in mergers, acquisitions, partnerships, and distribution network expansions. For instance, in February 2022, NeuroLogica Corp., a U.S.-based Samsung subsidiary, rebranded its digital radiography and ultrasound business as Boston Imaging.
The APAC region is expected to attain the highest CAGR during the projection period, mainly because of the improvements in the healthcare sector, populace growth, and entry of numerous medical device businesses. The increasing occurrence of chronic illnesses further contributes to the regional industry growth.
For instance, the International Agency for Research on Cancer has stated that cancer cases in Asia will touch 20,606,063 by 2025. Moreover, half of all cardiovascular disease cases are detected in Asia, making the region a hub for screening tests, boosted by government steps and patient awareness efforts.
Prominent Players in Global Digital X-Ray Devices Market Include:
GE Healthcare
Siemens Healthineers AG
Koninklijke Philips N.V.
Canon Medical Systems Corp.
Carestream Health Inc.
Fujifilm Holdings Corporation
Shenzhen Mindray Bio-Medical Electronics Co. Ltd.
Shimadzu Corporation
Samsung Medison Co. Ltd.
Boston Imaging
Hologic Inc.
Agfa-Gevaert Group